Andy Murray column: Federer, London's future & One Direction

By Andy Murray
World number six
Last updated on .From the section Tennis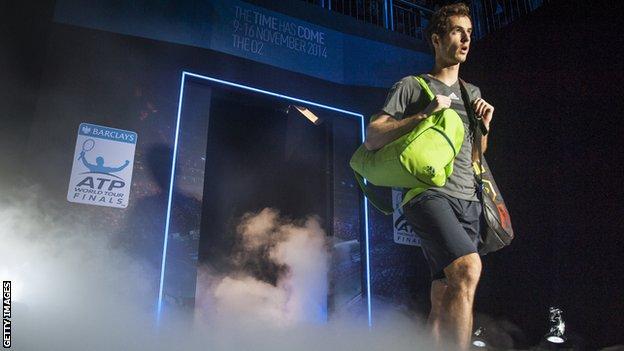 ATP World Tour Finals, O2 Arena London, 9-16 November
Thu 13 Nov:
Murray v Federer on BBC Two/website/5 live sports extra
Coverage:
Afternoon sessions (14:00 GMT) and first semi-final (14:00 GMT) on BBC Two/BBC website, final on BBC Three/BBC website (19:00 GMT); live commentary of each match on BBC Radio 5 live sports extra, live text commentary on BBC website
Taking on Roger Federer is always a great challenge and I'm sure there will be lots of interest and a packed crowd for Thursday's match, but it's what happens between the lines that counts.
I got a great reception when I stepped out on court at the start of the week and the support has been fantastic - playing at home definitely gives you an extra lift.
The crowd will probably be more split when I play against Roger but that's no surprise.
I've played him all over the world; in Asia, America, Australia, Canada and Europe, at Wimbledon and three times at the O2, and pretty much everywhere he goes he gets very good support.
I would expect the same again on Thursday, but having my share of the crowd's backing helps me too, and it's been very good so far.
Hopefully I can stay as relaxed as I've felt all week. Even ahead of Tuesday's match against Milos Raonic I was very calm compared with how I've felt before Slam finals.
I've played a lot of matches in the last six or seven weeks and was really happy to qualify for the Finals. Having worked so hard to get here, I thought I'd try my best to enjoy this week and not put too much pressure on myself. It was just a nice present at the end of the year to play here.
The whole tournament has a different feel with the round-robin format, only the top eight players and our own individual locker rooms. You don't see loads of other players, you just come in, go into your changing room and are kind of locked away.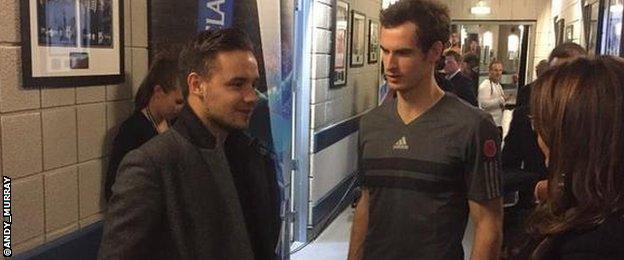 At Wimbledon and the other events you're side by side with the guys you're playing against, and you see them before you go out. The timing also means that if I play at 8pm and, say, Roger's playing at 2pm, I might not see him for the whole tournament until we walk on court together.
There are also a few more star guests around, like Liam from One Direction, who I chatted with after Tuesday's match. He wants to get back into playing, so I'll get him on a court next time. I'd never met him before but I'd met Niall, who's quite into his tennis. I spoke to him in Canada this year when he came to the courts to hit with Novak Djokovic. They're nice guys.
For me personally, it's obviously great having such a big tournament here at the end of the year. Being able to stay close to friends and family is very nice, but who knows whether it will stay in London after next year.
They've certainly done a great job at the O2; it's packed every single night, all the players get fantastic support - they've really built it up year upon year and I think everyone understands what this event is now.
ATP Tour Finals Group B

Player

Seed

Roger Federer

2

Kei Nishikori

5

Andy Murray

6

Milos Raonic

8
But you could also understand if the ATP wants to move somewhere else and take it to another part of the world, because it's such a huge event. It gets big viewing figures and they've played it in some great arenas all over the world. It will be interesting to see what they do next.
I know I have at least two more chances to win the title in London but I'll need to get past Roger if I'm going to make it to the weekend this year.
We've played 22 times and I always learn something from our matches. We get on well off the court too, and that hasn't changed much since our first match in Bangkok nine years ago.
We don't practise together these days, although we did a few times at the beginning of my career, but we've never had any issues away from the court and always chat when we see each other at tournaments.
On court, you need to be sharp with your thinking and sharp with your footwork if you want to get the better of him. He tries to play very close to the baseline, stay pretty aggressive and take your time away.
It's vital that you're able to make quick decisions and can move well enough to track his shots down. When you get the opportunity you have to put him under pressure. If you don't move well against Roger or you're not sharp on the day, it can be tough.
Hopefully on Thursday I'll be ready for that.