Andy Murray's ATP World Tour Finals test of body and mind

By Russell Fuller
BBC tennis correspondent
Last updated on .From the section Tennis79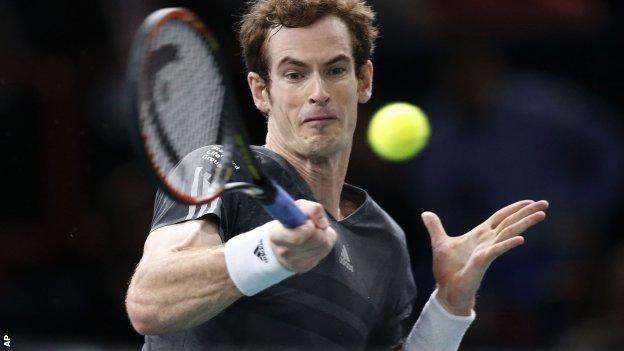 ATP World Tour Finals, O2 Arena London, 9-16 November
Sunday:
Murray v Nishikori on BBC2/website/sports extra at 14:00 GMT
Coverage:
Afternoon sessions (14:00 GMT) and first semi-final (14:00 GMT) on BBC2/BBC website, final on BBC3/BBC website (19:00 GMT); live commentary of each match on 5 live sports extra, live text commentary on BBC website
A hard indoor court with home support thrown in - there will be much to Andy Murray's liking in London this week as he strives for the perfect note on which to end the year.
He is playing his best tennis of the season, but having won three tournaments in six weeks and covered nearly 15,000 miles in the process, will mind and body be sharp enough for these season-ending World Tour Finals?
Murray has already played 76 matches this year, and with another three guaranteed in the round robin stage, will surpass the 77 he contested in his busiest year to date in 2009.
He only took two days off after his successful autumnal run came to an end in Paris (watching football and tennis, and casting an armchair vote to help keep his mum in Strictly Come Dancing), but the 27-year-old feels his powers of recovery have now been fully restored.
"I enjoyed playing a lot of matches," Murray said, mindful of his limitations in the first half of the year as he recovered from back surgery.
"My body needed that. At the US Open I felt like I was starting to play well again, but I needed some more matches at the highest level.
"It's given me a lot of confidence in my body for next year especially. I can go into my off-season training block knowing that I can last these matches."
Anyone who saves five match points to win a final against Tommy Robredo twice in the space of a month must be full of belief.
Two wins against David Ferrer showed consistency was returning to his game, and even though three recent meetings with Novak Djokovic have all ended in victory for the world number one, Murray is gradually making up the ground he's lost in this frustrating year.
"The whole year I was getting told: 'you haven't beaten any of the top players'," Murray continued.
"At times I was getting told: 'you haven't beaten a top-12 player', then it was a top-10 player and then it was a top-eight player. Now, it's 'you haven't beaten Roger Federer, Rafael Nadal or Djokovic'.
"So I'm hoping it's gradual steps and slow progress this year. Hopefully, just by putting myself in a position to compete with them, I will get back to that top, top level again."
Murray admitted to rushing when he went into an early second-set lead in his most recent meeting with Djokovic in Paris, a sign perhaps that he still does not quite trust his instincts in the toughest matches.
The operation clearly checked his progress and the loss of coach Ivan Lendl hindered his recovery. But the relationship with his new coach Amelie Mauresmo is developing nicely as the two become increasingly comfortable in each other's company.
ATP Tour Finals Group B

Player
Seed

Roger Federer

2

Kei Nishikori
5

Andy Murray

6

Milos Raonic
8
"Coaching relationships can work in a number of ways," continued Murray. "Sometimes the coach comes in and the first week you have great success, then it can actually deteriorate. Sometimes they can start off slow and improve.
"For us, it was a tough time to start around the grass-court season - there's a lot of pressure and stress on my performance around that period of the year - but the last few weeks have been good.
"It's worked pretty well so far. The big test is competing for the Grand Slams, but we'll only really be able to test that next year."
The ATP World Tour Finals are the next biggest test outside the Slams and there is every incentive for Murray in London this week.
Forced to withdraw from the event last year as he began his rehab, two years after pulling out one match in with a groin injury, Murray would love to reach the final for the first time.
If he does, he would give himself a chance of ending the year at four in the world, which in turn should guarantee a more palatable draw at the Australian Open.
Stan Wawrinka, Kei Nishikori, Tomas Berdych, Milos Raonic and even Marin Cilic will all have the same ambition, though. The prospect of taking Djokovic, Federer and Nadal out of the equation until at least the semi-finals in Melbourne may spark extra life into some very tired limbs.