WTA Finals: Serena Williams thrashed by Simona Halep
Last updated on .From the section Tennis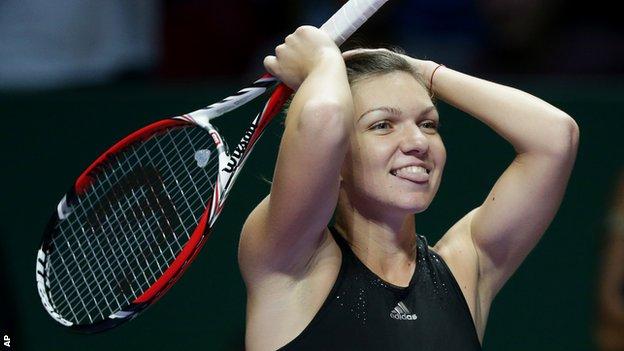 World number one Serena Williams was beaten 6-0 6-2 by Simona Halep at the WTA Finals in Singapore to suffer her heaviest defeat since 1998.
The 18-time Grand Slam winner, 33, was 16 when she lost 6-1 6-1 to Joannette Kruger in Oklahoma City - the last time she failed to win more than two games.
Romanian Halep, 23, said she had played "the best match of my life".
"Embarrassing describes the way I played today," said Williams, adding she had served better in junior tennis.
| Red Group standings | Won | Lost |
| --- | --- | --- |
| Simona Halep | 2 | 0 |
| Serena Williams | 1 | 1 |
| Ana Ivanovic | 1 | 1 |
| Eugenie Bouchard | 0 | 2 |
The loss in the round-robin match ended Williams' 16-match winning streak at the end-of-year tournament, which she has won for the last two years and four times in all.
Halep, the fourth seed, allowed her American opponent to win just six points on serve on the way to breaking three times in the first set.
Williams improved in the second set, carving out six break points, but Halep saved them all on the way to sealing the convincing win.
"My forehand was off today again. I guess it went on an early vacation," added Williams, who said she had served better "in the 10 and under division in juniors".
WTA finals at a glance
The end-of-season competition features the top eight ranked players in the world. Two sets of four players face each other in round-robin matches, before the top two in each group advance to the semi-finals.
Williams, who withdrew from the China Open this month with a knee problem, credited Halep's performance and said fitness had nothing to do with her loss.
"I think Simona played really well," she said.
Halep, who was ranked 47 in the world two years ago, and had never beaten a top three player before,
She said: "It was my best match of my life. I played unbelievable shots. It means a lot this match."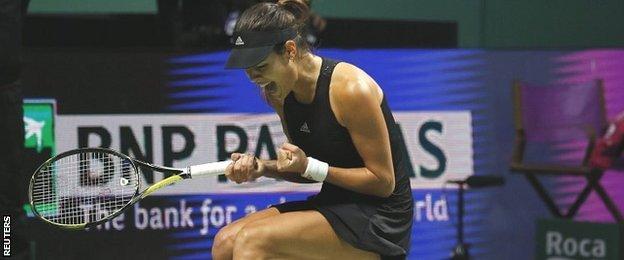 Ana Ivanovic recovered from her opening finals loss to record a 6-1 6-3 victory over Canada's Eugenie Bouchard and put herself back into contention for a last-four place.
"This is the beauty of the round-robin system that I still had a chance," said the 27-year-old Serb, who lost to Serena Williams in her opening match.
Bouchard has lost both her matches in Singapore and will attempt to gain a consolation win against Williams on Thursday before the Red Group concludes with Ivanovic taking on Halep a day later.