Andy Murray: Emotional Shenzhen Open win after "very tough week"
Last updated on .From the section Tennis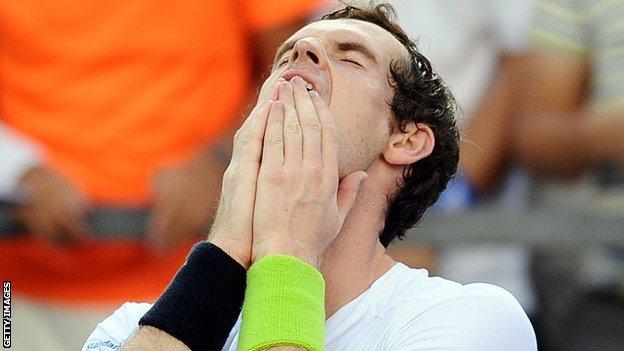 Britain's Andy Murray said he got through a "very tough week" to win the Shenzhen Open title thanks to the support of his girlfriend Kim Sears.
The 27-year-old Scot had faced criticism over his backing for the Scottish independence 'yes' campaign.
"I want to thank my team and my friends and family back home and especially my girlfriend," said Murray.
"She's supported me a lot through this week. It's been a very tough week for me."
Murray lost the first set in China and fought back to save five match points in the second-set tiebreak before racing through the decider as Robredo struggled physically.
An emotional Murray added: "It's been a long time since I won a tournament. It was an emotional week for me. I managed to fight my way through it, win the title, and hopefully I can win another one before the end of the year.
"Today was obviously an incredibly tough match, the conditions are so hard to play in. I got lucky, basically, at the end of the second set. I fought hard, tried my best and thankfully managed to turn it round.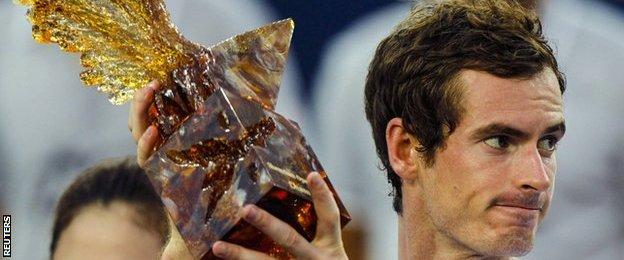 "Tommy had a great tournament. He probably deserved to win the match today. He had the opportunities in the second set, but sometimes that happens in sport. I just tried to fight till the end."
Murray then posted a picture of himself and his team with the inaugural Shenzhen Open trophy on Facebook and wrote: "Thanks for your support everyone it means a lot."
His mother Judy Murray tweeted that she and her son were both in tears at the end of the match, saying: "He's the champion in Shenzen. And he's crying. A lot. And so am I."
World number 22 Robredo said: "It's tough to accept it, but Andy did a great job. He was pushing right till the end and in the end, he deserved it."
Police Scotland described the abuse directed at Murray on social media, following his Scottish referendum tweet, as "vile, disgusting and distasteful".
The victory moves Murray up to 10th in the rankings in the race to reach the ATP World Tour Finals in London during November, with the top eight qualifying.
The 27-year-old is now 105 points behind Czech Tomas Berdych, who is currently eighth, and is next scheduled to play at tournaments in Beijing, Shanghai and Paris.
ATP Race To London (top eight qualify)
Qualified:
1st: Novak Djokovic (8,150 points); 2nd: Roger Federer (7,020); 3rd: Rafael Nadal (6,645)
Still to qualify:
4th: Stan Wawrinka (4,795), 5th: Marin Cilic (3,935), 6th: Kei Nishikori (3,675), 7th: David Ferrer (3,535), 8th: Tomas Berdych (3,510), 9th: Milos Raonic (3,440), 10th: Andy Murray (3,405) 11. Grigor Dimitrov (3,355)
Murray's schedule:
Beijing - 500 points to the winner; Shanghai - 1,000; Paris - 1,000.