Novak Djokovic: Boris Becker has high hopes for Wimbledon winner
Last updated on .From the section Tennis
Newly-crowned Wimbledon champion Novak Djokovic can get back to winning major titles after ending his 18-month drought, says coach Boris Becker.
The Serb beat Roger Federer in five sets on Sunday to end a run of three consecutive Grand-Slam final defeats.
Djokovic's win helped him reclaim the world number one ranking from Rafael Nadal.
Becker said: "We are looking good. Back to number one. Wimbledon champion. The next big one is the US Open."
Seven-time Grand-Slam winner Djokovic had lost five of his last six finals and appointed Becker in December to help him get back to his best.
At Wimbledon, the 27-year-old failed to convert a championship point in the fourth set as Federer fought back and Becker said it was a nervous time for the coaching team.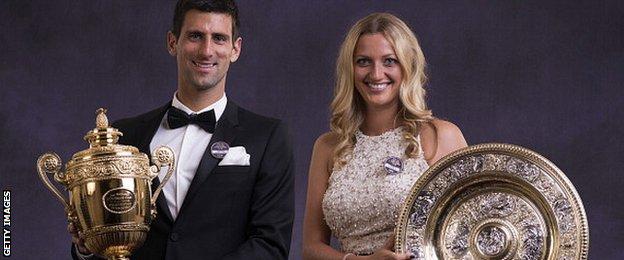 "We were all dying out there," the 1985, 1986 and 1989 Wimbledon winner told the BBC. "We were all keeping it cool from the outside, but burning inside."
However Djokovic, who lost the final of the French Open against Nadal in June, showed mental toughness to get back on top.
The Serb told BBC Sport that his work with Becker had made a difference.
"We spoke about various things, but mostly how to prepare myself mentally," he said.
"And if I get to the critical moments where I feel a little bit down on myself and my opponent starts playing better - how to react, how to respond.
"I'm an emotional player, I like to express my emotions. Yesterday I felt like I wanted to hold my composure and not allow my opponent to see I'm frustrated, even though I was definitely in certain stages of the match.
"I stayed tough and that's what got me the trophy."