Wimbledon 2014: John McEnroe on Federer v Djokovic final
By Sam Sheringham
BBC Sport at Wimbledon
Last updated on .From the section Tennis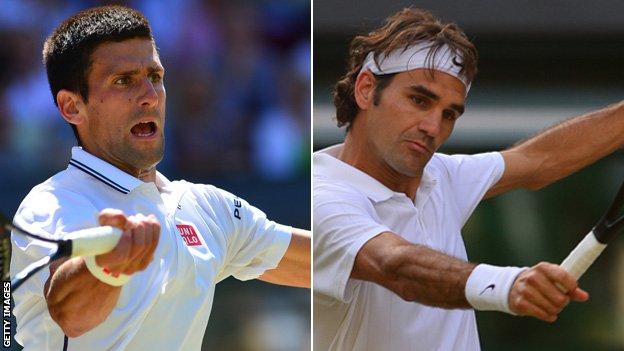 Roger Federer may never have a better opportunity to add to his 17 Grand Slam titles, but Novak Djokovic is the favourite to take the Wimbledon crown, according to three-time champion John McEnroe.
"I think even Roger understands that there are not going to be too many more chances," McEnroe told BBC Sport.
"But if they both play the best they can play at this moment in time, I believe Novak has an edge."
Head-to-head

Djokovic

Federer

Age

27

32

Height

6ft 2in

6ft 1in

World ranking

2

4

Grand Slam titles

6 (one Wimbledon)

17 (seven Wimbledon)

Head-to-head wins

16 (5 in Grand Slams)

18 (6 in Grand Slams)
At the age of 32 years and 332 days, Federer is bidding to become the oldest Wimbledon men's champion in the Open era and claim a record eighth title at the All England Club.
Top seed Djokovic, 27, is seeking to end a run of three consecutive defeats in Grand Slam finals by repeating his 2011 Wimbledon success.
Ahead of their showdown at 14:00 BST on Sunday, here is McEnroe's assessment of the two contenders and where the final will be won and lost.
McEnroe on Federer
It is nothing new to see Roger mesmerising people on Centre Court, but to my eyes he is moving better than I have seen him move for a good couple of years.
He's a bit older. He doesn't quite have that same mental edge and maybe people are not quite as fearful of him. But he has thought a lot about his game and come back stronger.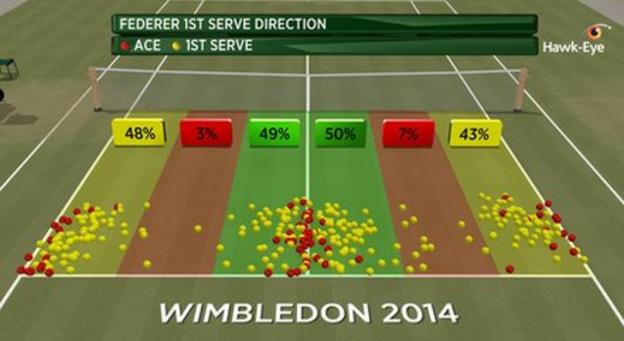 I think he finally figured out that he needed to do something about his racquets after losing in the second round here last year.
He tinkered with them for a few tournaments, then switched at the end of the year and that has helped him get more confidence, win some more easy points and free up his brilliant backhand.
It also appears that whatever he and coach Stefan Edberg have been talking about has had an effect. Edberg was an attacking player - a serve-volleyer who liked to put pressure on you - and his approach seems to have rubbed off on Roger.
I think at this stage of his career he needed to take advantage of the opportunities that he gets to finish points off quickly. He has served and volleyed more than I have seen him do in a long time and he's taken balls off the return and put pressure on guys.
That is something he is going to need to do against Novak. The Serb is the best returner in the game so you can't let him get into a groove and know what to expect. Federer has to be able to throw him something unexpected.
McEnroe on Djokovic
Djokovic dropped a couple of sets against Marin Cilic in the quarter-finals but he looked great against Jo-Wilfried Tsonga in the fourth round.
He really outplayed the Frenchman for the great majority of the match and looked a real champion. In fact, Tsonga had to rise to the occasion just to keep it close.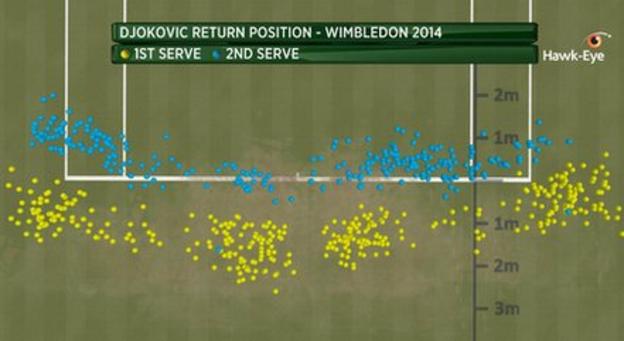 In the semi-final against Grigor Dimitrov he overcame a very tough opponent - arguably the most talented guy out there - and can draw a lot of positives from that match.
I also give him a lot of credit for maintaining his composure in hot, windy, slippery conditions. The court was very dusty and I don't recall a match in my life where two players slipped or fell as often as they did.
Novak's poor recent record in major finals could actually be a positive for him. It might make him hungrier and even more determined not to let it happen again.
He is doing his best to work out what has gone wrong and has brought in proven champion Boris Becker to help with that.
Some of it comes down to bad luck, some of it is the other guy playing out of his mind and sometimes it's nerves. But if you keep putting yourself in that position, if you are that good, trust me, you are going to win more majors.
The McEnroe verdict
Federer has had the easier draw, so he is going to be fresher than he might otherwise have been.
He could have played Rafael Nadal in the semi-finals, he could have played Jerzy Janowicz in the fourth round and even in the second round he was scheduled to play Julien Benneteau, who was two points from beating him a couple of years ago.
In three out of six matches he could have faced opponents who would have taken more out of him, but as things have turned out, he is through to the final with plenty more left in the tank.
Djokovic has had a harder route to the final, but his semi-final against Dimitrov was not as tough as the one he had last year against Juan Martin Del Potro.
I picked Novak before the tournament and I still believe if they both play the best they can play at this moment in time, Novak has an edge.
If Roger was still in his prime on grass, I think he would have the edge, but I don't think he's quite at the level he was four or five years ago.
To win it at Federer's age would be an extraordinary effort. If you go down through history you don't see a lot of players over 30 who win majors.
I think even Roger understands that there are not going to be too many more chances. This is most likely the best chance he is ever going to have of winning another major.
It will be fascinating to see how he handles that. Maybe he will be inspired, maybe he will be a little tighter. Who knows?
All things considered, it's a great final and I'm looking forward to it.