Wimbledon 2014: What is your ultimate final?
Last updated on .From the section Tennis149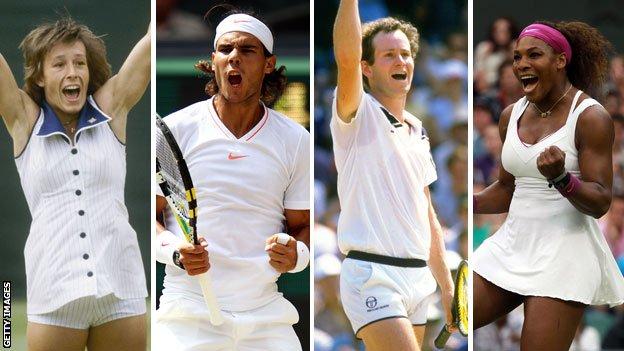 Have you ever dreamt about who would contest your dream Wimbledon final?
Two players, from any era, going head to head on the grass of Centre Court for the sport's most prestigious prize.
On the weekend of the 2014 women's and men's finals, we asked BBC commentators and pundits to select their ultimate match-up.
You can have your say on Twitter using the hashtag #dreamwimbledonfinal.
Rod Laver v Roger Federer
Former Australian Open finalist John Lloyd: "'Rocket' Rod Laver was always my hero. The style of tennis he played was very classical. He was a great athlete, with a great backhand.
"Federer is a stylist and a similarly classy player so the crowd would be in for an absolute treat. There would be lots of 'oohs' and 'aahs' because they would be seeing one great shot after another."
Chris Evert v Martina Navratilova
Former British number one Sam Smith: "Martina and Chris are the two players who hooked me onto tennis.
"I watched all of their finals and loved every minute. The contrast of styles and personalities was fascinating.
"They never played a dud match. I know they are from the same era, but for me you simply can't beat them. Numero Uno."
Roger Federer v Pete Sampras
Three-time Wimbledon champion John McEnroe: "Pete was the best of the best at the aggressive serve-volley game and to watch him taking it to Federer and see if he was continually able to answer it would be really interesting.
"Who would be better, the superior all-round player or the better aggressor, with the better serve and the better volley?"
Roger Federer v Bjorn Borg

Former French Open champion and BBC Sport anchor Sue Barker: "I grew up in Borg's era, when he was so good at Wimbledon and so dominant at the French. To see him take on Federer would be just amazing.
"They were both so physically fit and such great champions."
Maureen Connolly v Martina Navratilova
Two-time US Open champion Tracy Austin: "I've always wished I had the chance see Maureen Connolly, who won nine Grand Slam single's titles in the 1950s. She was from southern California like me. People talk about how she had nerves of steel, and such accurate ground strokes, so I'd love to see how she handled certain situations.
"As it is a Wimbledon final, I'd love to see her take on Martina Navratilova, the nine-time champion."
John McEnroe v Rafael Nadal
BBC Sport reporter Garry Richardson: "I was privileged from the very early 1980s to work at Wimbledon and see McEnroe in some of his finals here. He was an incredible character, and incredible player and an extraordinary person to have to deal with in press conferences; so brusque and honest.
"I would also go for Rafael Nadal, purely and simply because his five-set match against Roger Federer in 2008 was probably the best final I have ever seen."
Ilie Nastase v John McEnroe

BBC Sport presenter John Inverdale: "This would be a great match-up and I would want some horrendously bad calls that caused utter mayhem on both sides of the net. I would hope for a complete meltdown with both players face-to-face at the net calling each other out."
Lew Hoad v Boris Becker
BBC Sport commentator Barry Davies: "This would be extravagant. They would both be flying around like goalkeepers and they both hit the ball very hard. I think you'd have to give Lew a modern racquet and a bit of time to get use to the modern balls, but it would be great fun to watch."
Boris Becker v Andy Murray
Coach Miles Maclagan: "I remember the first time I came to Centre Court, Boris Becker was playing and you could feel the electricity in the stadium.
"I think his style of play against Andy Murray would bring out the best in both of them."
Chris Evert v Martina Navratilova
BBC tennis correspondent Russell Fuller: "My dream final would be heavily influenced by my childhood.
"Even though they played together so many times I would love to see Chris Evert and Martina Navratilova playing again so I could remember it properly and not just through the eyes of a small child."

John McEnroe v Roger Federer
Four-time Wimbledon doubles champion Peter Fleming: "They were both incredibly graceful shot-makers who can do just about anything on the court.
"They are both very comfortable on grass. Both defend very well. Both attack as well as anybody - Federer from the baseline, McEnroe from the net. It would be a pretty fun final."
Roger Federer v Tim Henman
BBC 5 live tennis commentator Iain Carter: "My choice goes back to the fact I commentated on so many of Henman's semi-finals, and I remember the will of the nation wanting him to squeeze through to the final.
"I would desperately loved to have seen Henman play Roger Federer in a final.
"Henman actually had a winning record against Federer in that era, so who knows, it might just have provided the kind of moment Andy Murray provided 12 months ago."
Most Wimbledon titles (Open era)

Martina Navratilova

9

Pete Sampras

7

Roger Federer

7

Steffi Graf

7

Serena Williams

5

Venus Williams

5

Bjorn Borg

5
Roger Federer v Rod Laver
BBC 5 live tennis commentator Alastair Eykyn: "I would choose Federer because he's the best player I've ever seen and been lucky enough to commentate on.
"His opponent would be a guy I never got to see but we are led to believe had everything: lots of variety, power on serve, touch and a lovely slice."
You can watch also Pat Cash, Richard Krajicek and Jeff Tarango pick their Greatest Final on the BBC Radio 5 website.