Wimbledon 2014: Is the end near for Nadal, Murray, Djokovic & Co?
By Sam Sheringham
BBC Sport at Wimbledon
Last updated on .From the section Tennis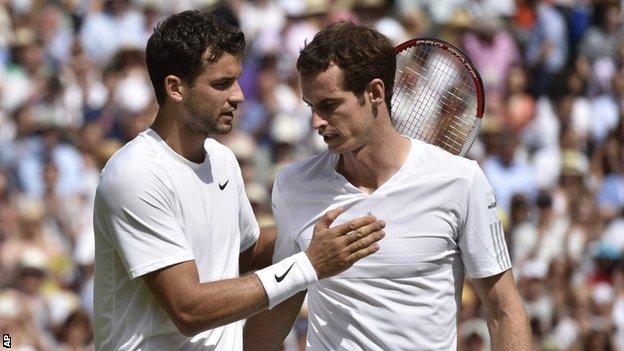 There was a moment at Wimbledon on Wednesday afternoon when it looked as if the established order of men's tennis was not so much under threat as in danger of being blown to pieces and scattered all over the pristine lawns of the All England Club.
Given world number one Rafael Nadal's humbling at the hands of 19-year-old Nick Kyrgios - who then lost in the quarters to 23-year-old Milos Raonic - it looked highly possible the semi-finals would not feature a single member of the so-called Big Four.
Djokovic and Federer did recover to reach the last four, of course, but to the wise old heads present there was a clear sense the sport might be witnessing the arrival of a new breed.
Wimbledon men's semi-finals
Novak Djokovic [1] vs Grigor Dimitrov [11]
Roger Federer [4] v Milos Raonic [8]
"These young guys are not afraid," said eight-time Grand Slam champion Jimmy Connors.
"They didn't blink. They came out and expected to win. It might be just a one tournament thing but it's a hell of a tournament to do it at.
"It reminds me of a few guys I grew up with, the way they played and what they thought when they were young. John McEnroe comes to mind, Bjorn Borg comes to mind, Pete Sampras comes to mind.
"The future of tennis is great. You have these young guys coming up who think it's their time.
"Eventually we all move over for the young guys. The older guys now have to fight to hold on to their place and the younger ones will be fighting to get them out of there. It's very exciting."

Federer, Nadal, Djokovic and Murray have arguably taken the men's game to unprecedented levels. They have won 35 of the past 38 Grand Slams and contested some of the sport's most memorable matches.
Even before that weird Wednesday at Wimbledon, however, there were signs their era of dominance might be drawing to a close.
Murray, who will drop to number 10 in the world rankings on Monday, has only reached one semi-final in four Grand Slams since his Wimbledon triumph. Federer, now 32, has failed to reach the semis five times in his past eight, having only missed out four times in his previous 35.
Although Nadal remains imperious on clay, he has now failed to get past the fourth round in three consecutive Wimbledons.
And while Djokovic remains the most consistent of the four, even the Serb has shown signs of mental frailty in losing five of his last six major finals and he appeared uncharacteristically vulnerable against world number 29 Cilic.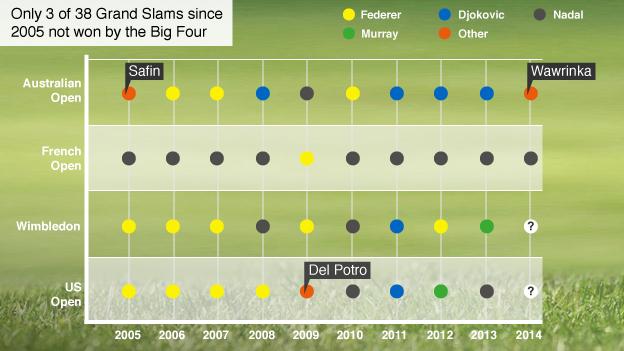 Former British number one John Lloyd believes the Big Four no longer carry such an air of invincibility and expects to see new names on major trophies in the near future.
"There was a time when the aura around those four was worth a few games start, but I don't think that's the case any more," said the BBC pundit.
"Players outside that group actually feel like they can win now and they don't worry so much when they walk on court.
"It's a bit early to judge Kyrgios. I'd be surprised if he doesn't make the top 10 but I'd like to see a bit more before I say he's going to win Grand Slams.
Did you know?
The last time a member of the Big Four failed to reach the last four of a Grand Slam was at the French Open in 2004
The last time there were two first-time men's semi-finalists at a Grand Slam was the 2009 French Open - Robin Soderling and Juan Martin del Potro
"But Dimitrov has had a steady rise. People thought it might have happened earlier but he just needed to play and get used to using the amount of shots he had at his disposal. He's getting it together now, and he looks like he's definitely going to win Slams.
"Raonic just has huge weapons. He doesn't have the same flexibility around the court as some of the others, but he may have the best serve in the world. Can he win Grand Slams? Absolutely."
At 23, Dimitrov and Raonic might once have been considered too old to be breaking through. Nadal, Djokovic and Federer had all won their first majors before the age of 22. Murray was 21 when he reached the US Open final in 2008.
According to highly-respected coach Patrick Mouratoglou, however, the fitness regimes of the top stars and the nature of today's court surfaces, means players are likely to take longer to reach their peak.
"Tennis has changed in the last 10 years," says Mouratoglou, a former coach of Dimitrov and Marcos Baghdatis, who now works with women's world number one Serena Williams.
"It takes much more time now to be a top player. You cannot have a weakness. You have to be physically at the top, and this takes more time.
"In the past the surfaces were much faster, so with one or two big shots you could be a Grand Slam winner, even if you had other weaknesses in your game. Today you have to do everything well."
However Dimitrov and Raonic fare over the next three days, the real test will be maintaining the level they have reached at Wimbledon.
Australian Bernard Tomic, who reached the 2011 Wimbledon quarter-finals at the age of 18, has not got beyond the fourth round of a Grand Slam since.
For Juan Martin Del Potro, the injury-plagued Argentine who won the 2009 US Open, and 2011 Wimbledon runner-up Tomas Berdych, making an impact at a major was a peak rather than a launchpad for sustained success.
Then there is Federer. If the 32-year-old were to win a record eighth Wimbledon title this weekend, the story of a new breed would be trumped by an even more remarkable tale.