Nerveless Nick Kyrgios downs Nadal and lights up Wimbledon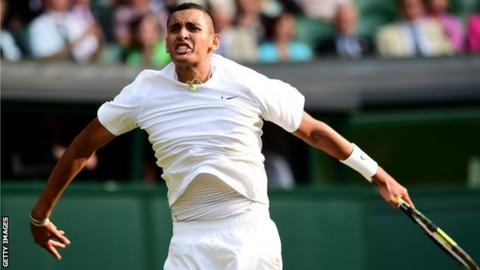 We came to Centre Court to see an unproven young talent shine briefly before being taught a lesson by one of the old masters.
We left having witnessed both one of the great Wimbledon upsets and also, quite probably, the arrival of a bona fide star.
A few numbers first to make sense of 19-year-old wildcard Nick Kyrgios's 7-6 (7-5) 5-7 7-6 (7-5) 6-3 triumph over 14-time Grand Slam champion Rafael Nadal, if that sentence alone doesn't do it for you.
Kyrgios is the world's number 144, and not because of any pre-Wimbledon slump. His career on-court earnings are less than a thousandth of those of Nadal.
This year he has lost more games than he has won. His first ever Tour-level victory over a player in the top 50 came only last week.
Three weeks ago Nadal was winning his ninth French Open title. At the same time, Kyrgios was losing in the first round of a Challenger event in Nottingham to his fellow Australian John-Patrick Smith. Smith is ranked 185 in the world.
Not for 22 years has a player from outside the top 100, beaten a world number one. Kyrgios did this in his first Wimbledon, on his first ever visit to Centre Court, having played his previous round out in the sticks on Court 17.
And he deserved it. This was no fluke, no collapse from Nadal nor inexplicable miracle.
Kyrgios's first shot of the contest was an ace. At 30-0 in his opening service he hit another, this time off a second serve.
Over the course of the next exhilarating three hours, 35 more would follow along with 70 clean winners. Nadal, a man with a howitzer of a forehand, was blown away by an even bigger and more accurate weapon.
Kyrgios has been tipped as one to watch for some time, even if he admitted afterwards that his own mother thought he had no chance against double Wimbledon champion Nadal.
"She thought he was too good," he said, "and that actually made me a bit angry."
The comparisons before Tuesday were with his compatriot Bernard Tomic, who reached the quarter-finals here three years ago aged just 18.
Who is Nick Kyrgios?
Born:
27 April 1995, Canberra, Australia.
Parents:
Father, George, is Greek-Australian, while mother Norlaila is Malaysian.
2012:
Won junior doubles championships at Wimbledon and Roland Garros.
2013:
Won junior Australian Open title.
Beat Radek Stepanek in his first Grand Slam match as a wildcard at the French Open.
Won Wimbledon junior doubles title.
Reached number one in world junior rankings.
2014:
Started year ranked 838 in world rankings; will be in the top 100 after Wimbledon, the youngest to break in since Bernard Tomic in 2011.
Won three Challenger Tour titles this year, including Nottingham in June.
Trained with Roger Federer before the French Open.
Donating £5 to Rally for Bally fund for every ace he serves at Wimbledon, in memory of the late Elena Baltacha.
But Bad Boy Bernie has not so much gone off the rails as ripped them up and sold them for scrap (earlier this year he lost in a match against Jarkko Nieminen in just 28 minutes, the shortest recorded professional contest in Open era history).
Never has he pulled off anything like this. As the match went on, a more accurate Aussie affinity appeared to be with Mark Philippoussis, also with Greek heritage and who announced himself on the world stage at the same age by beating another world number one, Pete Sampras, in straight sets at the 1996 Australian Open.
Philippoussis became known as the Scud, a nickname which dates him as much as it conjures up memories of his destructive serve. On Centre Court on Tuesday afternoon it was more about the thud, as ace after ace hammered into the backboards behind Nadal's despairing swipes.
By the end, so impregnable was Kyrgios's serve, so untroubled his demeanour, that wise old heads were drawing a more flattering comparison yet.
"He is acting to me like he could win this tournament, and the last guy I saw like this was Boris Becker," said former champion John McEnroe, commentating on the match for BBC Sport.
"The young teenager, no fear whatsoever, 'no matter what comes my way, I am going to be better than them'."
If that seems too much for a kid in only his second ever Grand Slam event, his performance bore it out.
Kyrgios won 83% of points on his first serve, and 100% in the first set. His forehand was hit with such consistent power that even arch-returner Nadal was left helpless. The average speed of his first serve was almost 10mph faster than his opponent's.
And then there were the garlands - backhands opened up down the line, a between-the-legs half-volley on the baseline that Tim Henman described as not just the shot of the day but the shot of the year.
It was not flawless. For a man advised by doubles legend Todd Woodbridge, he is a horrible volleyer.
But when Nadal stole the second set from his first break point of the match, Kyrgios did not wilt. Nadal had lost the opening set of all three of his matches in this tournament so far, and each time come thundering through to win in four.
Not this time. Kyrgios won the third off a tie-break, broke again early in the fourth and served out, nervelessly and joyously, as if he was messing about on a park court in his home town of Canberra.
John McEnroe on Kyrgios
"I think we have found the next guy in the men's game. I couldn't believe he could keep that up all match. He had this feeling about him that he absolutely believed that he would win. He is acting to me like he can win the whole tournament. The last guy I saw like that was Boris Becker, a teenager who just believed he would beat everything that was put in his way."
Neither is he finished quite yet. The equally powerful serve of Milos Raonic lies in wait in Wednesday's quarter-final, and could logically prove too much; Raonic, after all, is 135 ranking places above the young Aussie.
Philippoussis, lest we forget, never turned his talent into a Grand Slam title. As Sampras said prophetically on that January day in 1996: "It's obvious he's very talented; time will tell if he can be that consistent, week in and week out."
Then again, what is logic when you can upset the odds like he has already?
"We've been waiting for this for a while," says McEnroe. "We keep asking, who's the next guy? Well, I think we've found our guy.
"I thought the second set was going to be crucial. When Nadal won that I thought the tide had turned, that he would deflate that little bit. But it was amazingly Nadal who looked a little weary, who lost some of the spring in his legs.
"When he walked on the court, he had that feeling. And Nadal sensed it. You could see the strain on his face as the match progressed. And that's when you know you're seeing someone who's going to be a big star of the future."
For Nadal this was the most chastening of all the shocks he has endured at Wimbledon over the past three years.
Two years ago it was Lukas Rosol who sent him packing, a year ago Steve Darcis. But both of those were wild punchers who got lucky with knockout blows they could never repeat.
Kyrgios, unlike those other two, should be more than just the answer to a quiz question in 10 years' time. This was different. This story should run.