Wimbledon 2014: Novak Djokovic criticises middle Sunday rest
By Sam Sheringham
BBC Sport at Wimbledon
Last updated on .From the section Tennis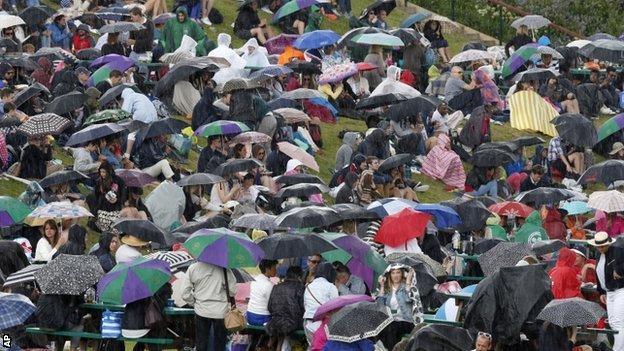 Top seed Novak Djokovic says Wimbledon should abandon its tradition of not playing on the middle Sunday to be fairer to all players.
Rain on Saturday and Monday has disrupted the schedule, leaving some players competing on successive days.
"Some rules should be updated for the better of the schedule and the better of the players," said Djokovic.
Tournament referee Andrew Jarrett said the break is necessary to help the grass recover for the second week.
Wimbledon is the only Grand Slam that has a rest day, cramming all the matches into 13 days. The French and US Opens are spread over 15 days, with the Australian Open taking up 14.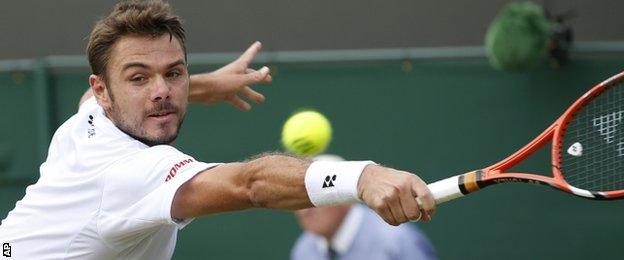 This year's rain at Wimbledon has caused a backlog in the second week, with Rafael Nadal, Roger Federer and Maria Sharapova all playing their fourth-round matches on Tuesday, one day later than scheduled.
Meanwhile, Swiss fifth seed Stanislas Wawrinka's third-round match was delayed from Friday to Monday, leaving him facing the prospect of five matches in seven days to win the tournament.
Wawrinka said he was "disappointed" with the scheduling, which was "terrible" for the body - and Djokovic sympathised with his stance.
"I understand why Wawrinka was complaining, because we have this tradition here of the middle Sunday not being used for play," added Djokovic, who reached the quarter-finals by beating Jo-Wilfried Tsonga under the Centre Court roof on Monday evening.
"We have to rethink about this Sunday in between, because the day was beautiful. It was no rain, and the whole day there was no match played.
"We all know that tradition is something that is nurtured here in the All England Club, and we respect that. But there are some rules that I believe should be updated, changed."
Jarrett told BBC Sport that the reason for the day off was less a matter of tradition and more a requirement of the playing surface.
"The surface itself needs to recover," he said. "On Saturday night and Sunday morning, the courts get absolutely soaked, which they need in order to perform to their maximum in the second week."
Jarrett added: "We treat all players as fairly as we can but it's a busy schedule and if we get rain-affected, obviously it can't be perfect."