Serena Williams's shock Wimbledon exit - pundits' reaction
Last updated on .From the section Tennis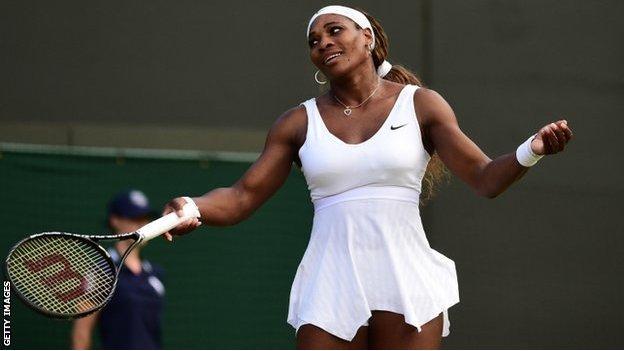 Wimbledon 2014 delivered its first major shock as world number one Serena Williams was knocked out by Alize Cornet of France in the third round on Saturday.
The five-time champion lost 1-6 6-3 6-4 to the 24th seed and has now failed to reach the quarter-final stage in all three Grand Slams this year.
It was her earliest Wimbledon exit since 2005 and and only the third time in 15 visits to SW19 that she has been knocked out so early.
Here, BBC pundits Tracy Austin, Martina Navratilova and Laura Robson react to the top seed's early departure.
Tracy Austin (two-time US Open champion)
"It's a big shock. Cornet had beaten Serena in Dubai in the semi-finals earlier this year but I figured that on this surface Cornet would need a little more time and Serena's game would match up perfectly.
"Cornet did an amazing job on defence. She also changed up the rhythm with some slices and plenty of drop shots, bringing Serena into the mid-court where she wasn't comfortable.
"She took the pace off the ball so Serena had to create her own pace. Serena would rather come in on her own terms but this was Cornet luring her into the net. A lot of drop shots as well.
"Serena got rattled. She wasn't able to get into a rhythm. Ana Ivanovic did the same thing at the Australian Open. She kept rattling Serena and not letting her get into a rhythm by standing so close and taking the ball on the rise, going for big shots and not having rallies.
"The result really opens up that side of the draw for Maria Sharapova and Eugenie Bouchard.
"Serena got to the fourth round in the Australian Open and the second round at the French, where she suffered one of the worst losses of her career, but I really thought she would right the ship here at Wimbledon.
"In 2012, when she lost in the first round of the French, she came here and won the Wimbledon singles and doubles, and the Olympics singles and doubles. But she hasn't been able to do that.
"I certainly wouldn't write her off yet. If she is still hungry, which I think she is, this is going to hurt a lot. She will get back on the practice court and work hard. She is a competitor, a champion and this is not going to feel good at all."
Laura Robson (British number two)
"It's always a big shock to see Serena go out of any tournament. But in the last couple of Slams, she has lost early and I think everyone who plays her feels they have a chance now.
"It's very strange to see her being so emotional on court and make so many unforced errors.
"Everyone has ups and down as a player but you don't expect it from her. She is losing to people she has beaten so many times before.
"I'm a bit disappointed that she lost because I think it is better for the tournament as a whole when she is in it, and I was looking forward to her quarter-final against Maria Sharapova.
"Cornet played really well. She knew Serena was struggling with her ground strokes so she forced her to mistakes, and I liked the way that she finished it off with a drop shot and made Serena try to pass her."

Martina Navratilova (Nine-time Wimbledon champion)
"What a performance. Cornet believed she could do it and she brought down the champion here.
"This was a shocker, particular after the rain delay. Serena was very nervous but when they came out again she was all guns blazing and took the first set. But something switched on in Cornet and it all changed.
"I thought Serena would win easily but Cornet obviously had a game plan and stuck to it."