John Lloyd backs Andy Murray to seal second Wimbledon title
Last updated on .From the section Tennis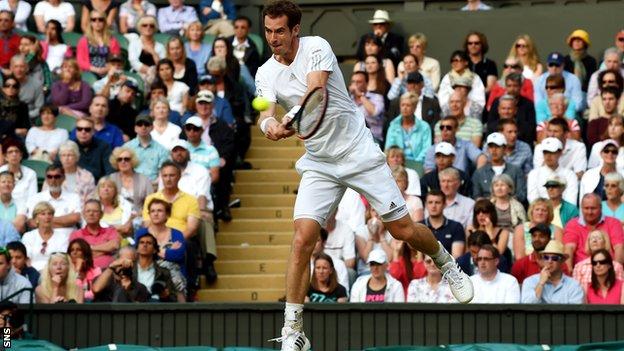 John Lloyd believes Andy Murray will retain his Wimbledon title and says the Scot is now the world's best grass court player.
"He's going to retain his title," said former British number one Lloyd.
"I thought [Novak] Djokovic would win, but I'm convinced by watching Murray that he's going to win again. He's the best grass court player in the world."
Murray beat Belgian David Goffin 6-1 6-4 7-5 in the first round and then swept Slovenian Blaz Rola aside 6-1 6-1 6-0 to set up the meeting with Agut on Friday.
"Andy has looked stunning, the first two rounds were fabulous but the opposition was okay at best," Lloyd told BBC Scotland.
"Yesterday was the first real test and he demolished an opponent [Agut] who is a very good player and is good on grass - he just won a tournament leading up to Wimbledon.
"In the first four to five games Agut had a game-plan, he tried to intimidate Murray with big ground-strokes, he tried to out-hit him, move well and get in his face, but Murray just absorbed it and came back at him harder.
"I saw Bautista look up at his box after those first five games and I knew that he knew that he was gone.
"Murray was a maestro yesterday, he went off the boil a bit for about five minutes, then got going again.
"Looking ahead, I think it will come down to whoever wins the semi-final between Djokovic and Murray, and I think it's going to be Murray."
Murray saw off Serbian Djokovic in last year's final to win his first Wimbledon title, his second Grand Slam.
He faces 20th seed Kevin Anderson from South Africa in the last 16 on Monday.
"There's always pressure on the top players in Slams but Andy's won Wimbledon, so for me it's definitely easier this year than last year," added Lloyd, who reached the Australian Open final in 1977.
"He looks more relaxed on court than last year, he is embracing the crowd and the crowd are obviously embracing him.
"He's gone from being very popular to through the roof and he's enjoying it. Every time he steps out on court he looks comfortable and I think he's playing better than he did last year, and he won it last year."