Wimbledon 2014: 'Champion's gate' installed on Centre Court
Last updated on .From the section Tennis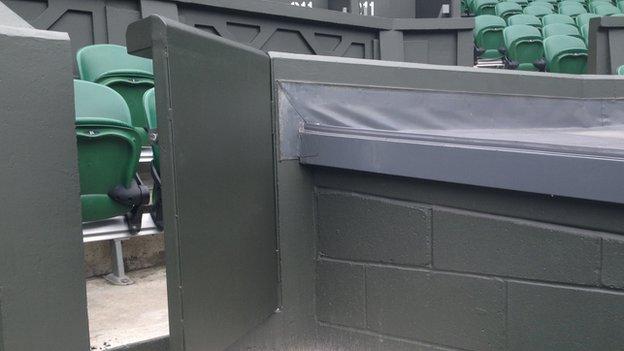 A gate has been installed on Wimbledon's Centre Court to allow newly crowned champions to reach their coaches and family without having to clamber over commentary box roofs.
Pat Cash was the first winner to climb up to the players' box after beating Ivan Lendl in the 1987 final.
The scene has been replicated many times since, including by Andy Murray after his triumph last summer.
"That's really taking the challenge out of it!" Cash joked to BBC Radio 5 live.
"If they're fit enough to win Wimbledon, I think they should climb up or have some other sort of challenge. It's way too easy now!"
After beating Roger Federer in a five-set final in 2008, Rafael Nadal not only climbed up into the players' box, but then clambered across the commentary box roofs to the royal box to greet members of the Spanish royal family.