Andy Murray: Ice baths, banana bagels & Roberto Bautista Agut

By Andy Murray
Wimbledon champion
Last updated on .From the section Tennis
Any win is a good win, but Wednesday's early finish gave me the bonus of getting home quicker than I can ever remember during the Championships.
That can mean a rare chance to really enjoy one of my three Wimbledon dinner options, endure my daily ice bath and maybe even watch some tennis on the TV. I'm usually back well after it's over, so that's a bit of a novelty.
There are more serious benefits to winning as quickly as I did against Blaz Rola. It means I don't wake up feeling sore the next day, so I can spend more time away from the courts and resting rather than having to do a lot of recovery stuff.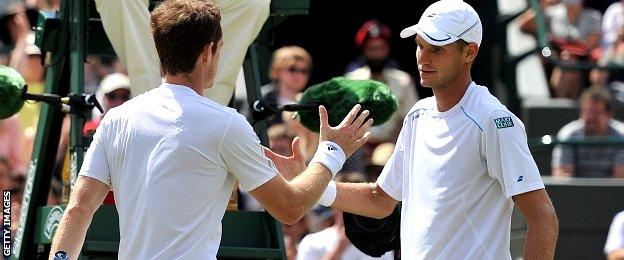 It also means I don't use up too much mental energy, because there weren't a lot of points in the match where I was stressed out.
Nervous tension can take its toll over the course of two weeks of a Grand Slam, so it's important to finish a match early if you can. That's something I didn't always manage at the French Open and it could help me later in the tournament.
The physical side of things is obviously something I need to take care of throughout the fortnight, and I make sure I have an ice bath every night. I have one at my house now and, while it couldn't exactly be described as a relaxing bath, I don't mind doing it because I know how much it helps.
There are some things you do because you're told they help, and yet you don't necessarily feel that different, but I do feel much better when I get out of an ice bath. I think it's a bit like showering in the morning.
John Lloyd on Murray's victory over Rola
"That was a maestro at work. Murray was absolutely brilliant. Everything is working almost to perfection. It was a marvellous performance."
My ice bath is in the corner of the room and it's always chilled to the right temperature - about eight degrees, I think. You walk up steps so you can lower yourself down into it, and I do eight minutes straight.
The water is moving inside the ice bath because otherwise your body starts to heat it up, and it's a lot tougher when the water is moving around. I might be used to it after all this time but it's still not nice, believe me.
You might not be surprised to hear that I don't order a pizza when I get in. My dinner options are kept simple during Wimbledon.
I have either salmon with rice, roast chicken with vegetables and potatoes, or steak with salad. My girlfriend Kim will cook and I know each night that it will be one of those three.
I had salmon on Tuesday night, so I knew that on Wednesday it would be one of the other two. My guess was steak.
The night before matches I always have a sports drink and I get through about a litre in the evening. I think the technical term is to "pre-hydrate". After matches I can usually be seen carrying around a protein shake, which is supposed to be chocolate but, to be honest, it doesn't taste great!
I must admit my bag doesn't always get out of the car when I get back in the evening, sometimes it just stays in there, and I'll relax with a bit of TV.
Obviously this year I've been able to watch the World Cup, although the 11 o'clock matches have been a bit too late. I'm probably not the only one who hasn't made it past the first half, and I usually go to bed about midnight.
If my dinner options are limited, breakfast time can be a bit more creative. I usually have a smoothie, and on Tuesday morning it involved strawberry yoghurt, raspberries, apple juice - a bunch of stuff - and then I had an apple and a peach.
I also had a bagel with banana. I've been asked a lot of questions about all sorts of things during my career, and I think I've said somewhere in the past that I don't like bananas. Well, I can update you - if I mush it up and put it on a bagel, it's fine! I guess it must be the consistency.
Murray's next opponent: Roberto Bautista Agut

Age

26

Birthplace

Castellon de la Plana, Spain

World ranking

23

Career titles

s-Hertogenbosch (2014)
Hopefully taking on board the right food, the right drinks and getting a decent amount of rest will put me in good shape for my next match on Friday.
Roberto Bautista Agut is a very good player. He's close to being top 20 in the world now, he's just won a title on grass in Holland and he hits the ball very flat, so the surface really suits his game.
I'll need to play well if I'm going to beat him but I'm looking forward to it. See you all then.
Andy Murray was talking to BBC Sport's Piers Newbery.