Andy Murray: Centre Court special & meeting Shaquille O'Neal

By Andy Murray
Wimbledon champion
Last updated on .From the section Tennis
Centre Court might not seem like the best place to go for a quiet chat, but sometimes it's the most peaceful place at Wimbledon.
Twenty-four hours before with everyone at the All England Club preparing for the start of the Championships, it seemed as good a place as any to talk tactics with my coach, Amelie Mauresmo.
There was nobody there apart from a group of stewards, and I think they were going through their own plans for opening day. I'm pretty sure they didn't even notice us.
We sat in the stands on the opposite side of the stadium from the players' box and discussed Monday's match, and Amelie's experience as a former champion. The main thing she told me in the build-up was to try and enjoy the moment of walking out as the defending champion.
The day itself was quieter than normal, if anything. The one o'clock start was my earliest at Wimbledon for quite some time, so that might have had something to do with it, and I had to shift my usual routine forward a little, but I tried to keep everything as similar as possible.
Amelie and Dani Vallverdu from my coaching team had sent me a few videos of Goffin's matches against Jo-Wilfried Tsonga at Wimbledon and Queen's Club, so we chatted about them and went through a few tactical things.
When I got to the locker room it was actually pretty empty, which was nice as it gave me some more time to think in peace and quiet. It's a very familiar place for me now and I have the same locker throughout the year when I come back as a member of the club. That's nothing to do with superstition - I don't even know what number it is, I just know which locker it is and head straight for it.
Dani was with me in the locker room and we headed downstairs to the warm-up area and saw the physio, before it was time to get on court.
The nerves were not too much of a problem - I'd been already - and to get such a great reception from a full Centre Court crowd was pretty special. I managed to enjoy the experience, just as Amelie had suggested, before getting to the chair and switching my focus to the match ahead.
It was a special day but it was only going to be one I would remember fondly with a win. Thankfully I played very well. My timing was good from the start and I coped well when he began to play some really good tennis in the second and third sets.
There was a treat for me after the match when I got to meet NBA star Shaquille O'Neal for the first time.
I'd known he was coming to Wimbledon for a few days and it was great to grab a quick chat. I'm a big basketball fan and he's someone I watched play live a few times when he was with Miami Heat. He's retired now but I still see him on the TV all the time. He's so funny, very entertaining, and it's worth watching some videos of him if you can.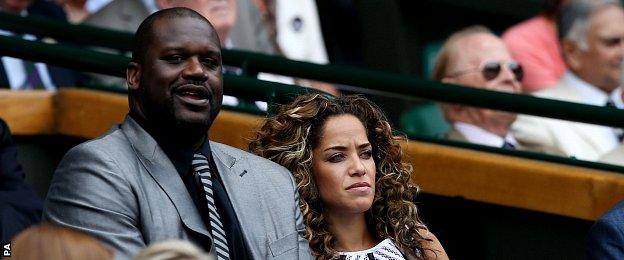 A tennis match is not exactly the place I would expect to see him and he told me it was his first time, and that he really enjoyed it. It would be a tough sport for him though, he's absolutely massive - 7ft 1in. I'd never met a basketball player before and can say for sure that I certainly wouldn't want to be defending against him.
He might be a huge guy but the thing that I love about basketball is that, despite all the players being of a similar size, they're still so fast. In tennis, people often presume the bigger guys don't move very well, but basketball shows that isn't always the case.
When you see someone as big as Shaquille O'Neal, you think it must be tough for them to get around the court, but they're great athletes, incredibly agile. Anyone who saw him when he was young and first came into the league can tell you, he was quick.
It was great to shake his hand - which was huge, obviously - and I did my best to look him in the eye! Hopefully I can take a bit of inspiration from our meeting into the next round.
Andy Murray was talking to BBC Sport's Piers Newbery.