Andy Murray: Amelie Mauresmo not planning radical overhaul
Last updated on .From the section Tennis
Amelie Mauresmo has no plans to make major changes to Andy Murray's game given the Briton is about to defend his Wimbledon men's singles crown.
The former women's world number one only became Murray's coach on 8 June.
"He knows how to play on this surface, he knows what to do on the court against many of the top players, so I am trying to add a few things here and there," Mauresmo told BBC Sport.
Murray begins his Wimbledon campaign against David Goffin on Monday.
The Scot became the first Briton in 77 years to win the men's singles title at the All England Club by beating Novak Djokovic in last year's final.
Murray, 27, split with former coach Ivan Lendl in March.
Mauresmo, speaking on Thursday, said: "I have my point of view on his game, but, to be honest, we are four days away from Wimbledon."
The Frenchwoman, Wimbledon champion in 2006, added she was enjoying the relationship.
"I have learned a lot about his personality, how he sees things, how he handles different things," said the 34-year-old.
"It's great. All this time we spend together, we can really get to know each other better."
Mauresmo acknowledged she had linked up with Murray at a "special moment" in his career.
She added: "He's great, and I'm feeling great being part of the whole team."
Asked if conversations between them were taking place in her native French, she said: "Not yet. We stick to English for now."
Several of the world's top players have followed Murray's lead by appointing former Grand Slam winners to coach them.
Djokovic and Roger Federer have linked up with former champions Boris Becker and Stefan Edberg respectively.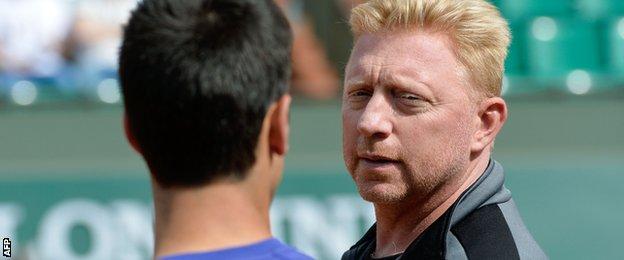 Asked why, Mauresmo, who also won the 2006 Australian Open, said: "I guess, for these guys, it's important for them to talk the same language.
"I think we have been through moments, doubts, emotions, disappointments, joys, everything that maybe other coaches, that are very competent as well, didn't really feel or didn't really go through."
Mauresmo, who coached countryman Michael Llodra briefly in 2010 after ending her playing career, finds herself in the spotlight given she is one of a rare number of women coaching in the men's game.
She hopes more females will get top coaching jobs.
"I guess it will maybe start to change things around in terms of this particular subject," she said. "But, to be honest, it is not my main concern today. I am here to help Andy the best I can."
Check out the full men's and women's draws for Wimbledon on the BBC Sport tennis index.