Elena Baltacha an inspirational figure for Scottish tennis
Last updated on .From the section Tennis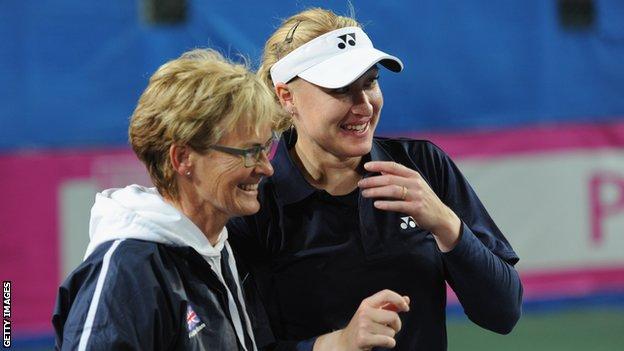 Elena Baltacha will be remembered as an inspirational figure who put Scottish tennis back on the map, says Tennis Scotland president Ian Conway.
And, in 2002, she became the first Scot since Winnie Shaw in the 1970s to top the British rankings.
"I know of many kids across Scotland that saw her as an inspirational model for tennis," Conway told BBC Scotland.
"Interestingly, she was the first British ladies player to be in the top 50 two years in a row - and that took 30 years for any British woman to do that - so she was a hugely inspirational model to all of us in the UK and especially in Scotland."
Baltacha, who retired in November and revealed in March that she had liver cancer, moved to Perth in 1990 when her footballer father, former USSR defender Sergie, switched to Scotland's top flight after two years with Ipswich Town.
"She came to Perth when her dad signed for St Johnstone and I remember vividly this wee girl with big glasses and a baseball cap round the wrong way walking into Perth Tennis Club," said Conway.
"And, for six or seven years thereafter, Jimmy McKechnie, the local coach at Perth, looked after her.
"When he got a prestigious job at Newlands Tennis Club, she moved to Paisley and, since that day, the membership of that club has grown immensely.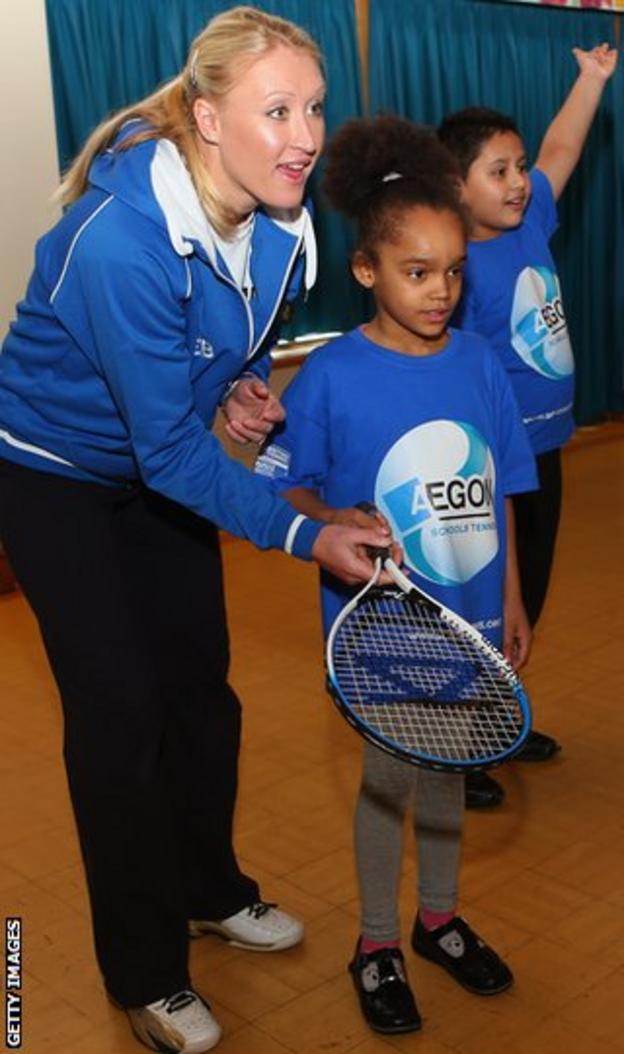 "She became the youngest-ever winner of a Scottish Cup medal, beating Judy Murray in the final."
At 16, Baltacha moved out of Scotland, the UK-wide Lawn Tennis Association taking her under its wing, and Conway said: "She was hugely inspirational up until then."
However, despite being diagnosed with a chronic liver condition aged 19, Baltacha's influence continued as she toured the world, racking up 11 tour titles.
Her success preceded Scotland's growing prominence in the men's game in Britain through Andy and Jamie Murray, Jamie Baker and Colin Fleming.
Although by then based in Ipswich, where she has established a tennis academy, she continued to represent her adopted country in high-profile exhibition matches against England.
"It is shock and sadness to think that, only a few years ago, Elena was in the top 50 in the world," added Conway.
"She had this dogged determination. When she was nine, Jimmy McKechnie just said just 'go girl for every ball' and she did - and that was where she could blow hot and cold.
"But, to be fair, we didn't know exactly what was wrong with her at that stage and, when she was on song, she could beat anyone.
"It was a number of years ago that the doctors had diagnosed that there was a problem, but Bally was the inspirational type of kid who, whatever she did, she gave 110%.
"Going through the illness, she went off the circuit for a year or two hopefully to get everything right and it was when she returned to the circuit that she hit the top 50 in the world - absolutely amazing.
"She was such a positive role model for tennis in particular and for sport in general."