Andy Murray faces huge battle to defend Wimbledon title - Sampras
Last updated on .From the section Tennis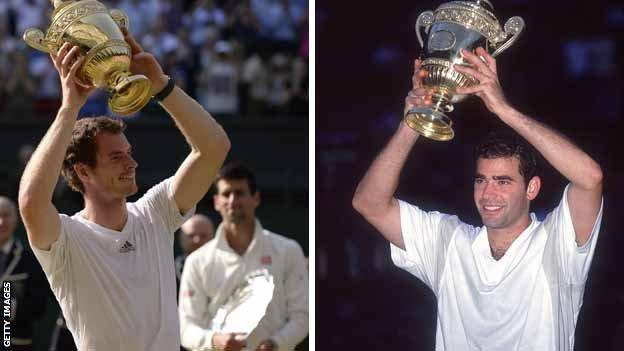 Briton Andy Murray will find it harder to defend his Wimbledon crown than he did to win it in the first place, thinks seven-time champion Pete Sampras.
"You feel you are the man to beat - especially for Andy in England.
"He'll handle it fine, he is a great player and I think great players will figure it out."
Pete Sampras in Grand Slam tournaments
Seven
Wimbledon
wins (1993, 1994, 1995, 1997, 1998, 1999, 2000)
Five
US Opens
(1990, 1993, 1995, 1996, 2002)
Two
Australian Open
titles (1994, 1997)
Never won the
French Open
(best finish was reaching the 1996 semi-finals)
Sampras shares the Open-era record with Roger Federer for the number of Wimbledon titles, having won at the All England Club in 1993, 1994, 1995, 1997, 1998, 1999 and 2000.
The 42-year-old said Scotland's Murray, 26, "can contend... he is eager and healthy again [following back surgery at the end of 2013] and I think he will always be in the mix.
"He is on the way to winning multiple majors - it's hard to really put a number on it - but he is a great player. Wimbledon was a big one for him last year and he has come close a few other times."
Murray, who also won the US Open title and Olympic gold in 2012, beat Novak Djokovic in a thrilling straight-sets victory in last year's final to end Britain's 77-year wait for a men's singles champion at SW19.
But dealing with the pressure of trying to retain his Wimbledon title on home soil will be a new challenge for him, predicts Sampras.
"I think he is going to be talked about, just like he was last year, but before he was more of a contender, now he is the favourite," he said.
When asked whether he intended to move into coaching, Sampras - who revealed he did not pick up a tennis racquet for four years after he retired following the 2003 US Open before returning to play in a few exhibition events - was adamant.
"I'm not so keen on the travel and the lifestyle - it's not for me. I don't miss the pressure of the tour, the life," he insisted.