Australian Open: Medical officer defends extreme heat policy
Last updated on .From the section Tennis
The chief medical officer at the Australian Open has defended criticism of the tournament's "extreme heat policy" after Britain's Jamie Murray was treated for heatstroke.
Play was suspended on uncovered courts for more than four hours on Thursday as temperatures breached 40C for a third consecutive day, but Dr Tim Wood insisted the health of players was not being compromised.
"We evolved on the high plains of Africa chasing antelope for eight hours under these conditions," he said.
"There will be some players who complain and no-one is saying it is terribly comfortable to play out there, but, from a medical perspective, we know that man is well adapted to exercising in the heat. Whether it is humane or not is a whole other issue."
At 13:53 local time (02:53 GMT) in Melbourne and with the temperature at 41C, the "extreme heat policy" was implemented, suspending matches on uncovered courts.
Play continued on both the Rod Laver Arena and Hisense Arena as their roofs were brought across.
The suspended matches resumed soon after 18:00 (07:00 GMT).
By then, Murray had won his doubles match with Australian John Peers in straight sets.
But the Briton, brother of world number four Andy, started to feel the effects of the heat shortly after coming off court and needed two hours of treatment by doctors and physiotherapists.
He admitted he would have been unlikely to complete his match had he and Peers not wrapped up victory over Australian duo Matt Reid and Luke Saville, in straight sets.
But Murray is hopeful of recovering in time for his scheduled second-round match on Saturday.
Speaking after winning his second-round match against Vincent Millot, Andy Murray said: "He was struggling. I think he's doing better and he went back to the hotel. I spent an hour or so with him when I got here and then checked up with him a couple times but he wasn't in a great way.
"He's never had real cramps like that. I don't know how dangerous they are, but they're very, very uncomfortable.
"When one part of your body goes and then you move, the opposite muscle goes. When it happens the first time, it's pretty scary.
"He drunk loads when he got off the court but he was finding it quite hard to eat. Hopefully he'll be fine tomorrow.
Murray was not the only player affected by the heat.
Maria Sharapova spent three hours and 28 minutes in the brutal conditions on Rod Laver Arena as she battled past Italy's Karin Knapp in three sets.
The Russian later questioned tournament officials about the lack of communication with players.
"We have never received any emails or warnings about the weather or what to do," said Sharapova.
"Actually, I did receive one, I think, while I was in the ice bath a few minutes ago. I was like, 'that's a little too late'."
Temperatures, which reached a peak of 42.2C on Tuesday and 41.5C on Wednesday, hit 43.3C on Thursday.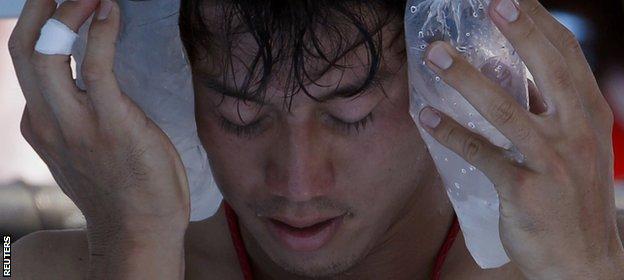 The decision to implement the extreme heat policy is at the discretion of tournament referee Wayne McKewen, who had been criticised for failing to suspend play on the previous two days .
He uses the Wet Bulb Globe Temperature reading, which takes into account humidity and wind direction as well as heat.
After play was suspended, Belgian player Kirsten Flipkens tweeted: "FINALLY!!!! Play suspended because of the heat... Heat policy should have been in two days ago already.. #burning #crazy #nothealthy."
Russian Elena Vesnina added: "Impossible to play in this heat... it's only about surviving. Forget about beauty of the tennis!"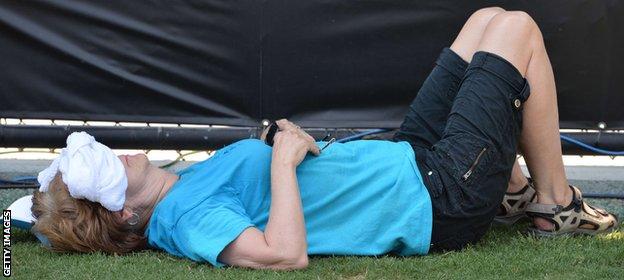 On Wednesday, Croatian Ivan Dodig said he feared he "could maybe even die" because of the heat, while a day earlier Canada's Frank Dancevic required medical attention after fainting in his first-round match.
He claimed it was "inhumane" to allow players to compete in such testing conditions.
France's Alize Cornet looked in distress on Margaret Court Arena as she beat Camila Giorgi.
"I went further than my limits," said a tearful Cornet. "It was really hot, that's why I'm so emotional. Doing something physical in this heat is just unbelievable."
American Varvara Lepchenko was among the first players to suffer.
She required a medical timeout to have ice rubbed onto her legs after losing five straight games on Court Eight.
On the resumption, she won just one more as she lost 4-6 6-0 6-1 to Simona Halep.
"I couldn't focus at one point and started feeling dizzier and dizzier," said Lepchenko. "Towards the middle of the second set, I started feeling more and more dizzy and everything started going so fast.
"Then just at one point, I completely lost it."
Lepchenko said the first thing she did after the match was have an ice bath to cool her body temperature.
"I also had a lot of water with salt," she said. "I just laid down in the locker room for the past hour because I just couldn't physically get up."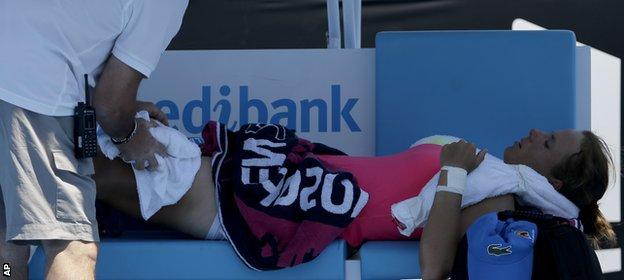 She said officials were wrong to start matches in such conditions.
"It's very dangerous if someone has some sort of conditions with their heart," she said.
"Being in this temperature is almost like going into a sauna. It's not good."