Australian Open 2014: Dancevic complains of 'inhumane' treatment
Last updated on .From the section Tennis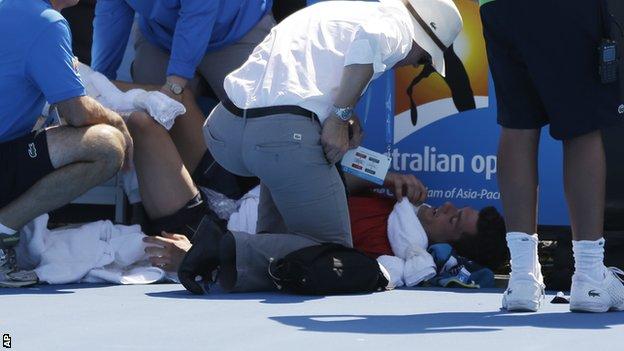 Australian Open organisers have been criticised for forcing players to compete in intense heat as temperatures hit 42C (107.6F) in Melbourne.
Canada's Frank Dancevic required medical attention after fainting in his first-round match and said it was "inhumane" to allow players to compete in such testing conditions.
Britain's Andy Murray says the incident may damage the event's reputation.
"It doesn't look good for the sport when people are collapsing," he said.
"Most of the players are conditioned well enough to last in that weather but doing it for three or four hours is tough to recover from."
The fourth seed, who recorded a straight-sets win over Japan's Go Soeda in his first match of the tournament, added: "At 3pm, the conditions were very, very tough.
"Whether it's safe, I don't know, but there have been issues in other sports with players collapsing and you don't want to see anything bad happen to anyone."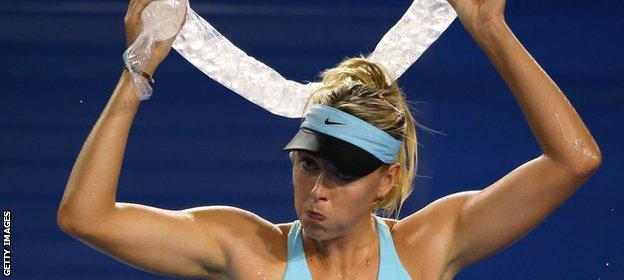 The high temperatures resulted in a number of incidents at Melbourne Park on Tuesday:
Former women's world number one Caroline Wozniacki's plastic water bottle melted on court

Defending women's champion Victoria Azarenka described the heat like "dancing in a frying pan"

2008 finalist Jo-Wilfried Tsonga's shoes softened in the high temperatures

Ballboys and ballgirls have their shifts reduced from 1hr to 45mins to stop them overheating

Serbia's Jelena Jankovic, who won the Wimbledon mixed doubles title in 2007, burnt her backside on an uncovered seat
Dancevic passed out during the second set of his first-round defeat to France's Benoit Paire on the uncovered court six.
"Until somebody dies, they just keep going on with it and putting matches on in this heat," Dancevic, 29, said.
"It's inhumane, I don't think it's fair to anybody.
"I've played five-set matches all my life and being out there for a set and a half and passing out with heat-stroke is not normal," he said.
A ball boy collapsed and needed medical support during Milos Raonic's four-set victory over Daniel Gimeno-Traver on court eight, while former women's world number one Caroline Wozniacki said the heat melted a plastic water bottle during her straight-sets win over Lourdes Dominguez Lino.
"I put the bottle down on the court and it started melting a little bit underneath, the plastic, so you knew it was warm," Wozniacki said. "It felt like I was playing in a sauna."
American John Isner, who retired from his first-round match with a right ankle injury, added: "It was like an oven - when I open the oven and the potatoes are done. That's what it's like."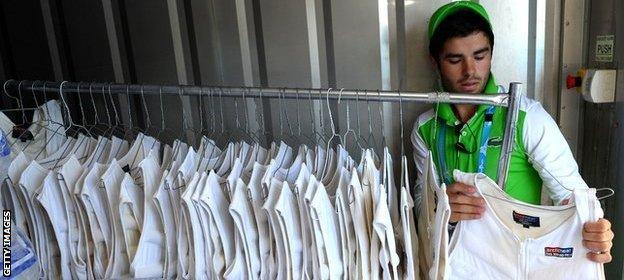 Players draped bags of ice around their necks and retreated into the shade at the back of the courts between points, while some spectators queued in front of large electric fans that blasted water at their faces.
"It felt pretty hot, like you're dancing in a frying pan or something like that," defending women's champion Victoria Azarenka said. "I don't think anybody wants to go outdoors right now."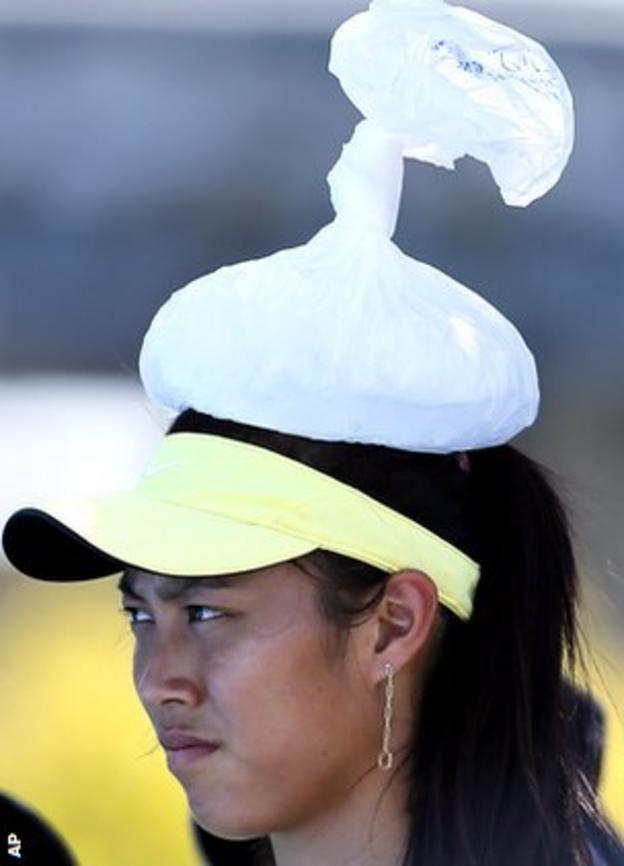 "I don't know how to say it in English, but it's not good for our shoes when it's hot like this," 2008 Australian Open finalist Jo-Wilfried Tsonga said after his straight-sets win over Filippo Volandri.
Serbia's Jelena Jankovic burned her backside and hamstrings on an uncovered seat during her victory over Japan's Misaki Doi, and the former world number one believes there should be a set temperature where play is suspended.
"For the health of the players they should have a temperature where you don't play," she said.
"It doesn't matter how good a player you are sometimes your body can't cope with this. It's not easy and you can't enjoy playing when you are ready to explode and are red in the face."
However, the tournament's chief medical officer, Tim Wood, insists that the risk to players' health in the extreme heat was minimal.
"The majority of matches today were completed without any court calls from the medical team," Wood said.
"Of course there were a few players who experienced heat-related illness or discomfort, but none required significant medical intervention after they had completed their match."
Tournament officials have not invoked emergency heat rules which allow them to halt play and close the roofs on the centre and second court, although they have allowed a 10-minute break between the second and third sets for women's singles and junior singles matches.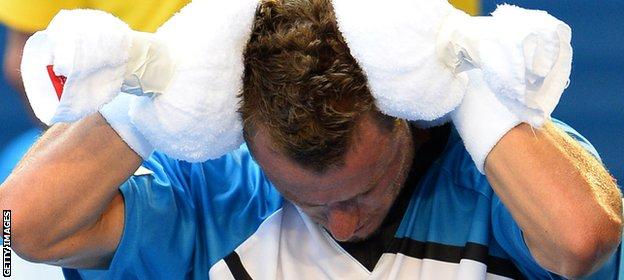 The day's peak temperature of 42.2C was short of Melbourne's January record of 45.6C, which came during the notorious Black Friday bushfires of 1936.
High temperatures are expected for the rest of the week.
Organisers use the Wet Bulb Globe Temperature composite, which also gauges humidity and wind, rather than the temperature alone when assessing extreme heat conditions.
The decision on whether to stop matches at the tournament is now at the discretion of tournament director Wayne McKewen, following a change in the tournament rules this year.
"While conditions were hot and uncomfortable, the relatively low level of humidity ensured that conditions never deteriorated to a point where it was necessary to invoke the extreme heat policy," McKewen said.
Speaking before Dancevic's collapse, former world number one Roger Federer felt conditions were not dangerous, adding: "It's just a mental thing.
"If you've trained hard enough your entire life or the last few weeks and you believe you can do it and come through it, there's no reason. If you can't deal with it, you throw in the towel."
Greg Whyte, a former Olympian and professor of applied sport and exercise science, believes spectators rather than players are at most risk from the extreme heat.
"The crowd invariably are at greatest risk, specifically because they are not acclimatised to the heat," he said.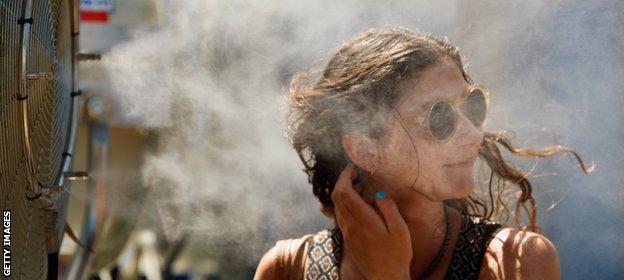 "What you have to remember is that athletes, particularly tennis players, play all over the world.
"They are very well acclimatised and incredibly well looked after. They hydrate themselves well on court and there are expert teams around them who are deciding if it is potentially dangerous.
"If we were taking unacclimatised individuals and putting them in these extreme environment then I would be more concerned."