Novak Djokovic approached me day he lost top spot - Becker
Last updated on .From the section Tennis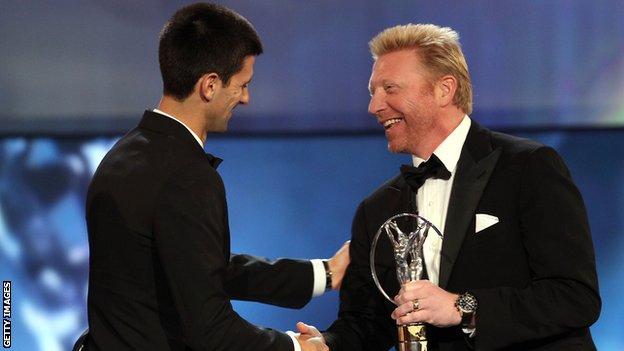 Novak Djokovic approached Boris Becker to become his coach on the day the Serb lost his world number one ranking, the German has revealed.
"I was approached by Novak and his manager while he was playing in Beijing," Becker told BBC Sport.
"I was surprised - I didn't expect the phone call. I was very honoured."
Djokovic, who has won six major titles, will start work with Becker before the Australian Open, which starts on 13 January.
The Serb's long-time coach Marian Vajda will continue as part of his team.
Speaking to BBC Sport tennis correspondent Russell Fuller, Becker revealed he had a number of discussions with Djokovic after the initial contact before deciding he wanted to coach full-time.
"This isn't a half-hearted job, it wouldn't be right for him or for me," explained Becker.
"You're in it to win it. You either go at it fully or you don't - either I commit myself or I don't commit myself.
"I said 'I want to meet you and see how much you want it, how much that fire is burning inside you, how much is left, and what I can bring to the table'."
Despite winning seven titles in 2013 and beating Andy Murray in the Australian Open final, Djokovic lost not only his number one spot but two Grand Slam finals as well - the four-set US Open defeat by Nadal came after a straight sets loss to Andy Murray at Wimbledon.
"He had a couple of bad losses this year in the finals of the Grand Slams. He's such a winner and wants to win so badly and wants to go into the history books of tennis," said Becker.
"The fact Nadal has taken over and Murray has moved up a gear, he was left behind a little bit - I'm talking on a really high level, the last five or 10% that maybe has been missing for whatever reason.
"He decided he needed somebody in his corner that had been there and done it, and that's why I'm coming in."
The arrival of Becker on Djokovic's coaching staff will put him against Ivan Lendl, Murray's coach, who Becker beat three times in Grand Slam finals.
"When Ivan was appointed, I thought about what took some of these guys so long to talk about some of these all-time greats," added Becker.
"There was a generation that really changed tennis and the way we played in the 1980s is not that different to how we're playing today."