Novak Djokovic appoints Boris Becker as head coach
Last updated on .From the section Tennis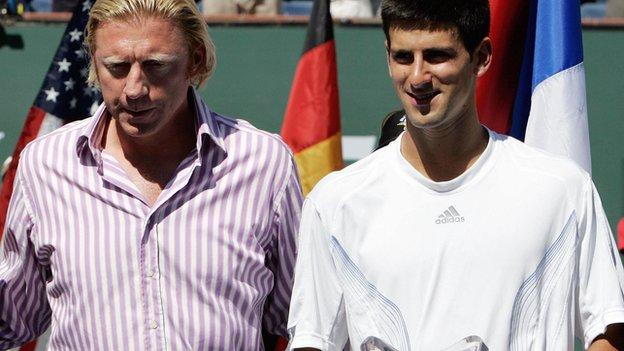 World number two Novak Djokovic has appointed six-time Grand Slam winner Boris Becker as his head coach.
The 26-year old Serb, who has also won six major titles, will start work with Becker before the Australian Open, which starts on 13 January.
Djokovic's long-time coach Marian Vajda will continue as part of his team.
"I am proud Novak invited me to become his head coach. I am sure we can achieve great things together," said former Wimbledon champion Becker, 46.
Defending Australian Open champion Djokovic has been with Vajda since 2006 but other coaches have come and gone on a regular basis during that period.
"Boris brings a fresh approach and together with Vajda he will make a winning combination," said Djokovic.
"Boris is a true legend, someone who has great tennis knowledge, and his experience will help me win new trophies, Grand Slams and other tournaments.
"He is a great person too, and I am sure he will fit in our team in the best possible way. The team is now strengthened and we hope for maximum results.
"My goal for 2014 is to play my best tennis and to get in shape for the grand slams and Masters 1000. These tournaments have the most weight in our sport, and I want to prove my worth at them."
Becker first shot to prominence by winning Wimbledon as an unseeded 17-year-old in 1985.
During a 15-year professional career, the German won 64 ATP Tour titles, including three Wimbledon singles crowns.
Djokovic will be hoping to reclaim his world number one spot from Spain's Rafael Nadal in 2014.
Vajda, who has worked with Djokovic since 2006, will attend events in Indian Wells, Madrid, Toronto and Beijing as part of his scaled-back role, but welcomed Becker's arrival.
"I realised that Novak needed a new head coach in order for him to continue improving certain parts of the game," said Vajda.