Ross Hutchins: Andy Murray Wimbledon win beats cancer joy
By David Ornstein
BBC Sport
Last updated on .From the section Tennis
Ross Hutchins says Andy Murray's Wimbledon triumph meant far more to him than beating cancer.
The British doubles player is preparing for his return to professional tennis after missing last season to
But he told BBC Sport: "None of that is as important as Andy winning Wimbledon.
"It was amazing to become healthy, but that was the most incredible moment of the year. Cancer and the whole treatment, you forget about it."
Hutchins is training at full intensity and plans to make his comeback later this month at the Brisbane International.
That is the same tournament where Murray made an emotional dedication to his close friend after last season.
Hutchins is without any ATP World Tour points after a year of inactivity, but can use his protected ranking of 29 for 12 events in 2014.
He will resume a partnership with Colin Fleming that has brought three titles and quarter-final appearances at Wimbledon and the US Open.
They were first alternates for the 2012 ATP World Tour Finals, which features the world's top eight doubles teams, and Hutchins has lofty expectations now that he is clear of illness.
"We want to be the number one team in the world," he said. "I know a lot of people say that but we feel like we have the gameplan and we're still relatively young in the game of doubles.
"I hope my experiences over the past 12 months can help give us that 10% extra to take us from a top-10 team to a really, really top team who are pushing for Grand Slam titles and Masters Series titles.
"It's something that's a big goal of ours and something we've planned all year. We're looking to 2014 with a real thirst for success, desperate to take on the world and almost come back with a bang.
"We've beaten pretty much everyone in the world and I do feel like we can be number one in the world."
Hutchins was diagnosed with cancer a year ago having suffered from back pain since in April 2012.
"A lot of tennis players and athletes get back pains, hip pains, knee pains - they're probably the most common pains we get. But this was something more extreme," he recalled.
"I started calling my physios in the middle of the night, the pain was so bad I couldn't sleep. I was lying on the floor, rolling around, lying on tennis balls, lying on foam rollers. It was just agony.
"In La Manga in December I saw a physio who said 'This could be a kidney problem, it could be a tumour in your kidneys, it could be kidney stones or it could be something far worse in one of your organs'."
Hutchins immediately returned to the UK to undergo kidney scans.
"They picked up that I had pneumonia in my lower lung," he explained. "Then I had another scan on the upper section of my chest.
"It was so lucky we actually found that little bit of pneumonia - otherwise they would never have scanned the upper section of the chest, which is where we found the enlarged lymph nodes.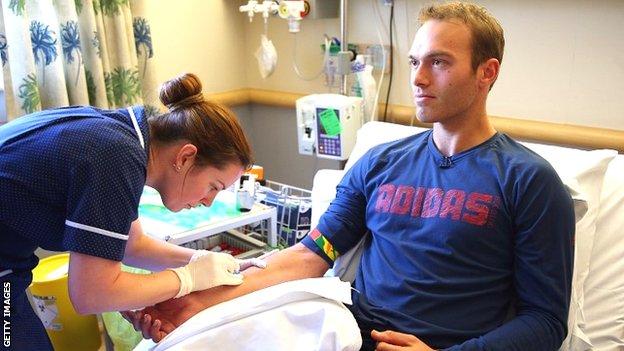 "Enlarged lymph nodes can mean cancer or it can mean an infection. As soon as I spoke to the doctor I knew that it was cancer. I had a biopsy on 22 December and on the 27th I got the call that it was cancer."
The disease had been inside him for up to 18 months and was worse than initially feared - it was at stage four of four, the most severe. A two-month course of chemotherapy every three weeks became a six-month course every two weeks.
But typical of his nature and buoyed by the survival statistics, Hutchins refused to entertain any negative thoughts and after "literally five seconds of tears and emotion", he set about conquering the cancer.
"It's nice to have change sometimes, it's good to test yourself," said the Londoner. "Cancer is thought of as such a bad aspect of the world and that it's all doom and gloom, but I didn't want it that way.
"People say 'You're so unlucky that it happened to you', but I don't believe in luck; things happen to everyone in the world and you just have to take what happens in life and go with it."
Under the guidance of professor David Cunningham, Hutchins underwent ABVD treatment at the Royal Marsden hospital in Sutton.
"It was about five hours of chemotherapy where four different drugs are mixed together and pumped through your body," he said. "Whether it's in your toenail or your ear lobe, it doesn't miss a thing.
"It's almost like tar in your body. You feel the thickness and the sums are quite a lot, the bags they put in are full of liquid.
"When you see the bags you realise this is what is going take over your life, this is the fluid which is going to destroy all the bad stuff in you."
The last of his 12 sessions came during the Aegon Championships at Queen's, which Murray won before participating in the Rally Against Cancer charity tennis match that Hutchins helped organise.
Hair thinning but free of pain, Hutchins was able to attend and remembers it as "a day that is up there with the best in my whole life".
Two weeks later Hutchins cheered Murray to an and a fortnight later he was given the all-clear.
Hutchins was soon back on the court, training hard and identifying a set of goals which include a place on the Great Britain Davis Cup team for January's World Group tie against the United States in San Diego.
He also aims to make up for the 2012 Tour Finals disappointment by qualifying for it in November, the same month he is scheduled to marry fiancee Lindsay with Murray as best man and Fleming an usher.
"All of these things are so exciting because I know how different it can be - and how different it was 12 months ago," Hutchins concluded.
"Now I'm back here again 12 months later, being healthy and couldn't be happier. I feel on top of the world and loving every second of it."