Andy Murray's Wimbledon win not enough for British tennis

By Russell Fuller
BBC tennis correspondent
Last updated on .From the section Tennis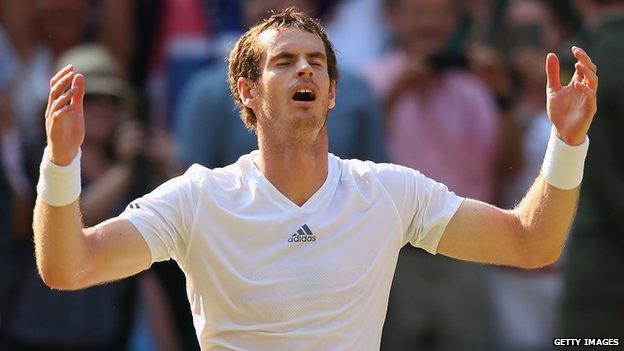 Andy Murray may have become Britain's first Wimbledon men's singles champion for 77 years, but it appears he will need a huge helping hand if his triumph is going to get people flocking to their local courts.
The latest figures from Sport England's Active People Survey make for very disappointing reading: 39,000 fewer adults over the age of 16 (in England) played tennis once a week in the year to October 2013 than they did in the previous 12 months.
Those numbers provide further evidence, if any were needed, of how inadequate the Lawn Tennis Association's participation strategy used to be - but not of an organisation which has buried its head in the sand and refused to accept the need for reform.
No-one from the LTA has yet appeared on Oprah to make a tearful apology to the nation, but there has been a frank admission that previous plans were simply not good enough.
In this year's Annual Review, they talk of "legitimate criticism by our stakeholders", admitting that they "cannot continue to do the same things as we have done before and expect to see a change in the results we achieve".
Despite a much better summer, there was a large drop in the numbers playing tennis in June and July, before a strong increase in August and September and another drop in October. It may take a while for the effects of Murray's victory to rub off, but the Sport England director Phil Smith warns the LTA not to bank on it.
"We've probably finally dispelled the myth that a British guy winning Wimbledon would do something to increase participation figures," he said. "It's not that simple to translate into a weekly habit of ordinary people playing a sport - it takes more than just a Wimbledon winner."
Cycling has successfully developed a correlation between medals won and bums on saddles - but not without a huge amount of very well-targeted work. The sport also has the luxury of multiple World and Olympic champions; whereas Laura Robson is Britain's only other singles player ranked inside the top 100.
Millions of pounds of funding is on the line for the LTA. The organisation will make a presentation to Sport England next Thursday, before nervously awaiting the outcome of the January board meeting which will determine whether they deserve £10.3m in withheld funding.
They have missed their participation target of 450,000 in spectacular style, but this part of the funding is an "incentive to change their approach" and it may well be that the LTA receives all, or much, of its funding - albeit with conditions attached.
"Previously the LTA put a lot of stuff on, they worked very hard, but kind of hoped for the best," Phil Smith said. "Now they are looking at it like a good business looks at things. They're examining who their customers are, and who their potential customers are, and they are trying to develop products, services and approaches that will fit with that audience."
The LTA has diverted an extra 10% of its income to developing participation over the last year. More money has been put towards the construction of indoor and also floodlit courts; they are trying to work more closely with the local authorities who control over half of the country's courts; and there is now a dedicated team to examine, and act upon, the increased flow of data coming into the building.
The independent chairman David Gregson has introduced a more business-like approach in his first 12 months in the post, and Sport England believes Cathie Sabin's confirmation as the LTA's first female president is a sign of a governing body prepared to change.
The LTA has budgeted for the withheld Sport England funding from April of next year and believe they deserve it.
Even in an era where funding is often ruthlessly cut in the light of poor participation figures or a disappointing medal haul, Sport England may well give the LTA something to smile about in the New Year.
They like the cut of the governing body's jib, but will not be prepared to wait too long for hard evidence that the strategy can deliver results.