Scott Clayton encouraged by battling defeat in Cyprus
Last updated on .From the section Tennis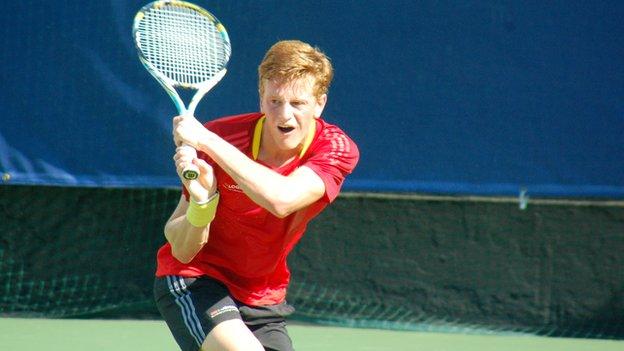 Jersey's Scott Clayton says he is looking forward to a strong end to the season despite his defeat in the second round of his latest Futures tournament.
Clayton lost 3-6 6-4 7-6 (7-4) to Andre Gaspar Murta of Portugal in Cyprus.
"I had a good talk with my coach and we looked back to August when I was really struggling with belief and enjoyment.
"If you'd have told me then how I'd be playing and feeling about myself now, then I'd have bitten your hand off," the 19-year-old told BBC Radio Jersey.
"The whole summer wasn't great for me but four months down the line and I'm happy with where I am.
"I'm playing well and it's very, very small margins. I feel I'm catching up."
Clayton is currently ranked at 1,347 in the world, with Gaspar Murta more than 700 places above him in the standings.
"It was a close match and you win some, you lose some," said Clayton, who cited his Island Games doubles gold with friend James Connelly as one of the highlights of his year.
"I played great in the first set but in the second there was maybe a five-minute drop in level and you can't really afford to let that happen at key stages. I played a very bad game at 5-4 down with four unforced errors so that wasn't great.
"But I managed to pick it back up in the third and we were neck and neck. All in all it was a good performance and we'll see what I have to offer for the next few weeks."
Clayton, who is hoping for a career-high ranking when the next ATP list appears next week, will end the season in Qatar at the Futures event in Doha in December.