Viktor Troicki feeling 'confident' ahead of doping appeal
Last updated on .From the section Tennis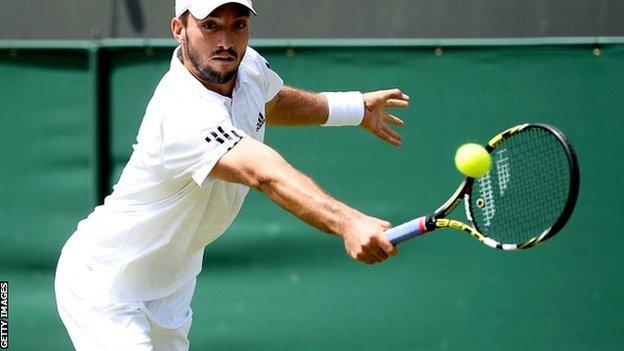 Serbia's Viktor Troicki feels "confident" as he prepares to appeal against the 18-month ban he was given for missing a doping test.
The International Tennis Federation (ITF) said in July that the 27-year-old was in violation of anti-doping rules.
Troicki, a former world number 12, will appear before the Court of Arbitration for Sport in Lausanne on 9 October.
"I will attend in person for sure. I am fighting for the truth and I will do it as hard as I can," he said.
"I feel confident. Reading all the papers of the previous trial in London, I can't understand why I have been sanctioned, especially this hard."
He added: "I am really relieved that we finally have a date and that it is already next week. It has been a very long waiting period, in which I tried to stay focused and continued training."
Troicki failed to provide a blood sample during the Monte Carlo Masters in April. He claimed to have asked for permission to miss the test because he was unwell, but the ITF rejected that explanation.
"Mr Troicki provided a urine sample, but did not provide a blood sample," read the ITF statement in July.
"He asserted to an independent tribunal that he was assured by the doping control officer (DCO) that it would be acceptable not to provide a sample on account of him feeling unwell that day.
"However, the tribunal concluded that the DCO told Mr Troicki that she could not advise him as to whether his reason for not providing a blood sample was valid, and that no such assurances were given by her."
Troicki is currently suspended until 24 January 2015. He last played in July and has since slipped from 53rd to 69th in the rankings.
"I really hope they will turn around the decision of the ITF," he said.
"I have done nothing wrong, apart from following the instructions of the doping control officer. I even asked for a doctor to be called to the room, but she said she was in charge and showed me her diplomas.
"She kept saying 'don't worry' to me, so I relied on her. And so did Jack [Reader, coach], who was with me during half of the time I spent with her.
"I really put all my hopes in the judges that will decide in Lausanne. I hope they take their time and that they really find the truth. I don't even want to think about anything else."