Borna Coric, 16, set to face Andy Murray in Davis Cup
By Piers Newbery
BBC Sport
Last updated on .From the section Tennis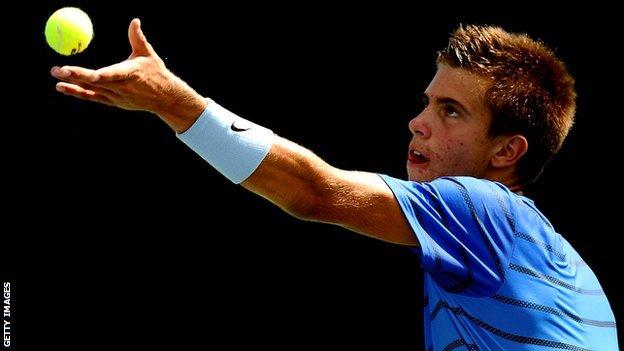 Teenager Borna Coric is about to go from winning the US Open boys' singles title to facing Andy Murray in the Davis Cup in the space of a week.
In a shock selection, Coric, 16, will make his Croatia debut against Britain in the World Group play-off on Friday.
"I don't think I can win - only if he injures himself," Coric said last week when asked about the possibility of playing the Wimbledon champion.
"I haven't played a five-set match, so if I'm playing it's going to be tough."
Coric had not expected to see any action - at least in live matches - over the three days, but in a depleted Croatia squad he was seen as the man, or boy, in form.
Coric has won three senior titles on the Futures circuit this year and finished his junior career with victory in New York on Sunday.
And with Croatia's number one Marin Cilic and number three Ivo Karlovic absent, captain Zeljko Krajan decided to bring the youngster into his four-man team.
"It's unbelievable to play for my country," said Coric. "When I was eight or nine we won the Davis Cup - I was watching on the TV and hoping one day I'm going to play there.
"It's my first Davis Cup, so I'm there just to be there. If he says, 'you play', I will play. If he says, 'just bring the water on the court', I will just bring the water on the court."
There might be divided loyalties in the Coric camp as he has a British coach, Ryan Jones - who was suggested to his father by his British manager - and splits his training between Zagreb and Northwood in north London.
So in the same way that a 15-year-old Murray headed to Spain to further his development, Coric has had to adjust to life abroad at a young age.
"In the beginning it was tough," he said. "I didn't actually want to go, but then we had the deal that I'm not going to be there for the whole time.
"I'm going to be there before tournaments, and then after tournaments go home. Then sometimes [Jones] is going to come to Zagreb."
Croatia has produced a string of world-class players over the years, but Coric sees picking up some of the British mentality as a definite advantage.
"I think it's a big, big difference," he said. "Some of [the Croatian people] are actually hard workers, but not like the Brits.
"When I was working with my ex-coach, I was working hard, but I wasn't working really, really hard. With Ryan I'm working really, really hard.
"And the biggest difference is a lot of Croatian people are nervous. Actually I am still, but I think he helped me there a lot."
One man who knows plenty about that subject is former Wimbledon champion Goran Ivanisevic, who famously overcame a bout of nerves on his way to winning at the All England Club in 2001.
Born in 1996, that victory is something Coric has only seen on video, but the teenager is clearly in awe of a man who has taken a close interest in his development.
"I know Goran, we are speaking every day," said Coric. "He's really helping me a lot - to have Goran Ivanisevic on your side is unbelievable.
"In Zagreb we train a lot and we know him very, very well."
When asked last week, before he was picked to play, about his chances of replacing Ivan Dodig or Antonio Veic and getting a singles place, Coric said: "I hope they don't injure themselves but I will be ready.
"It's going to be a huge experience for me just playing with them, to watch Murray, and maybe in some crazy situation to play the match. It can help me a lot in my career."