Viktor Troicki banned for 18 months for doping violation
Last updated on .From the section Tennis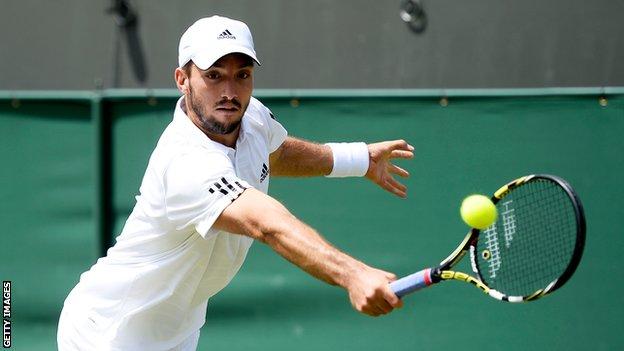 Serbian Viktor Troicki has been banned for 18 months for a violation of anti-doping rules, the International Tennis Federation has announced.
The 27-year-old world number 53, who reached the third round at Wimbledon, failed to provide a blood sample during the Monte Carlo Masters in April.
He claimed he asked for permission to miss the test because he was unwell but the ITF rejected that explanation.
Troicki has confirmed that he will appeal against the decision.
"I put my trust in the Court of Arbitration of Sports in Lausanne. I really hope they will look for the truth and find it, which is only one," he said in a statement on his official website.
Troicki, who reached 12th in the world rankings in June 2011, will begin his suspension immediately and it will end on 24 January 2015.
Troicki told a news conference on Thursday "this is the toughest moment of my career and of my life".
"`I am innocent," he said.
"I have never ever taken any prohibited substance or ever thought of doing so. I did not lie and this really hurts."
He becomes the fifth professional to serve a doping suspension in 2013 after Filippo Calorosi, Barbora Zahlavova Strycova, Dimitar Kutrovsky and Fernando Romboli.
Troicki must also forfeit all of the prize money and rankings points he earned at the Monte Carlo tournament, where he was beaten 6-1 6-2 by Finland's Jarkko Nieminen in the first round.
Just hours before the ITF announcement, the powerful right hander - who was a key part of Serbia's victorious Davis Cup team in 2010 - was beaten 6-0 6-4 by Spain's Tommy Robredo in the second round of the Croatia Open.
An ITF statement read: "Mr Troicki, a 27-year-old player from Serbia, was notified on 15 April 2013 that he had been selected to provide a urine sample and a blood sample in association with his participation at the Rolex Monte Carlo Masters event.
"Mr Troicki provided a urine sample, but did not provide a blood sample.
"He asserted to an independent tribunal that he was assured by the Doping Control Officer (DCO) that it would be acceptable not to provide a sample on account of him feeling unwell that day.
"However, the tribunal concluded that the DCO told Mr Troicki that she could not advise him as to whether his reason for not providing a blood sample was valid, and that no such assurances were given by her.
"Accordingly, the tribunal determined that Mr Troicki's actions constituted a failure and a refusal to provide a blood sample, and that his explanation for not doing so did not constitute compelling justification.
"However, the tribunal accepted that the stress that Mr Troicki was under at the time entitled him to mitigation."