Andy Murray & Laura Robson heighten party mood at Wimbledon

By Tom Fordyce
Chief sports writer
Last updated on .From the section Tennis75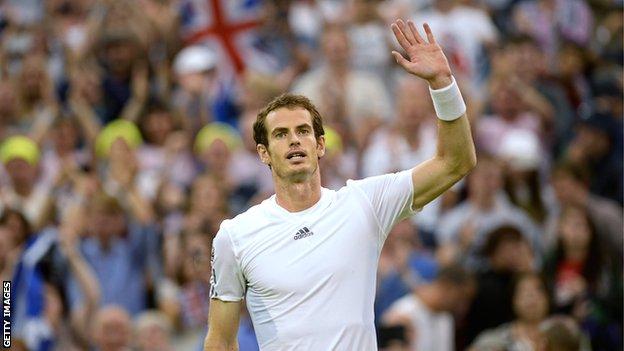 In a tournament shorn of its stars by injury, upset and inspired outsiders, the fear nagging that all those early thrills and spills have drained the drama from the set-piece rounds, Friday at Wimbledon came as something of a relief.
Forget the expected capitulation of the majority of home players when the championships had barely begun. This was a day for the British to dominate: 19-year-old Laura Robson first on Centre, Andy Murray to follow once lungs had been loosened and a few tipples drained.
Even the weather toed the line. Grey and drizzly, it could not have been more quintessentially British: neither intense nor showy, just an intermittent, apologetic irritation to anyone not clutching a union jack.
Centre, roof closed, lights on, was thus the only show-court in town. Robson, perhaps blinded by the spotlight, initially struggled to respond.
On her last appearance on this court she had won an Olympic silver medal with Team GB doubles partner Murray. Here, facing Columbian world number 162 Mariana Duque-Marino, the nerves were a little shakier.
"It was very hard for Laura being the favourite," says Sam Smith, former British number one. "There was so much tension out there it was unbearable.
"When you play under the roof it takes your serve a little bit of time to adjust. Maybe that disrupted her rhythm and her timing."
Despite the comfortable 6-4 6-1 scoreline, Robson was seldom inspired. She landed only 48% of her first serves, and made 18 unforced errors, the response from the capacity crowd correspondingly subdued.
Aided by a faltering and flawed Duque-Marino, it seldom mattered.
She will go into her third-round match against New Zealand's world number 71 Marina Erakovic once again as both logical and crowd favourite, and if the bigger guns of Agnieszka Radwanska and Serena Williams lie further ahead, then that howitzer forehand of hers can cause collateral damage of its own.
Murray, meanwhile, was waiting, like much of the Centre Court crowd, for the unheralded battle between Nicolas Almagro and Jerzy Janowicz to be concluded as quickly as courtesy could allow.
It was clear from the empty seats all around that this contest was considered by many as no more than an intermission, which on the basis of Janowicz's performance may have been a considerable disservice. The Pole's big serve is a perfect fit for this slick surface (he hit 30 aces, with the fastest clocked at 140 mph), his continued presence in Murray's side of the draw a genuine threat to partisan dreams.
Reassuringly for the knee-knockers courtside, the Briton's opponent in this third round was the strolling definition of a stooge: 31 years old, seeded out at 32, never beyond the third round here at Wimbledon in 12 attempts.
Tommy Robredo enjoyed a renaissance of sorts at the French Open last month, battling through to the quarter-finals before running into the perpetual motion machine that is David Ferrer. Here he found himself mangled by an even more superior force: Murray, backhand raking, serve thumping, as close to his best for as sustained a period as he has been since the Australian Open five months ago.
Murray won 85% of points on his first serve and powered away 40 winners; Robredo was down to a woeful 36% on his second serve as Murray advanced to return with relentless destruction, and made 25 unforced errors as the constant baseline bombardment told.
"He played a spectacular match today," says John Lloyd, former Wimbledon mixed doubles champion and now a BBC commentator. "He was pretty special out there.
"He was so sharp right from the beginning. His first serve was fabulous, his movement was great, his groundstrokes, his return of serve. I don't know what anyone else could want from that. It was nearly the perfect performance."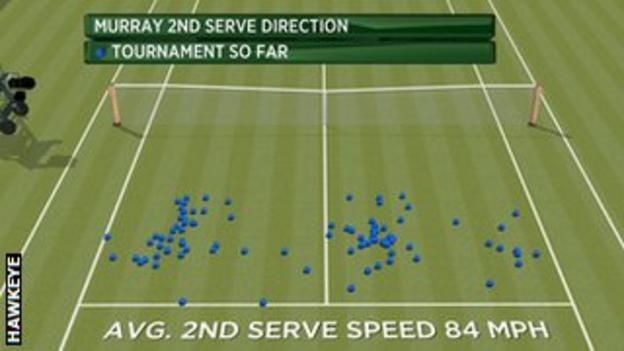 Playing with this combination of freedom and control, Murray is an easy pleasure to watch, the fear and doubt that sometimes tugs at the sleeves of his supporters replaced by happy clapping and burgeoning belief.
In the Royal Box, sporting peers like England cricket captain Alastair Cook and his Ashes-winning predecessor Andrew Strauss beamed their approval. All around Centre, the noisy appreciation grew with every unopposed set.
It was not an entirely unblemished display. Murray's second serve was sometimes too short, and at an average of 83 mph will present a target for more dangerous adversaries. "It was fine against Robredo," says Lloyd, "but if he served at that speed against a Novak Djokovic he might put a bit of pressure on it. But I'm nit-picking. He truly was spectacular."
Last year's beaten finalist is through the first week without dropping a set, and with a two-day rest period before Monday's fourth round will begin the second week in assured shape.
This championship has opened up for the home hero like few before. Only six of the top 10 male seeds reached the third round; he will not have to beat anyone within the top 15 to make the final.
It is not yet enough to pop the champagne corks. But the party invite is there, and the prospects auspicious.
"There is no question he will get to the final," believes Lloyd. "The way he played today you look at him and think, 'No one is going to find playing him easy with him in this form.'"