Grigor Dimitrov brushes off Sharapova-Serena questions
Last updated on .From the section Tennis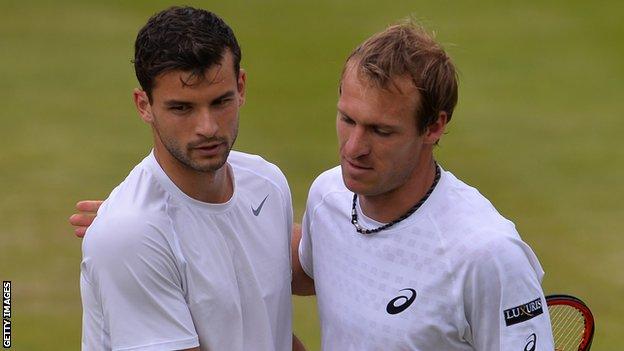 Grigor Dimitrov refused to discuss his private life after his five-set Wimbledon defeat by Grega Zemlja.
The 29th seed, partner of women's world number three Maria Sharapova, is thought to be who Serena Williams was referring to when she used the phrase "the man with the black heart".
Asked about it, he said: "You guys tell me what kind of heart I have. I don't think we should talk about that."
Zemlja next faces Juan Martin del Potro after a 3-6 7-6 (7-4) 3-6 6-4 11-9 win.
Williams gave an interview to Rolling Stone magazine in which she said of a rival player, believed to be Sharapova: "She begins every interview with 'I'm so happy. I'm so lucky.' It's so boring. And, hey, if she wants to be with the guy with a black heart, go for it."
The Russian was in attendance when Dimitrov and world number 55 Zemlja, forced off court by rain on Thursday, eventually resumed after another delay on Friday.
There was drizzle falling when they arrived on Court Three but play began with Zemlja 9-8 ahead in the deciding set and, at 30-30, Dimitrov slipped on the turf to hand 26-year-old Zemlja match point.
The 22-year-old Bulgarian's response was to walk straight to his chair and the players sat for 10 minutes as the rain fell.
Sharapova, 26, had endured rather more publicised problems with the Wimbledon surface during her second-round exit to world number 131 Michelle Larcher de Brito, but she did little to enhance her partner's claims of unsuitable weather by sporting designer sunglasses.
When play resumed, Dimitrov saw off the match point, before spurning a break chance of his own in the next. As Zemlja won the game, Dimitrov gesticulated about one ball slowing down as it bounced off the grass.
It was dry now, though, and Zemlja broke in the next to seal victory in four hours and four minutes and become the first Slovenian to make the third round at Wimbledon.
"It started raining during the warm-up. I kind of thought the umpire would say something," said Dimitrov, a former Wimbledon boys champion.
"When I slipped, I fell down, I hurt my hip. I told him, 'I'm not serving'."
However, sections of the media appeared more interested in the unseemly row between Sharapova and world number one Williams, 31.
Dimitrov added: "I am here to talk about the slippery courts, how many injuries we had, pull-outs. I don't think we should be talking about that. I think that's in the past and that's getting old."