Andy Murray: Childhood friend boosts Wimbledon bid with a song

By Jonathan Sutherland
BBC Scotland at Wimbledon
Last updated on .From the section Tennis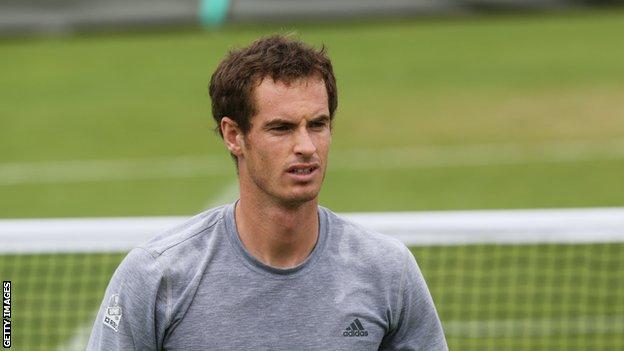 When Andy Murray takes to Centre Court on Friday afternoon for his third round match against Tommy Robredo the cameras will inevitably pan to the box where his friends and family sit.
Keith is a 26-year-old PE teacher from Elgin. He's also a singer-songwriter, as well as a childhood friend of the Murray clan.
And the reason he's the guest of honour at Centre Court this afternoon is down to a song he's penned in tribute to Murray's achievements.
More on that in a moment, but first the background.
Keith was a promising young tennis player himself in his youth. And that's how he first met Andy.
"I'm the same age as Andy and we grew up playing tournaments together," he explains. "I first met Andy, Jamie and Judy back in under-10s days.
"One of the first tournaments I played in was the under-10 tournament in Dunblane.
"I remember them as wee boys, and we kicked the football around in the park next to the tennis courts. And every summer Judy would take a minibus full of the Scottish kids down to tournaments in England."
But while Andy's career took off into the realms of mega-stardom, Keith - like so many others - realised his tennis prowess was only going to take him so far, and teaching became his vocation.
So has he kept in touch with Andy in the intervening years?
"Not so much with Andy. His superstardom took off when he was 17 and he must be incredibly busy with that, so I haven't kept in touch with Andy at all really.
"So it was a really nice surprise last Saturday night when out of the blue he shared my song to all his million or so Twitter followers which was really good of him.
"He didn't say if he liked the song or not! So I might catch up with him sometime over the weekend."
The song is called 'Under the Lights', and has echoes of Mark Knopfler and Paolo Nutini. It's in the process of becoming available for download, and Keith is keen some of the proceeds end up going to charity.
"Music is my main passion," he adds. "My hero is Bob Dylan, and he wrote a few songs about boxers.
"I know Andy is a big boxing fan, and although I don't know much about boxing I know a little about tennis.
"And boxing and tennis are actually quite similar, the one-on-one combat and the fitness required so I thought why not write a song about Andy because he's already a sporting icon with all the hard work he's had to put in.
"And then I went to the US Open last year and I watched his second round match under the floodlights of the Arthur Ashe Stadium - it was just incredible seeing this guy who I used to play against playing on this massive court so it's about just being under the lights of the huge stadiums and his whole career has been under the spotlight of the media and the public really."