Sergiy Stakhovsky: the man who beat Federer at Wimbledon 2013
By David Ornstein
BBC Sport at Wimbledon
Last updated on .From the section Tennis
If Sergiy Stakhovsky was hoping to keep a low profile after his jaw-dropping victory over Roger Federer in round two of Wimbledon, you certainly wouldn't know it.
Not only is Stakhovsky continuing to walk with the crowds to and from the All England Club each day, but anyone passing the house he is renting will notice a banner draped from one of the windows.
Put together by the family who own the home, it features a flag of Ukraine and the message: "WELL DONE SERGIY - THE MAGIC WORKED".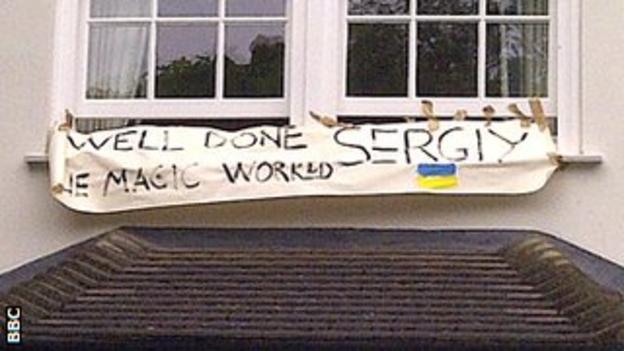 The world number 116 mentioned this "magic" in his post-match interview, and he was not only describing how it felt to stun the defending champion and 17-time Grand Slam winner on a court he has come to call home.
"We're staying in the house of a lovely family and they have four kids," Stakhovsky told BBC Sport. "The night before I played Roger, they left a pot of chocolate spread in front of the door to our room with a sticker on it saying 'magic recipe for Sergiy'.
"I had a little bit of it in the morning so the kids were happy, and it worked. That's why I said it was magic and now I'm taking it every day because they believe in it."
Whether it was a product of the chocolate spread or just a remarkable performance, Stakhovsky caused one of the biggest upsets in SW19 history.
He ended Federer's run of 36 consecutive Grand Slam quarter-final appearances, beat a top-10 opponent for the first time and secured only his ninth win of the season.
Prior to this, the 6ft 4ins right-hander had won 12 matches on grass in his career, whereas Federer has 13 grass-court titles.
"I still don't believe it," he said. "It's quite astonishing for me to be able - at this venue, with Roger Federer, who owns Centre Court - to do what I did. It's definitely one I'll looking back on my career and say: 'Well, that was not bad'."
Every high and low was shared by Stakhovsky's wife Anfisa Bulgakova in the stands.
"The emotions just overtook my feelings, I just couldn't believe it," said the Russian fashion student. "I started crying, it was a moment we were waiting so long for. I jumped on Sergiy's coach, I congratulated him, it was amazing."
After all, Wimbledon holds a special place in their hearts - it is where they met for the first time.
"My younger brother and Anfisa's younger sister play tennis so our families knew each other, but we didn't," Stakhovsky explains.
"At Wimbledon in 2010 my mother called me and said, 'I have a great girl and she wants to come to Wimbledon to watch if you can get her a ticket'. So I got Anfisa a ticket and she called me to say, 'I'm at Wimbledon and would like to meet you'.
Bulgakova takes up the story: "We just chatted for 10 minutes. That was it but we were both feeling there should be something and we were messaging each other afterwards.
"Our first date was in Paris in November 2010 and Sergiy proposed the following January and we got married that September. He's such a gentleman, he's very romantic and at the same time very smart and logical. He's unbelievable."
Stakhovsky made headlines at the French Open when used his mobile phone to take a photograph of a ball mark after disputing an umpire's call.
"It was an act I was thinking about as fun, not a threat to the referees or anything," he said. "The ITF thought it was not up to their standards so they gave me a fine, but it was reduced and basically I'm on probation at Grand Slams.
"Thankfully I can't take pictures at Wimbledon because it's grass and there are no marks."
Instead, the multi-lingual son of a urology professor has grabbed the spotlight for all the right reasons in south-west London and beyond.
"It's all over the news in Ukraine," said Bulgakova. "It was an explosion. For the media and the whole country, it really means a lot. He's a hero there, he's a champion, he beat Roger Federer."
Stakhovsky interrupts: "Not yet a champion, but a hero maybe. I've accomplished something which not many could have accomplished here at Wimbledon, so I'm quite confident in myself and looking forward to my next challenge."