Kimiko Date-Krumm set for Serena Williams at Wimbledon 2013
By David Ornstein
BBC Sport at Wimbledon
Last updated on .From the section Tennis9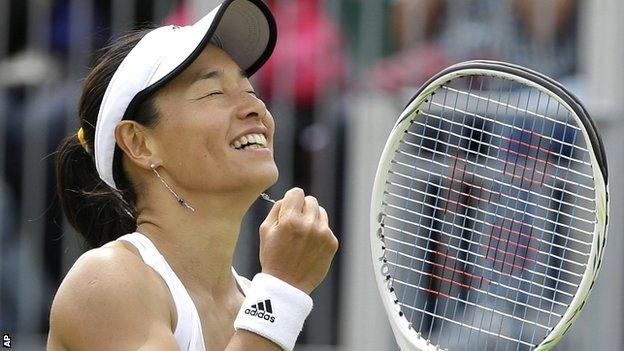 At the age of 42, Kimiko Date-Krumm probably thought her chance of returning to centre stage at Wimbledon had come to an end.
But 17 years on from an unfortunate defeat by Steffi Graf in the semi-finals, and two years after a memorable with Venus Williams, the Japanese is back in the spotlight.
Date-Krumm is the oldest woman in the Open era to reach round three at the All England Club - taking that mantle from Britain's Virginia Wade - and awaiting her on Court One on Saturday is defending champion Serena Williams.
It will be quite a moment for the world number 84, whose Wimbledon debut in 1989 came before 59 players in this year's women's draw were even born.
She took the surprise decision to retire after that loss to Graff in 1996, but made an equally unexpected comeback in 2008 and has never looked back.
Kimiko Date-Krumm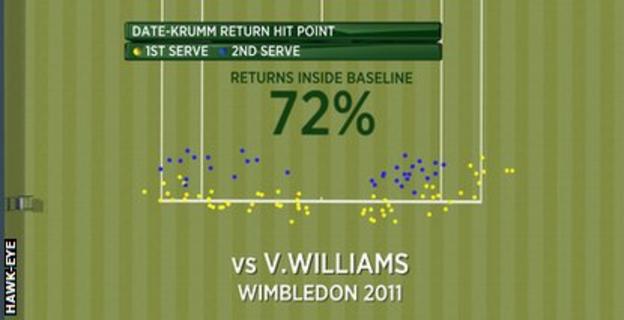 "I'm very happy to be in the third round, even though I'm 42. I think it is amazing. I cannot believe it. I skipped the clay-court season and tried to focus on the grass - luckily I didn't play a seeded player in the first round because most years I've had to.
"Serena is so strong. I've never played her but I played Venus here and in Miami. But there's a big difference between Venus and Serena. She has more power and speed. She has confidence, she has everything. I hope I can stay on court for more than one hour or an hour and a half. I'll try my best."
Serena Williams
"I have so much respect for Kimiko. It's so inspiring to be playing such high-level tennis at her age. I definitely do not see myself playing at 42. She's a real danger on the grass. I'll definitely have to be ready. It's not going to be easy, but I'll be ready.
"She has great hand-eye co-ordination. She returns unbelievable shots. It doesn't matter how hard you hit it, she sees the ball and gets it back. She has great hands, a wonderful volley and comes to the net a lot, which on grass can be tricky. She plays really flat, so the ball stays really low.
"I did see the match between Kimiko and Venus. I think I lost four years of my life watching that match. So I'll definitely be talking to Venus and figuring out what I can do to do the best that I can."
Lindsay Davenport, former world number one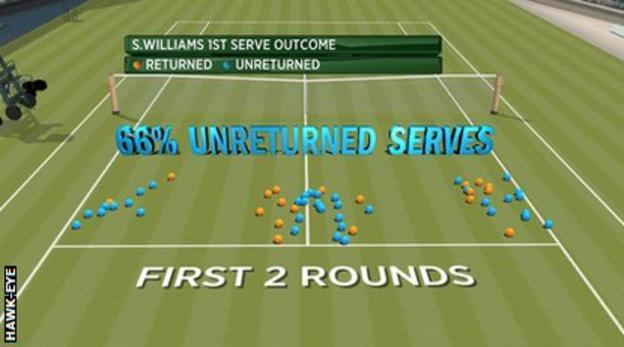 "I would never have imagined she would take 12 years off, come back and play as well as she has. She's always been one of the fittest players out there and what she's doing now is borderline heroic.
"She's a phenomenal athlete and she loves tennis. Her husband, Michael Krumm, is an athlete too and he encourages her tremendously.
"I remember when she lost to Graf here; Kimiko won the second set to force a decider but it got too dark and Steffi - without even asking the referee - just went to the sideline, grabbed her bag and walked off. I think she knew Kimiko had all the momentum and wanted to get out of there. But Kimiko is a notoriously slow starter so you knew Graf was probably going to come out the next day and win.
"It's a different ball game on Saturday - she should just go and enjoy it. Does anybody right now stand a fair chance against Serena? Kimiko is athletic but to handle the power of Serena without a good serve is going to be incredibly tough. Serena can hold serve so easily and she's got a chance to break every time. Kimiko doesn't have a great chance."
Virginia Wade, former Wimbledon champion
"The way Kimiko plays the game, with a very short back swing, makes her so dangerous. When she played Venus on Centre Court, it was one of the most amazing tennis matches I've ever seen - it was beautiful. She plays differently and she's smart.
"Her accomplishment is phenomenal. For somebody with that sort of game to compete against the big hitters today illustrates it isn't necessarily all about brute force, it's more about strategy.
"Although there might be one close set and she'll give Serena something different to look at, Serena probably won't have any trouble looking at it. But Kimiko will still be able to smile because she's better than so many current players despite being older than many of their mothers."
Jo Durie, former British number one
"Kimiko's story is absolutely amazing. There's not an inch of fat on her, she looks in absolutely prime fitness. I played her in 1991 in LA and I couldn't read her game because of the technique she has. By the time I got used to it, the match it was over.
"The notoriety and pressure of being world number four probably got to her and I think that's why she went off the circuit so early. She married Michael and went with his motorsport career, but one day he said, 'I can't believe I've never seen you play tennis live, would you consider coming back so I could watch you?'.
"So she said, 'OK, I'll give it a go' and at the age of 37 she came back. If you've got class like that you never lose it - it's just a question of getting fit enough and being at the standard.
"She missed 12 years so her body didn't get a pounding. Let's take the 12 years off her 42 years and it's a fairer reflection of where she is body-wise. Mentally it's completely different because there's no pressure, she's doing what she wants to do and the way she wants to do it.
"Most people Serena plays at the moment she beats in under an hour and I think Saturday will be a straight-sets win, but Kimiko can time the ball and as long as she can get to it, she'll get a lot of balls back. I know she will enjoy it - she certainly deserves to."