Roger Federer's Wimbledon exit: Is it the end of an era?
Last updated on .From the section Tennis
Former British number one Tim Henman and three-time Wimbledon champion Boris Becker analyse Roger Federer's shock second-round defeat by world number 116 Sergiy Stakhovsky and ask whether the 31-year-old Swiss can bounce back to win an eighth Wimbledon crown.
Tim Henman
I'm in a state of shock. It's just been one of the most amazing days I have ever experienced, not just in Wimbledon, but in tennis full stop.
After all of the injuries, upsets and drama, Roger Federer capped it all off by going out to an opponent who had never even beaten a player ranked in the top 10 before.
When Steve Darcis caused an upset against Rafael Nadal on Monday the lower-ranked players, who may previously have thought they were beaten before they even stepped on court against the likes of Nadal or Federer, maybe suddenly had a real increase in confidence.
The streak Federer has been on - reaching at least the quarter-finals of his last 36 Grand Slams - is one of the most amazing statistics in sport, but it had to come to an end at some point. I just didn't see it happening today.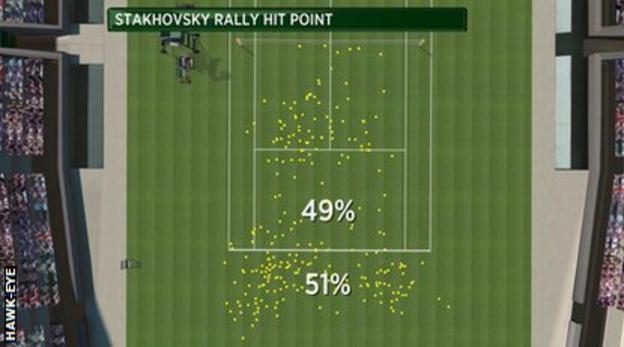 I think before discussing Federer we really should reflect on how well Sergiy Stakhovsky played. I never thought I would see someone serve and volley consistently that well in these conditions against such a great champion. He deserves a massive amount of credit.
He won a frankly unbelievable 61 points at the net and, following on from Dustin Brown's win over Lleyton Hewitt, it was one of those days which had me thinking, "Is this the return of serve-and-volley tennis?".
I really hope they can both back it up in the next round as I love the serve-and-volley element of the game. Let's hope it isn't a flash in the pan.
The way Stakhovsky was serving meant Federer was powerless to dominate like he does.
Momentum is key in sport and the Ukrainian had it to such a degree that Roger just could not find an answer.
I heard people say that the top four are dominating too much and it's got too predictable. They had better look at this tournament pretty sharpish.
The depth of men's tennis is incredible. It just goes to show that if the best players aren't on their game then there will be upsets like we have seen this week.
For Roger, it is only going to get harder.
As you get older, the recovery process is more and more challenging. You don't quite recover as quickly as you once did. To win a Grand Slam requires seven wins from best-of-five set matches, which is very difficult at any stage of your career.
It's Wimbledon or bust if Federer is going to win another slam - it definitely represents his best chance. But this is not the time to write him off, I've got too much respect for him for that.
My tip was for Andy Murray to win, and with the way the draw is going I am very happy indeed with that prediction.
Boris Becker
Today was certainly the end of an era. Roger Federer - Mr Consistency, legend, arguably the best player of all time, lost in the second round of his favourite tournament, on Centre Court.
I'm his biggest fan and I hope he finds another reason to work harder, stay motivated and come back even stronger, but the end of his streak of reaching 36 straight quarter-finals at Grand Slams makes it a sad moment for his fans.
No-one could have expected that Stakhovsky was going to put in such an incredible performance.
Playing Roger Federer on Centre Court is tough at the best of times, but from the get-go Stakhovsky played old fashioned grass-court tennis, serving, volleying, coming in, playing low volleys and taking his chance in the way that we played back in my era.
He was playing the way everyone played tennis for a 100 years. And Federer simply isn't used to that.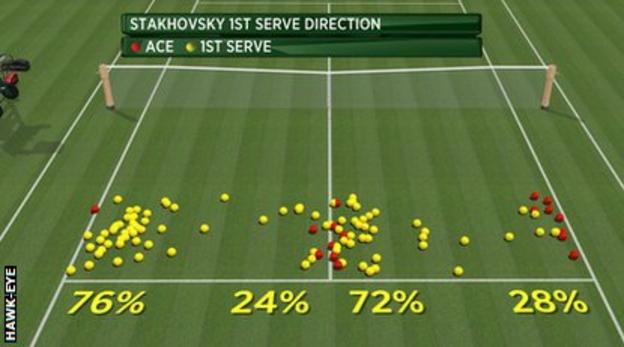 The biggest problem for him was that he wasn't given the time to structure a baseline rally. And he wasn't given the time to run around his backhand. I think he was caught off guard and Stakhovsky kept on playing like that all match without any real bumps.
I think he demonstrated the way most players should play on grass. Rafael Nadal is one of the best players ever and Roger is maybe the greatest of all time, yet both have been beaten by opponents who came into the net more than they did. If you mix up your game right, then it's the best way to play on grass.
I hope Roger can win another Slam but he has to put the work and the hours in to make it happen. He took a very long break in the spring - eight weeks - and in hindsight, that was maybe a mistake.
You cannot question the decision-making of Federer, but he was out for a long time and then came back in Madrid and lost in the first round. He reached the final at Rome, got to the quarters at the French and then won in Halle so that looked all good. But losing today was definitely not on the agenda, and he will have to digest that now.
Let's see what the summer brings for him. He certainly has to look a bit closer at his scheduling and his way of playing, because for his standards he was sub-Federer today.
I don't think this will make him lose his cloak of invincibly and his aura. His record will always demand respect as he is Roger Federer.
But it takes longer to recover when you hit 30, it's a fact of life.
I always thought in my career that on my very best day no-one could beat me at Wimbledon. Then Pete Sampras came along. That was my knock. Let see how Roger comes back from his.
Tim and Boris were speaking to BBC Sport's Paul Birch