Wimbledon 2013: No depth in British tennis - Tim Henman
By David Ornstein and Paul Birch
BBC Sport at Wimbledon
Last updated on .From the section Tennis147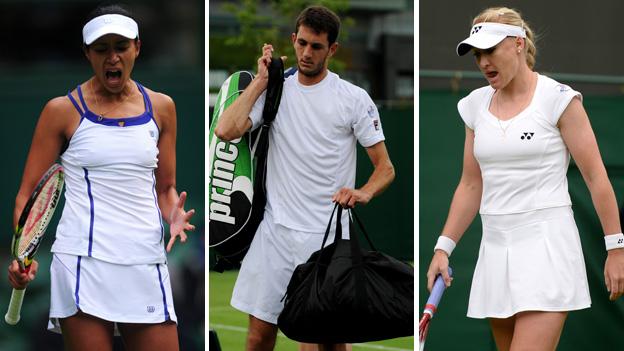 Tim Henman has bemoaned the shortage of British tennis talent after Andy Murray and Laura Robson were the only home singles players to reach the second round of Wimbledon.
Former world number four Henman is part of the tournament committee that awarded wildcards to seven Britons, all of whom lost in round one.
"We're not getting results because they're not good enough," he told BBC Sport. "The issue is the lack of depth and we've been having this conversation for too long."
He continued: "We'd love to have an endless list of British players to choose the wildcards from but that's not the case - it's almost hard to give them away. The standards have to improve."
Simon Jones, head of performance support at the Lawn Tennis Association, suggested the players must take some blame.
"The depth is not strong enough and I'm not going to sit here and make any excuses at all about it," said Jones, whose employer has a turnover of £60.244m and inherits a yearly surplus from Wimbledon that was £37.753m in 2012.
"But it's not us playing out there - we are a support agency for tennis players. Ultimately, it's about the players themselves when they go out there and play.
"They're the ones responsible for what they do when they get up every day, in the gym, on the courts, what they eat, going to bed at the right time and so on. That's up to them.
"They've got work to do, they've got to work harder."
Of the three British players who gained automatic entry to Wimbledon via their worlds rankings, Murray and Robson won comfortably while Heather Watson lost to Madison Keys.
All of the wildcards faced higher-ranked opponents, although James Ward and Tara Moore were the only players to win a set as Johanna Konta, Elena Baltacha, Anne Keothavong, Kyle Edmund and Samantha Murray went down in straights.
The results have raised questions about the process of awarding wildcards and whether Wimbledon should continue to give so many opportunities to British players.
"Do we want British players in the main draw? Yes we do," said former GB Davis Cup captain John Lloyd. "But only if they deserve it. If they don't have potential, don't give them a wildcard.
"I don't think we're brave enough when we make decisions on wildcards. So what if that means we have barely any players at Wimbledon? We've got Murray, Robson and Watson. The rest will have to work their socks off to reach that standard."
At present, the LTA recommends a list of eight men and eight women to be considered for a singles main draw or qualifying place and the tournament committee makes the decisions.
As a guideline, players need to be ranked inside the world's top 250 and other factors include recent form, professional attitude, behaviour and developments opportunities.
Exceptions can be made for a younger player displaying accelerated development, exceptional circumstances or a drop outside the top 250 because of injury.
Home wildcards at Grand Slams since 2010

Grand Slam

Home wildcards

% of 1st-round exits

% of 2nd-round exits

% of 3rd-round exits

% of 4th-round exits

Australian Open

39

74

18

8

0

French Open

48

61

33

6

0

Wimbledon

27

93

7

0

0

US Open

36

64

11

22

3
"The 250 cut-off is a load of nonsense," said Lloyd. "I know it's only a guideline but there are ways of playing smaller tournaments to almost manipulate your ranking and get into that top 250 for the big prize.
"Once you get past 150 or 200 it's irrelevant because the different is so small between 200 and 400. I don't care about someone who is 225 with no potential, but if someone is 250 or lower with potential then give them a wildcard.
"If you don't deserve to get in on your ranking, you should be getting in on the potential of what you can do - not because you've been around a long time. It doesn't make sense."
This year's seven British singles wildcards is down considerably on the 13 handed out in 2003, 2004 and 2005, while there were 11 in 2006 and 10 in 2007 before a subsequent reduction.
The only other time all British wildcards lost in the opening round was 2010, but there were just five on that occasion.
Since 2010, 27 home players have gained Wimbledon wildcards; 93% of them lost in the first round and seven in the second. In the same period, 36 home players took wildcards at the US Open, 48 at the French Open and 39 at the Australian Open.
The US Open has seen 64% of those wildcards fall in the first round, 11% in the second, 22% in the third and 3% in the fourth. The French Open stands at 61%, 33% and 6% and Australian Open 74%, 18% and 8%.
"The reality of a wildcard is they are going to be an underdog so expecting lots of wins in unrealistic," Henman pointed out.
"Wildcards give players the chance to compete at Wimbledon when they wouldn't have got it on their ranking and I'd never want to get rid of those opportunities because there are still players, cases and scenarios that deserve it.
"But when you do reflect on how few British individual wins there have been over the last few years, it's undeniably disappointing."
First-round losers at Wimbledon currently earn £23,500 in prize money, a rise of £9,000 on 2012. In the last 10 years, home players have earned £1,109,605 from SW19 wildcards, netting £164,5000 this year alone.
Nine of Baltacha's 12 Wimbledon appearances have been via wildcards and that has earned her £117,520. Alex Bogdanovic failed to win on any of his eight wildcard visits between 2002 and 2009, taking a total of £75,830.
Former British player Barry Cowan believes that individuals who benefit from Wimbledon prize money that accompanies a wildcard entry should not receive additional funding from the LTA.
"What's not right is British players banking the wildcard money but the LTA still paying for their coach and trips," said Cowan, who took Pete Sampras to five sets at Wimbledon in 2001.
"You should invest in your own tennis. If you have to dip into your own pocket, I guarantee you'll be hungry."
Jones admitted this was a situation being discussed by the LTA: "Are some players pocketing their money? Probably, and we'll be doing something about that.
"We're getting less and less players on direct funding now and more and more are going on to the tournament bonus scheme, where they have to earn their funding.
"I agree that if you fund too much you may take the hunger away, but then we've significantly funded Watson and Laura Robson and you can't accuse those players of not being hungry.
"It's not quite as simple as just saying make life impoverished for them and they'll become great players."
Jo Durie believes it all comes back to the lack of British talent and earlier this month Sport England to increase participation by December or face being stripped of valuable in funding.
Meanwhile, Labour peer Baroness Billingham criticised the LTA in a House of Lords committee on Wednesday for its "poor legacy" and claimed it could not take credit for British tennis success.
Durie, the last British woman to reach a Grand Slam semi-final, said: "You can't blame players for being given a wildcard. The fact is, the current players are not good enough at the moment.
"The lack of strength in depth is crazy, especially with the amount of money Wimbledon produces and the amount of money the LTA has to spread out there.
"People have been promising us players for years and years but where are they? We have to look at the whole system. It's not the fault of Wimbledon, it's the bigger game in Britain."