Bernard Tomic urges Wimbledon and ATP to lift father's ban
Last updated on .From the section Tennis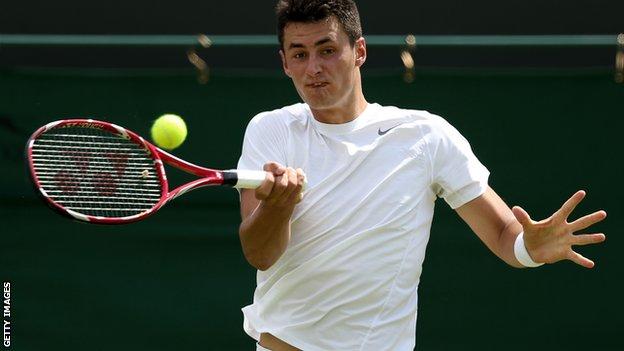 Bernard Tomic has urged Wimbledon and the ATP to lift the ban on his father, who faces an assault charge.
John Tomic has denied attacking his son's former hitting partner Thomas Drouet, with the court case set to be heard in Madrid in October.
The ATP has barred Tomic senior from attending tournaments as his son's coach, while Wimbledon have prevented him from buying a ticket to watch.
"I will try to have a word with them," Tomic, the world number 59, said.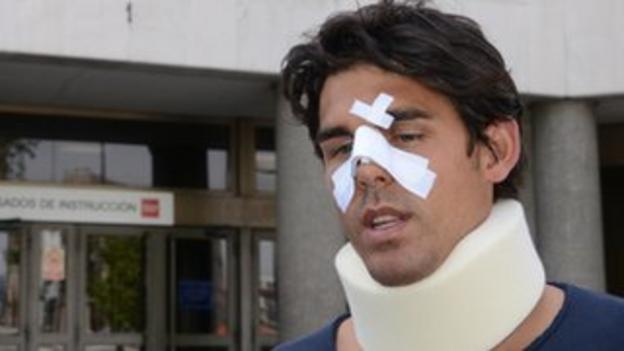 He added: "I know they're very strict and we'll see what they say. It would be amazing to have my dad here watching me as a coach and father. But Wimbledon are very strict.
"I'll try to talk to whoever I can but they made their decision on behalf of the ATP - and they're not really going to do anything."
Croatia-born Tomic senior is alleged to have headbutted Drouet in an incident in Spain ahead of the Madrid Open in May.
The ATP removed his coaching privileges for 12 months, preventing him from attending tournaments in an official capacity.
In addition, Tomic senior was barred from attending the French Open as a spectator by the country's tennis federation.
He was allowed into Queen's Club for the Aegon Championships two weeks ago, but was absent from Wimbledon on Tuesday as his son beat American Sam Querrey 7-6 (8-6) 7-6 (7-3) 3-6 2-6 6-3 in the first round, instead watching on television from the house they are renting nearby.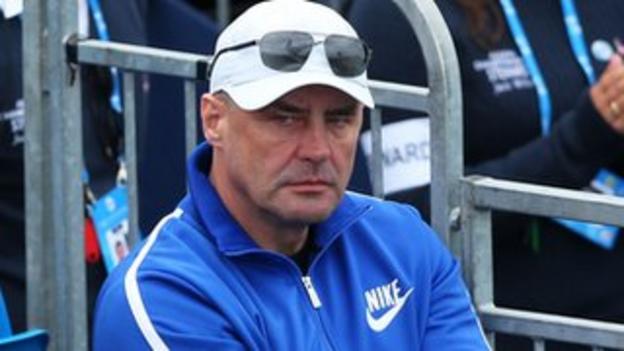 Tomic, 20, said: "I'm not saying it's Wimbledon, they're harsh. I'm saying it's probably the ATP. It's their decision.
"From what I know, it's very disappointing and I'm going to keep saying so.
"They [the ATP] investigated something on the phone for 30 seconds and made a decision which is very bad.
"I can't blame Wimbledon, it's all the ATP's fault I think and I'm going to keep blaming them. They know I'm not on their side, I'm on my dad's side."
An ATP spokesperson said: "The ATP has concluded its investigation into the incident concerning John Tomic in Madrid earlier this year.
"Mr Tomic's credential privileges remain suspended at all ATP tournaments for a 12-month period from when the incident took place (4 May, 2013). The suspension will be reviewed at the end of this 12-month period."