Laura Robson has Slam potential, say Navratilova and Wade
Last updated on .From the section Tennis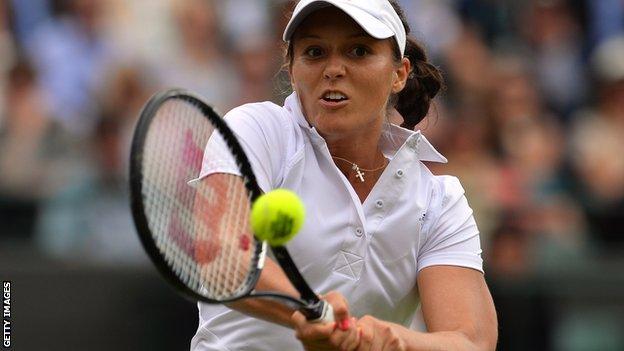 Laura Robson became the only British woman to reach the second round of Wimbledon this year after beating 10th seed Maria Kirilenko.
Here, former champions Martina Navratilova and Virginia Wade give their views on the 19-year-old.
Martina Navratilova (18 Grand Slam singles titles and nine-time Wimbledon champion)
I'd say Laura Robson will go on to be a top-10 player for sure, maybe top five.
She has got all the goods. It's just a matter of whether she can take it to the next level. You never know whether a player will plateau out or not but it looks to me like she has the potential.
If you took 10 players her age that could win a Grand Slam, she would definitely be one of them.
She does so well on the big stage against the top players. She raises her game, which is great to see. She just needs to beat the players she should beat, more often. That is what has perhaps held her back.
Some people have that mentality to beat the best and some don't, it's that simple. You can't teach it.
Against Maria Kirilenko, she held up so well under pressure. She got 'yippy' at the end but still managed to hold her serve despite having to catch the ball a couple of times.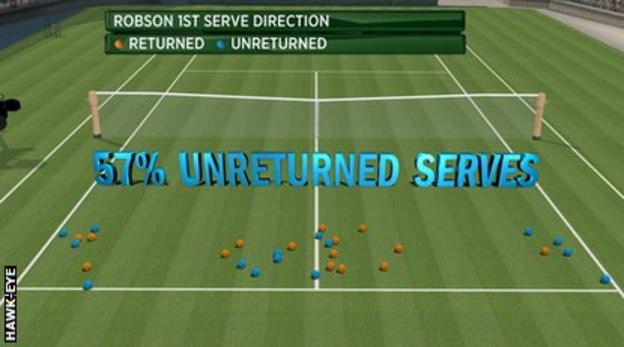 She hit a really nasty shot towards the end at 0-15 that was off a dribbler of a second serve, and then Kirilenko hit a let-cord but Robson got down low and hit a really uncomfortable forehand down the line and I thought, 'OK, she's going to do it now'. That was such a tough shot to make given the circumstances. She held it together.
Robson went for her shots and didn't let up. She hits the ball deep and had Kirilenko on the stretch by not giving her enough time.
Hitting the ball deep rather than hard gives your opponent less time to react. You can hit it hard, but if it's short on the service line the player has plenty of time. Robson was hitting it both hard and deep, and that was such a great combination.
I saw her play a lot at last year's US Open where she had a good run, and then reaching the doubles finals at the Olympics really helped her a lot.
She hasn't done a whole lot this year that I remember, but her game is really good for either grass or hard courts. She has probably put more hours in on grass than a lot of players, and she is more comfortable on it as a result. She thinks she is good on it, therefore she is good on it.
A lot of players get psyched out about grass and say, 'I can't play on this stuff', but she has a much better mentality for it.
It's too soon to tell what inroads she will make here. She won the junior title a couple of years ago, so yes she can handle the home pressure better than most. But I don't think that is her biggest issue.
Her issue is more her game rather than the mental side of things. She needs to be more solid and not make unforced errors, get her shot selection right and mature as a tennis player.
She is one of the youngest players left, but if she can keep it together the draw is going to open up for her.
Virginia Wade (three Grand Slam singles titles and 1977 Wimbledon champion)
Laura just played unbelievably well, I was totally impressed.
Her serve was key. I thought she swung it around really well, she varied it and it looked a little bit more rhythmic. I've seen her serve well before but I don't think I've ever seen her serve so many aces with such variation.
I don't know what happened late on with her toss - she had a slight twitch in the second set but overcame it.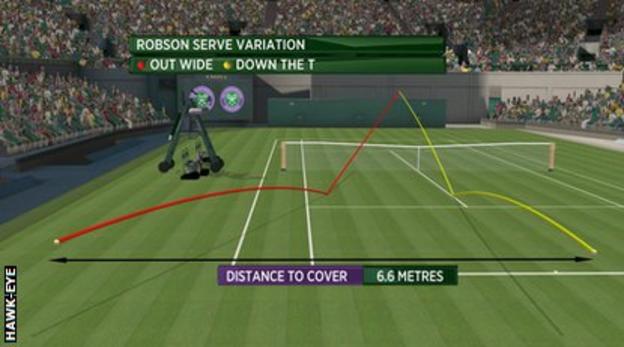 Laura and her new coach Miles Maclagan are in their honeymoon period now and he is such a nice guy.
He is totally different to her previous coach Zeljko Krajan, who was a hard taskmaster. However, I think the stuff the Croatian made her do is now reaping the benefits. I think he probably taught her quite a lot.
I don't think she needed someone that was as 'in her face' and breathed down her neck, as she is quite laid back.
The difficulty when you are younger is that first of all you don't really like to listen to other people. As you get a little bit more mature you learn to pick and choose and say to yourself, 'I really like what he said, that made sense, I'm going to take that on board and use it'.
This has to come from the player, but you do learn things and I'm sure that Krajan taught her a lot. Miles is now there just to be a better sounding board for her.
As she showed again, she definitely likes the big stage and that is such an important factor. I think if you can show you like the big stage then you can it take it all the way. If you go in like a lamb to the slaughter then you are never going to get over that.
I don't like to predict these things, but I think she is going to become a contender. We will see how she develops. I don't want to put pressure on her but everything augurs very, very well for this tournament and the future.