Roger Federer or Andy Murray - who does Wimbledon love more?

By Jonathan Sutherland
BBC Scotland at Wimbledon
Last updated on .From the section Tennis3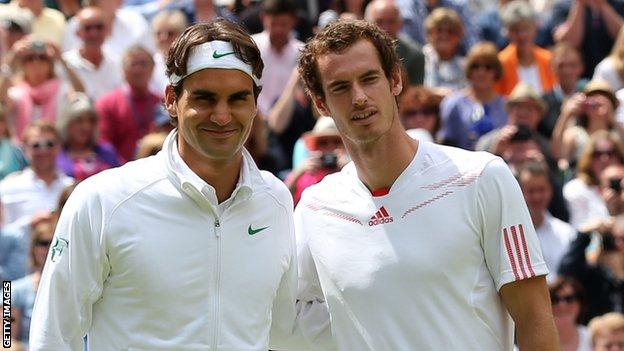 Who does the Wimbledon crowd love more - Roger Federer or Andy Murray?
On one level, it would seem a strange question. Murray is, of course, British (well, Scottish) and Federer is Swiss.
Yet the Wimbledon masses have a deep affection for the foreign tennis star. The seven-time champion has provided them with some of the best tennis ever seen.
Murray has had to work hard for his plaudits at SW19, certainly harder than the last British hopeful, Tim Henman.
The tears that flowed have gone some way to bridging the distance that seemed to exist between player and crowd.
But during that final it was clear portions of the "home" crowd were quite happy for Federer to win. Similarly, at the World Tour Finals held in London the significant support for Federer in relation to Murray was again noted.
So why is Federer so loved?
On Henman Hill (or Murray Mount), Hannah, an 18-year-old British (English) tennis fan at her first Wimbledon offered an explanation.
"I just think Federer is such a class act," she said. "He's classy in everything he does. Murray can sometimes be a bit brutish. I prefer Federer's class.
"If it's a Murray versus [Novak] Djokovic final then I would like to see Murray win, because it would be nice for a British player to win Wimbledon. But Federer is always my favourite."
And it's a view familiar to Anne, another British (English) tennis fan who has been watching Wimbledon for more than 50 years.
"Federer's an absolute gentleman. He's a wonderful tennis player.
"I argue with my friend - because Murray is British she should be shouting for Murray but she doesn't. She doesn't like him. I can't understand people who are British who don't support a British player."
Perhaps Federer's appeal relates to Wimbledon being his first Grand Slam victory, back in 2003. Perhaps it's his ability to win matches with effortless style.
Federer has also been the gallant loser at Wimbledon, losing an epic final to Rafael Nadal in 2008. And now he's often cast as the old master (at 31), powers slightly on the wane but still capable of conjuring up the old magic.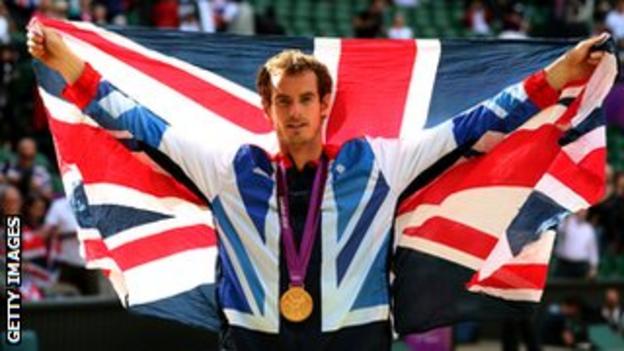 As for Andy Murray, when he roared into Wimbledon as the gangly, precocious teenager back in 2005, there was something a bit Generation X about him compared to the clean-cut establishment figure cut by Henman.
He was a bit awkward, a bit chippy - and a bit Scottish.
An off-hand, jokey comment about how he would support any football team playing the English national team was pounced on - and some people have never forgiven him.
Elliott, 19, told BBC Scotland: "Seeing as he is British, Andy is a loved character. But Roger brings that aura and I think the British crowd just love his style."
The Wimbledon final of 2012 changed many people's perceptions. Federer may have won his seventh Wimbledon title but the emotional punch came from the defeated Murray as he buckled in full view of a global television audience.
He revealed to the Wimbledon crowd just what their support meant to him. They didn't hinder him, they helped him. The crowd really knew he wanted them on his side.
A few weeks after that Wimbledon defeat, he was back on Centre Court as a member of Team GB at the 2012 Olympics. This time the crowd were surfing on the wave of British success, and were hungry for more. They roared Murray on - against Federer - and , before sinking to his knees. The crowd were his.
In the BBC documentary shown on the eve of Wimbledon Murray spoke openly - and cried again - when asked about the shooting at his school in Dunblane, when he narrowly escaped as Thomas Hamilton shot dead 16 children and a teacher. Elsewhere, Murray's slightly downbeat but ultimately likeable character shone through.
Wimbledon has loved the deft brilliance of Federer and should he win a record eighth title, this unique Swiss-South London love-in will surely only deepen further.
From talking to a handful of fans at Wimbledon, the message was pretty consistent - Federer won almost universal praise, while Murray had general backing with a few caveats thrown in.
Murray's playing style and personality are very different from that of Federer.
But sustained success in recent years, the fact he's British and, of course, those tears have led to a growing respect and possibly affection.
If he could win Wimbledon, the dynamic with the crowd would change once again.
Could true love be just around the corner?