Rafael Nadal must consider grass future after Wimbledon - Becker
By David Ornstein
BBC Sport at Wimbledon
Last updated on .From the section Tennis
Boris Becker has questioned whether Rafael Nadal should continue playing on grass after he suffered a shock exit at Wimbledon for the second year running.
Two-time champion Nadal - who has been plagued by knee problems - on day one, a year after his by Lukas Rosol.
"He definitely has to consider whether grass has a future for him," three-time Wimbledon winner Becker told BBC Sport.
"I almost thought that he should contemplate not playing this year."
Nadal endured a following his loss to 100th-ranked Rosol, missing the Olympics with tendinitis in his left knee before announcing he had a partially torn patella tendon.
He in February and reached nine finals in as many tournaments - winning seven, including - but did not play a competitive match on grass before Wimbledon.
In one of the biggest upsets in SW19 history, world number 135 Darcis overcame the 12-time Grand Slam champion 7-6 (7-4) 7-6 (10-8) 6-4 in front of a stunned Court One.
Boris Becker, three-time Wimbledon champion
"This is a big, big shock. Nadal has come back from injury so strongly this year but he was playing mainly on clay. Grass is very different compared to the other surfaces. Your movement is different and you have to have healthy legs because you're changing direction, you're slipping and sliding.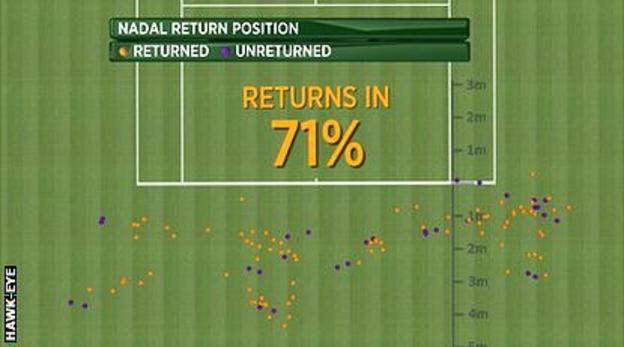 "Even though he won all those tournaments, Nadal had been struggling somewhat with the knee and I always thought he might struggle at Wimbledon this year. I almost thought that he should contemplate not playing because he was out for a long time and you shouldn't underestimate it.
"Early on in the match I thought, 'This isn't the Nadal I've seen in Paris, this isn't the Nadal that won Rome'. Credit to Darcis; he took his chance, played aggressively, wasn't afraid, went for the groundstrokes and went for the serve. He kept his composure, wasn't getting too nervous, wasn't getting too crazy out there and and ended up achieving something you don't do every day.
"In a way, maybe it's a good thing for Nadal because if he had been knocked out in, say, the fourth round or quarter-finals it would have put a lot of strain on the legs. Now he has a few more days and weeks off and he can think about his schedule for the rest of the year.
"Nadal wasn't confident in his movement - normally that's his best part. He wasn't confident, he was hitting a lot of unforced errors and I was wondering, 'Why is he making these errors? The ball was there!'. Then I observed a bit better and noticed his foot placement wasn't the way it normally is, especially when he had to move. When he was set, he was good. But when he had to move, he wasn't the same and he didn't have that solid base he had on the clay.
"If you have a knee problem, grass is the worst surface. Hard courts are not as bad because you have a firm position, you can put your foot down and stand up to hit the ball - the bounce is higher so you don't have to bend as low. I wouldn't worry about Nadal playing on hard courts or indoors, but I always thought grass was an issue.
"In terms of his whole career, he has answered the questions. He won the French Open and, in my opinion, is the player of the year so far. He is surrounded by great people and I'm not going to suggest anything to him but, from an outside point of view, he definitely has to reconsider his future on grass."
Tim Henman, former world number four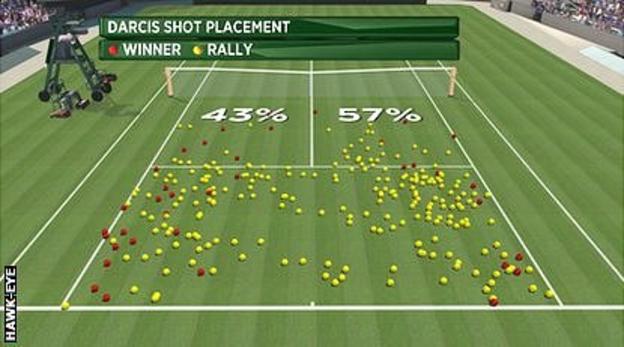 "It's a huge surprise but, for me, as big a surprise was to see him struggling with his knee because he's played nine tournaments this year - winning seven - and he's just come off winning his eighth Roland Garros. You can't do that if you're not fit.
"To see him struggle makes me wonder whether grass actually puts a bit more stress on his patella tendon, with maybe a bit more bending. Only Rafa knows if grass is a problem, but most of us would have thought that grass, being softer, was perhaps a little bit more helpful. Maybe that isn't the case.
"I tend not to want to speculate on these things. Rafa's pretty up front and honest, and I'm sure in the weeks and months ahead we'll find out a bit more.
"It shows the strength in depth of men's tennis at the moment and we should focus on Darcis's performance, it was phenomenal. There were definitely a few question marks about Rafa being seeded five, but not many people would have said this was a particularly tricky draw and he lost."
Mark Petchey, former British number one
"It's obviously a shock, but it does show that grass is a pretty unique surface to move on and you need a bit of time to adjust. Coming back after the break he had - and the emotion of winning his eighth title at Roland Garros - perhaps meant he didn't have time to recuperate or get himself as match fit as he would have liked to have been.
"The ball doesn't bounce off the court in the first week at Wimbledon in the same way it does in the second, when things harden up a little bit. So there is always a chance for a lower-ranked guy to make an impression and, as good as he is on the surface, I'd still make the argument that this is his 'weakest'.
"It's one of those unfortunate periods of the year where, if you're as good on clay as he is, the turnaround for you is always going to be that much shorter. He is going to be in better shape from 2015, when there will be an extra week's gap to prepare for Wimbledon.
"I still feel he will win a Grand Slam outside of Roland Garros. It's very easy to jump to conclusions, as people did it about Roger Federer before he broke Pete Sampras's record - and look where he is now. The great players find a way to overcome obstacles and adversity, and it shows to us mere mortals just how good they are."
Additional reporting by Paul Birch