Tears, triumphs and tantrums - a glimpse into Andy Murray's world

By Tom Fordyce
Chief sports writer, BBC Sport at Wimbledon
Last updated on .From the section Tennis57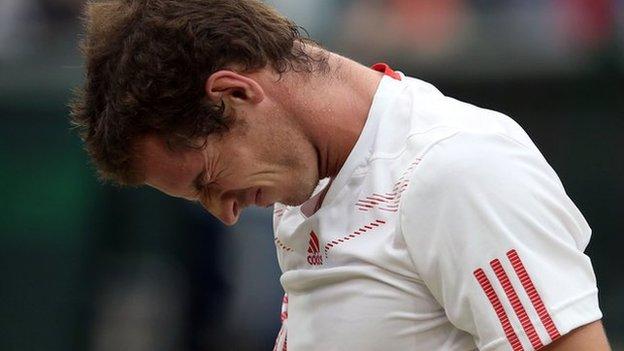 Andy Murray has shown us more of himself in the past year - his tears after defeat at Wimbledon, his unfettered joy in Olympic redemption a few weeks later, the eternal liberation of that US Open triumph - than we had seen in all the six seasons that came before.
For someone whose natural reserve and occasional reticence has sometimes been mistranslated as moodiness and taciturnity, it provided an insight into his character that may yet win over any of the unconverted among the home support this Wimbledon fortnight.
With the exception of an admission of shop-lifting as a young man - admittedly only penny sweets from the local newsagents - this was not a tale of rock and roll excess.
Instead, what we got was a glimpse of the great truth of 21st century elite sport: while their performances may be thrilling, the superstars responsible often find their lives dominated by the wearisome sacrifices that precede them.
John McEnroe, one of the last true iconoclasts of the tennis world, wondered at the discipline of the 26-year-old Scot, who might have won more than the solitary Grand Slam in his possession had it not been for Roger Federer, Rafael Nadal and Novak Djokovic.
"He might be just a shy guy and doesn't want to bring a lot of attention to himself off the court, or maybe he feels like he's got to put everything he's got into trying to deal with Federer and Nadal," said the once-combustible American, a seven-time Grand Slam winner.
For Murray, both explanations appear to be equally valid.
We saw him out walking his dogs with girlfriend Kim Sears and eating sweets while his body was immersed in an ice-bath. There was no carousing, no dramatic footage of nights out or extraneous hobbies and interests. Neither should or could there be.
Murray might be ranked world number two, but below him - and fighting fit - are arguably the two greatest players of all time, Federer and Nadal. Above him is only Djokovic, fully deserving of his lofty position and far more successful in Grand Slam showdowns.
Together, the four have created a new golden era of men's tennis.
In battling with each other and striving for supremacy, the fripperies and faults that would have made a similar documentary on McEnroe, Bjorn Borg and Jimmy Connors more of a rollercoaster ride have been stripped away by physical necessity.
There was testimony - from both his hero Andre Agassi and best friend Ross Hutchins - of how funny Murray can be away from tennis.
There were glimpses, too, of the introversion that keeps those outside his circle from always seeing him that way, not least when he returned to his home town of Dunblane for a celebratory parade and was clearly worried not many people would turn up.
Sometimes the top of the tennis tree appeared to be the sort of place very few of us would enjoy.
"When I first came on the scene, I could laugh and joke around," recalled Murray. "Everyone's saying it's great, it's a breath of fresh air. Then as soon as you make that first mistake and say one thing everyone picks up on, whether it's a joke or not, you start to become a lot more guarded."
How many of us could survive such a constant eavesdropping, let alone enjoy it?
Tim Henman, for so long the British flagbearer before Murray came on the scene, spoke of tennis as being a lonely place.
If Murray has chosen to survive it by at times withdrawing his true self from public examination, can we really complain?
Perhaps the most moving segment dealt with Murray's memories of the Dunblane massacre, when gunman Thomas Hamilton shot and killed 16 of his schoolmates at the small town's primary school.
Murray has never before talked publicly about how it affected him. When he tried for Sue Barker and the BBC documentary team, the tears came more easily than the words.
For many years, he evidently tried to block it all out. Only a few years ago did he start reading back to find out what really happened. Giving the town something to celebrate, something entirely positive to rally around, is something that clearly provides him both pride and comfort.
From that same Scottish childhood came other, less troubling insights into a man whose relentless competitiveness was obvious from the very start.
There was the admission that his first nickname was Bamm-Bamm - "because I used to get so angry I'd just be bashing things around" - and from his father, Will, the memory of an epic strop after he once failed to pick the winning numbers for the National Lottery.
"He could be nice as nine-pence, enjoying himself, having good fun, and then you'd introduce a bit of competition into it and he would change," said Will.
"Whether it was Monopoly or Snakes and Ladders," recalled his grandmother Shirley Erskine, "he had to win, had to be the best."
In those recollections, we saw the seeds of his emotional response to defeat by Federer on Centre Court a year ago. "After that match, I cried for so long, even after we got home," Murray admitted.
And when you saw the total domination of tennis in both his childhood and maturity, only the callous could fail to empathise.
"I find it slightly sad it took him crying during his acceptance speech for people to say he has got a heart, he is a sensitive soul," said Henman.
For those without Henman's inside knowledge, those whose only experience of Murray was what he let show on court, it was surely the moment when respect and admiration became something more.
"You want to see somebody care," said Agassi, who was not afraid to let his own emotions spill out on the court, especially after his one and only Wimbledon triumph in 1992.
Murray's father agreed. "It was good for him and it was good for people to see," he said. "It was a defining moment for him."
There will be those who argue that such insights or displays should have no bearing on how we feel about our sportsmen and women. Shouldn't it just be about their pure abilities in their chosen field? Aren't their achievements in themselves enough to hold our support and affection?
To which we might respond that sport, like any drama, affects us because the players are human rather than robots.
And in understanding their genesis and character, we become most deeply involved in their sporting endeavours.
"I dreamt after Wimbledon that I had won Wimbledon," revealed Murray at one point, still hurting. "After the US Open, I dreamt that I'd lost."
A detail both touching and endearing, like many in this documentary.