Andy Murray: I hope I have made Dunblane proud
Last updated on .From the section Tennis
Andy Murray hopes his tennis success has helped the healing in Dunblane, his home town ripped apart by a horrific shooting incident 17 years ago.
Thomas Hamilton killed 16 children and one teacher at Dunblane Primary School on 13 March, 1996.
In a BBC One documentary broadcast on Sunday, Murray, a pupil at the school at the time of the shooting, broke down in tears when recalling what happened.
"You have no idea how tough something like that is," he told Sue Barker.
Cradling his dog on his lap, the emotional Scot, 26, said the incident had affected him deeply but hoped his numerous triumphs on the tennis court had been a positive influence on Dunblane.
"It is just nice being able to do something the town is proud of," said the reigning Olympic and US Open champion, whose elder brother Jamie was also a pupil at Dunblane Primary School.
In the hour-long documentary, Murray's mother, Judy, recalled the day Hamilton entered the school with four handguns, opening fire on a class of five- and six-year-olds in the gymnasium.
He later shot himself dead before he could be captured.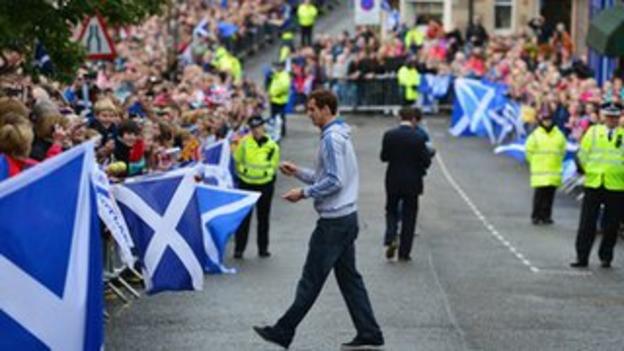 Judy said that Andy had been walking to the gym when the shootings had begun and said her family knew Hamilton, a 43-year-old unemployed former shopkeeper, before the incident took place.
"Andy's class were on their way to the gym, his class were the next ones in the gym," she said. "His class was stopped when somebody went up, when they heard the noise and discovered what had happened."
Struggling to contain her emotions, she explained: "I was one of hundreds of mums that were queuing up at the school gates waiting to find out what had happened, not knowing if your children were alive or not."
She added she still found it difficult visiting the school and purposely avoided the gym where the shootings took place.
"I actually don't go near that part of the building," she said. "When I go up to school now, if I'm doing something, I'll do it in the playground or I do it in the new gym."
In the aftermath of the shooting, Judy said Andy and Jamie had wanted to know why Hamilton had done what he did.
"There were lots and lots of questions from them, mainly I think because they knew the guy who had done it because they used to go to one of his boys' clubs up at the high school," said Judy.
She also revealed that she had given Hamilton "lifts up and down from the train station to the high school", making her sons question the killer's motives even more.
She added that Andy would talk about the incident from "time to time" but that Jamie "never ever talked about it".
Andy added that he had not wanted to know too much about what had happened at the time but that his view had changed.
"It wasn't until a few years ago that I started to actually research it and look into it," he said.
Jamie, 27, was also interviewed in the BBC documentary, titled 'Andy Murray: The Man Behind the Racquet'.
A former Grand Slam winner himself, having won the mixed doubles title with Jelena Jankovic in 2007, he agreed that his brother's achievements had helped Dunblane recover from its ordeal.
"It's nice that, after all the negative publicity the town got after what happened so many years ago, that it's able to be shown in a positive light now," he said. "I guess that's a testament to the success that Andy's had."
Andy, currently ranked number two in the world, begins his quest for a first Wimbledon men's singles crown on Monday, when he faces German Benjamin Becker in a first-round match on Centre Court.
The British number one lost in last year's final, beaten in four sets by Roger Federer, who was claiming the title for a seventh time.