Novak Djokovic: Wimbledon draw not easy, says world number one
Last updated on .From the section Tennis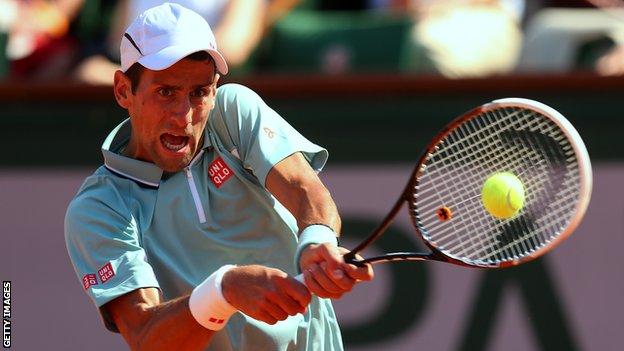 World number one Novak Djokovic has rejected suggestions he received an easy draw for Wimbledon.
The Serb, champion in 2011, cannot meet Andy Murray, Roger Federer or Rafael Nadal until the final, as they are in the other half of the draw.
"Some people would say I was lucky with the draw," the 26-year-old said. "But it's a Grand Slam, so I don't think there is any easy way to the title."
Meanwhile, Nadal has said he should not have played in last year's tournament.
The two-time Wimbledon winner, 27, suffered a shock second-round loss to the then world number 100 Lukas Rosol 12 months ago.
Although he did not cite a fitness problem at the time, Nadal pulled out of defending his Olympic singles title at London 2012 a month later because of a long-standing knee injury.
He did not play again for seven months, missing the US Open and Australian Open, before returning to make the final of a tournament in Chile in February.
Nadal has won 43 of his 45 matches since his comeback, claiming a record eighth French Open title earlier this month.
"Last year I played here [Wimbledon] because it is a tournament that I love, but I was not ready to play here," Nadal said.
"After Roland Garros, I felt that my knee was not there any more.
"I tried my best. I don't have anything to learn from that match because it's not an excuse. Rosol played a fantastic fifth set.
"He probably would have beaten me if I was healthy.
"It's not the case that just because I am healthy, I'm going to play better this year. But that experience for me last year was too much. I suffered too much."
Nadal faces a tough task to win Wimbledon, which begins on Monday.
His most likely path would include a quarter-final against Federer, a semi-final against Murray and a meeting with Djokovic in the final.
That is because the Wimbledon seeding system uses a player's current world ranking and a formula with weighting given to grass-court performance in the previous two years.
With his loss to Rosol taken into account, world number five Nadal was guaranteed to be placed behind countryman David Ferrer, who is seeded fourth.
British number one Murray said it was "tough" on Nadal, but the Spaniard insisted he was not fazed by the draw.
"My view is if I arrive to the quarter-finals, it is because I will be ready," the 12-time Grand Slam winner said. "Then you can win, you can lose.
"But for me, it's going to be very tough to be there.
"It's completely fair that I am number five and David is number four. He has won his privilege to be number four before me, and that's it."
Nadal begins his campaign against Belgian Steve Darcis, while Murray is up against Germany's Benjamin Becker and seven-time champion Federer meets Victor Hanescu of Romania.
Djokovic, who plays German Florian Mayer in the first round on Monday, is likely to face his first serious test at the semi-final stage with a potential meeting with Ferrer.