Wimbledon 2013 predictions: Who will win?
Last updated on .From the section Tennis218
Wimbledon gets under way at the All England club in London on Monday, with all eyes on which of the main protagonists can best negotiate the grass, weather and their rivals to emerge as the champion.
Andy Murray will be aiming to become the first Briton to win the men's singles of the famous Grand Slam for the first time since Fred Perry in 1936, although Novak Djokovic, Roger Federer and Rafael Nadal will have something to say about that.
In the women's singles, Serena Williams is a big favourite to add the Wimbledon crown to the French Open title she won earlier this month. Whether Maria Sharapova, Victoria Azarenka or any of her competitors can stop her remains to be seen.
BBC Sport rounds up some predictions from the tennis world about who they believe will emerge victorious at Wimbledon.
Sue Barker, BBC Sport presenter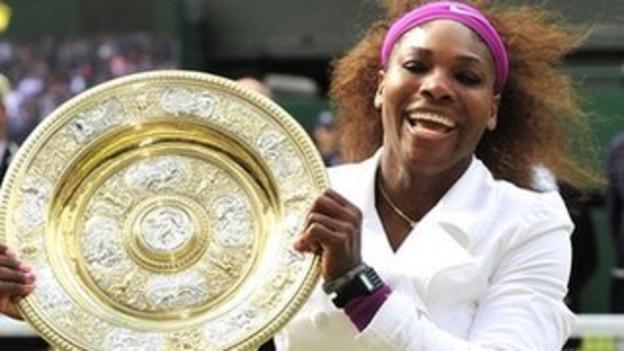 I'm going for Andy Murray. I hope this isn't a poisoned chalice for him. His Grand Slam record has been outstanding and he has turned it around after losing the Wimbledon final last year. I think last year he learned a lot about himself and I hope the public really accept him now and treasure him. I feel the rest he has had and the matches he now has under his belt means he is ready.
Only one name - Serena Williams. She seems to be head and shoulders above anyone else and had a fantastic French Open. She seems to be playing better than ever, and even before this vein of form she was completely dominant. I don't see anyone beating her or even getting that close to her.
Tim Henman, four-time Wimbledon semi-finalist
I'm going for Andy Murray. Last year's final and his success at the Olympics taught him so much and I really think this will be his year.
Serena Williams. She is an utterly dominant force in women's tennis and I just can't see anyone beating her.
Jonathan Overend, BBC tennis correspondent
Andy Murray - He's never been in better shape ahead of Wimbledon and has been hitting with quiet confidence during his practice sessions here. The title at Queen's was an obvious boost, likewise the extra preparation time on grass having missed the French.
He won't be scared by the draw and should he make the final, which I think he will, he'll be able to draw on the experience of Flushing Meadows to help him over the finish line once more.
Victoria Azarenka - If only to break the sequence of picks for Serena Williams, I'll go for the number two seed. Serena has been unstoppable for the past year but I sense an upset somewhere along the line. No idea when, and to whom, but Serena's most dangerous opponent is often herself and if her mind isn't on the job - especially considering the recent furore over the Rolling Stone interview - then Azarenka, who ran her close at the US Open, appears best placed to pounce.
John Inverdale, BBC Sport presenter
I can't see Novak Djokovic losing. He would have won the French but for it being on clay, and he has the most weapons at his disposal.
I'm also tipping Victoria Azarenka. I just have in my mind an image of her winning and her pop star boyfriend Redfoo running onto Centre Court and bursting into song: "She's Sexy and She Knows it".
John Lloyd, former British number one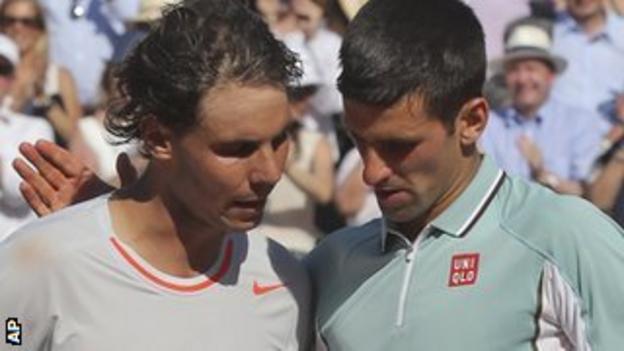 Rafael Nadal played maybe his greatest ever clay court match to beat Novak Djokovic at the French Open. It was so close and came down to the odd point at best. Nadal has won Wimbledon twice and is one hell of a good grass court player but he can't defend as well on grass as he can on clay and his shots are not as potent. Grass will suit Djokovic more and I think he will come through.
You can't look anywhere else bar Serena Williams. She is eager right now and loves grass. The only person who can beat her is herself, if she isn't motivated for some reason, but I can't see that happening. Serena all the way.
Nick Bollettieri, coach
Novak Djokovic is probably furious inside after the French, he's a little ticked off, and his name is hardly mentioned even though he's number one. Then you go to Roger Federer - I think it's very important he does extremely well. If he were to bow out quickly, maybe he would start thinking a little bit. But he's always dangerous. I believe this is going to be one of the most interesting Wimbledons in many years, because every time Nadal steps on a court - be careful.
There's a little bit more pressure on Andy Murray but he moves extremely well, and on grass that's important; he's improved his serve; we all know he returns well; he's not hesitant in coming to the net, which is very important, and he uses the slice as a change of pace.
I believe it's a little easier to predict one person winning the women's which is Serena Williams.
Richard Krajicek, former Wimbledon champion
I believe it is a toss-up between the big four, although I do not know how fit Nadal is. Murray has shown he is ready and confident for the grass. Federer is always a major title contender. Djokovic is the number one player in the world, and will use the disappointment of the big chance to win the French Open as an extra motivation for his run at Wimbledon.
Looking at the draw, though, I expect a Djokovic-Murray final. That will be a close one, but I believe Murray in five sets. Unless there is a lot of rain for the semi and final and the roof will be closed, then Federer will defend successfully.
I believe the women's final will be a repeat of the French Open final between Serena Williams and Maria Sharapova. And with the same result. Serena is so strong and confident at the moment, that she even dominated on the slow clay of Paris. Her big serve and groundstrokes will have even more impact on the grass.
Annabel Croft, former British number one
Andy Murray is coming into Wimbledon the strongest he has been in any previous year. He has way more confidence than he had 12 months ago. He is a Grand Slam champion, and a Olympic champion and I just feel everything is coming together perfectly for him. Beating both Federer and Djokovic on his way to gold helped him so much and showed he could do it, and then the US Open title followed.
Serena Williams is so far ahead of the rest of the field it's unbelievable. She is phenomenal and on a completely different level. The fact that she has not lost to Maria Sharapova, the world number two, since 2004 says it all. She is playing better tennis than she was when she was in her 20s and unless she comes up against someone who has one of those freak days I can't see anything stopping her.
Andrew Castle, former British number one
I spoke to Jo-Wilfried Tsonga and Tommy Haas this week and they both tipped Roger Federer to win, which is interesting as remarkably few people have. I'm going for Andy Murray. For me, he is at the height of his powers and the three-and-a-half week rest he had following the injury that ruled him out of the French Open will have helped him tremendously. Getting the monkey off his back by winning the US Open, plus beating Federer and Djokovic at the Olympics, was crucial. He played with joy and gusto at Queen's and I think this is his year.
Serena Williams is the obvious choice. She is so happy being out there and competing right now. And that is a ferocious and worrying sight for the rest of the field.
Sam Smith, former British number one
Rafael Nadal - I always say Andy Murray and it jinxes him so this time I'm going to say Rafael Nadal.
Serena Williams - She is three times better than anyone else, and has the best serve.
Nick Mullins, BBC Sport commentator
Are the stars aligning? In the 12 months since becoming Britain's first finalist in the men's singles for 74 years, Andy Murray's been back on Centre Court to beat Federer to an Olympic gold medal and then claimed his first Grand Slam by beating Djokovic in New York. Another Queen's title ended any lingering doubts about his back injury and, while Nadal's a potential opponent in the last eight, it's all systems go.
Defending champion and newly-crowned queen of Paris, Serena Williams, looks a significant step ahead of the rest at the moment. Power, poise and a confidence that's rarely been higher makes it hard to see who can beat her. The alliance with French coach Patrick Mouratoglou has been good for her and, as the WTA tour celebrates its 40th birthday, she stands alongside the Everts, Navratilovas and Grafs in terms of dominance.
David Mercer, BBC Sport commentator
Although my heart says Andy Murray my head says Novak Djokovic, who deserves to be the world number one. After coming so close to beating Nadal in Paris, Djokovic will be determined to confirm his status by winning Wimbledon.
At present Serena Williams is by far the best player in the world and frankly only injury will prevent her from winning at Wimbledon.
Russell Fuller, BBC Radio 5 live commentator
Novak Djokovic came even closer to beating Nadal at Roland Garros than I thought he would, and on this surface - with a generous hand from the draw - he would start as my favourite. But if he does make it to the final, he will be facing a seriously in-form player.
There's a temptation to be different, but Serena Williams has had a steely determination in her eye ever since she lost to Virginie Razzano in the first round of last year's French Open. Very hard to bet against.
Andrew Cotter, BBC Sport commentator
Novak Djokovic to win the men's singles, avoiding all members of the big three until the final and Ferrer shouldn't provide him with too many problems on grass.
Serena Williams to win the women's singles, barring injury or a major upset. Streets ahead of the rest at the moment.
Mark Petchey, BBC Sport commentator
Andy Murray is my pick. I feel there are less great grass court movers than there once were and Andy is so strong in the area. Also Andy after last years Olympics will be feeling so positive the moment he sets foot back in Wimbledon.
Serena Williams. It will take a freak of nature of to beat her if she brings her clay court game onto the grass. The hottest favourite at a Grand Slam since the game of lawn tennis was invented!