Kyle Edmund: Wimbledon wildcard focused as hype builds
By Piers Newbery
BBC Sport
Last updated on .From the section Tennis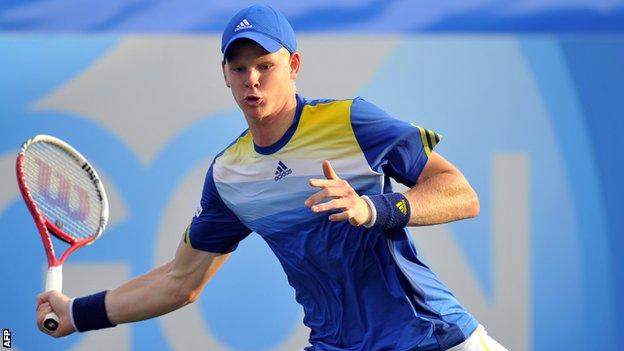 British teenage tennis hope Kyle Edmund is not about to be swept up and carried away by the hype building around him.
The 18-year-old has an impressive game, but so do countless contemporaries from all corners of the world. It is his attitude that marks Edmund out as one to watch.
With the alternate reality that is Wimbledon approaching, the question of who will one day replace Andy Murray as Britain's leading man was put to him.
"He obviously won a Grand Slam for the first time in 76 years, so he's taken a big pressure off us," said a smiling Edmund.
"He's done well for us, but obviously someone has to fill [the gap] when he retires.
"It might be me, it might be someone else. I'm not really thinking about that right now, because I'm nowhere near that level at the moment in terms of my ranking.
"Until I get there, it might be a pressure but I don't see it as a pressure. If you go on court and perform, then it's going to take care of itself."
There will be plenty watching on Monday to see if Edmund performs when he steps into the Wimbledon spotlight for the first time as a senior against 24th seed Jerzy Janowicz.
The decision to give Edmund - the world number 442 - a wildcard came after a month that has seen his growing reputation within the game take on a wider aspect.
After winning the boys' doubles title at the French Open, Edmund impressed in defeat on his ATP debut against Grega Zemlja - the world number 51 - at Queen's Club, then beat world number 82 Kenny de Schepper in Eastbourne before making life very uncomfortable for Gilles Simon, 17th in the world.
"Of course, if he wins this we could be looking at some rather exaggerated expectations," said a voice from British tennis as the teenager extended the Frenchman over the course of two hours.
Simon saved his young opponent from that fate - and his own blushes - by edging through in two tie-breaks, but Edmund had done enough with his wildcard to show he can compete with world-class players.
"I didn't think there was a need to be nervous," he said afterwards. "Because then I wouldn't be able to play my game and I'd be walking off the court and thinking, 'I didn't put everything out there', which was the last thing I wanted."
Edmund, who was born in South Africa but brought up in Beverley, Yorkshire, is match tough right now after spending the winter battling away in low-key American clay-court events, before his more high-profile recent schedule.
With two senior titles under his belt on the Futures circuit, Edmund said in Paris that a junior Grand Slam singles title was his target for the year.
He went on to win the doubles with Portuguese partner Frederico Ferreira Silva, to add to their US Open victory last year, but lost in the quarter-finals of the singles to Alexander Zverev, a German two years his junior, who took the final set 6-0.
It was a reminder that there are talented teenagers at every turn, and with the trend increasingly for players to reach the top in their early to mid-twenties, the transition from junior to senior is harder than ever.
"For me, it's physical," said Edmund. "You're playing men; they're fully developed and they're very strong. They can go five sets any day.
"I'm still a teenager and if I was to go five sets with a top pro, and then do that again, and again, it would be a struggle for me. I don't think in terms of ball-striking there's too much difference."
Edmund has certainly looked the part when mixing it with the big boys.
At 6ft 2in and with a thumping forehand and an improving serve, he appears to have the weapons required, but arguably more important is his on-court demeanour.
During some tough early matches in Paris that he was expected to win, the Briton gave off an aura of quiet determination and, every tennis player's favourite word, focus.
"I think playing with pressure is good for the future," he said. "When you're expected to win, it can be tough. [Novak] Djokovic, [Rafael] Nadal are always expected to win, so it's a pressure you've got to get used to.
"I've never thrown my racquet, but I suppose you bluff it a bit sometimes. I use looking at my strings as a technique but you try not to give anything away to your opponent.
"You don't give yourself the best chance of winning if you're emotional."
There is a palpable sense of trepidation around everyone connected with Edmund as he heads into the madness of Wimbledon fortnight, but the player himself remains characteristically calm.
"There might be a bit more media interest and stuff, but that's all part of the job," he said.
"My dream is to become top of the game in tennis, and that is part of the dream. So that's what I signed up for. You just deal with it."