Lukas Rosol: One year on from his Wimbledon 'miracle'
Last updated on .From the section Tennis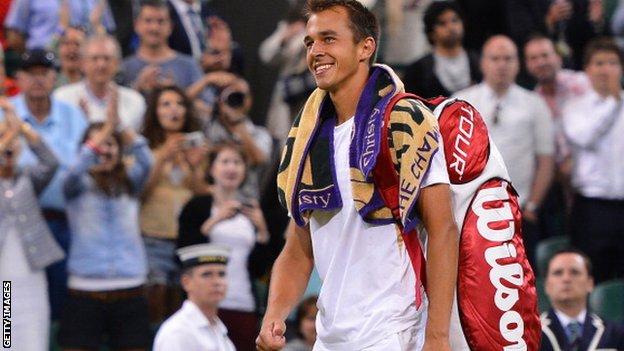 Roger Federer laughed, the Centre Court crowd roared, while Britain's Anne Keothavong spoke on behalf of many when she tweeted: "I had no idea who Lukas Rosol was before but I certainly do now".
The man himself, the unknown Czech competing at Wimbledon for the first time, reacted just like any player would after beating Rafael Nadal - he fell to his knees, raised his arms and looked ahead open-mouthed before collapsing on the grass.
On a late summer's evening in June, the then world number 100 had overpowered the second seed, one of the fiercest competitors the game has known, in five high-octane sets of high-risk tennis.
"It was like a wave went through the Czech Republic," remembers Karel Knap, tennis writer for Czech broadsheet DNES, of a victory Rosol himself called a miracle.
But a year on from what Tim Henman described as a "freak" performance, Nadal's conqueror believes the occasion is for others, and not him, to reminisce over.
"It's already history for me," Rosol told the BBC during Queen's last week, when he was eliminated in the second round by Benjamin Becker, a player 71 places below him in the rankings.
"For me, it's important to stay healthy more than it is to have one good victory. Of course I remember the match [against Nadal], I'm trying to do the same stuff and play good tennis. It's not easy."
The 27-year-old gives the impression of a man living a life unchanged since he flummoxed a two-time Wimbledon champion with 98mph forehands and wickedly quick serves.
"I hope I've stayed the same, I just want to be the same Lukas as before," he says.
But on - and off - the court, much has happened to a player who has crept 66 places up the rankings to 34 in the world since that floodlit evening under the Centre Court roof. There has been Davis Cup glory, a proposal of marriage to his celebrity girlfriend and the death of his estranged father.
The Wimbledon debutant - who went on to lose to Germany's Philipp Kohlschreiber two days later - was catapulted into the world of Czech sporting celebrity after his five-set win over Nadal. His face adorned the front pages of broadsheets and tabloids while his phone was abuzz with interview requests from countries he hadn't even heard of.
The brouhaha ended within days, however.
A country which has produced the likes of Ivan Lendl and Martina Navratilova, who won 26 Grand Slam titles between them, plus former Australian Open champion Petr Korda and 1998 Wimbledon winner Jana Novotna, does not get carried away because one of its players has reached the third round of a major tournament.
"Czech tennis has a huge history and fans are spoiled," said Jan Jaroch, tennis journalist for Denik Sport.
His compatriots may not have been bowled over by Rosol's tennis exploits, but the big-serving, big-hitting Czech has added a chapter or two to his tennis story over the last 12 months.
Last November he played a small part in helping the Czech Republic win the Davis Cup for the first time in 32 years, earning a point in the quarter-finals.
But in April the tall, lean right-hander became his country's leading man, revelling in the spotlight once again, as he secured two points against Kazakhstan to ensure the holders reached this year's semi-finals.
He may not have secured those points against one of the great tennis nations but, nonetheless, a tweak was made to the image he has in his homeland as the tennis gambler, a player with risky "casino" groundstrokes.
"I am very proud of Lukas," said captain Jaroslav Navratil after putting faith in Rosol in the absence of the injured world number six Tomas Berdych. "He was the leader of the team."
Statistics illustrate that the once infuriatingly inconsistent Rosol has improved, winning 15 singles games on the ATP Tour this year, five more than he managed at the same stage in 2012.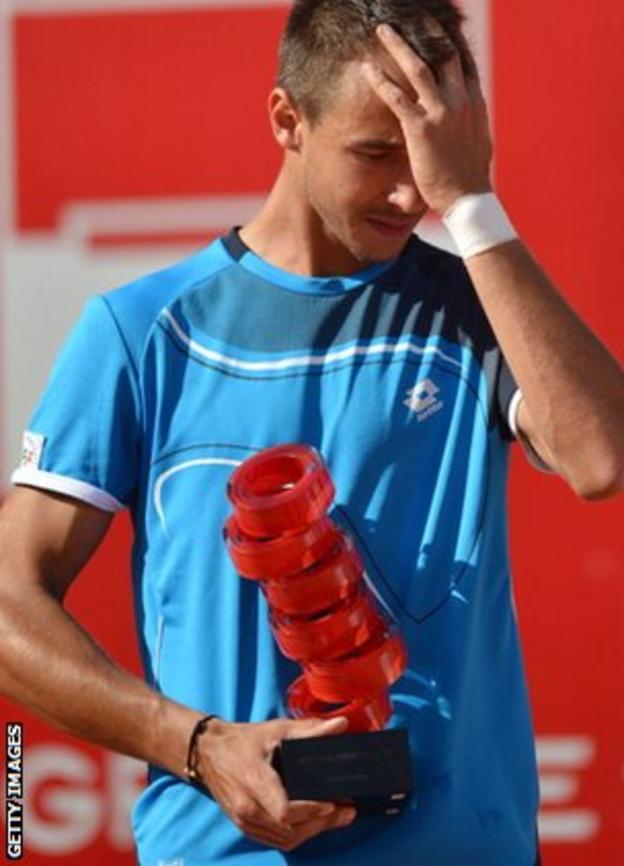 Such modest results alone, however, haven't been enough to charm his public. Instead, he has struck a chord with his warm personality and off-court exploits.
"He's a colourful personality and quite outspoken," reveals Knap. "He's really interesting to talk to and likes to talk about his hobbies, fast cars and women."
But weeks after his Davis Cup success, glory and grief consumed the man from Brno when he won his first ATP title 10 days after the death of his father, Emil.
Father and son had been estranged for years, since his parents' divorce, but despite Rosol's desire to reconcile when his dad became ill there was to be no conciliation as Emil never woke from his coma.
During an emotional week, when he beat three seeded players on the clay - including former champion Gilles Simon, Rosol held 46 of his 49 service games and saved 26 of the 29 break points he faced.
Unsurprisingly, he failed to stem the tears when he lifted the Nastase Tiriac Trophy after beating Guillermo Garcia-Lopez 6-3 6-2, becoming the first Czech winner in Bucharest for 21 years.
For a player on a mission to prove he is not a one-match wonder, however, he has yet to achieve anything on the court to overshadow, or even equal, last year's Wimbledon heroics.
He has only twice defeated players inside the top 40 (Andreas Seppi and Simon in Bucharest), although his engagement to Michaela Ochotska, a presenter on commercial station TV Nova, ensures that Rosol - once married to Denisa Rosolova, one of the country's top athletes - has not been forgotten by the Czech tabloids.
"Rosol is viewed as some kind of playboy," says Jaroch. "He is more on the gossip pages than the sports pages."
The Czech's progress has been steady if not spectacular since that wonderful night in SW19, but Rosol himself has been happy with how the year has developed.
"I never had goals to be in the top 10 or top five in the world. I just try to find the borders, find what level I can reach. I have a good team around me so hopefully it's going to get even better," Rosol told the BBC.
"What can I say? I hope in Wimbledon it's going to be the same result as last year. I hope I can reach even higher levels."
Understandably, Czech tennis fans are pinning their Wimbledon hopes on seventh seed Berdych, rather than the country's third best male player.
"No-one is expecting much of him," says Jaroch. "His game on grass is too risky. I still don't consider him as a good grass court player. His best surface is clay."
Rosol's first-round opponent is Germany's Julian Reister, ranked 122 in the world, so the Czech should at least reach the second round.
But no-one is more aware than Rosol himself that a man with three digits to his world ranking is capable of supernatural things in south west London.