Roger Federer on his first Grand Slam title at Wimbledon

By Jonathan Overend
BBC tennis correspondent
Last updated on .From the section Tennis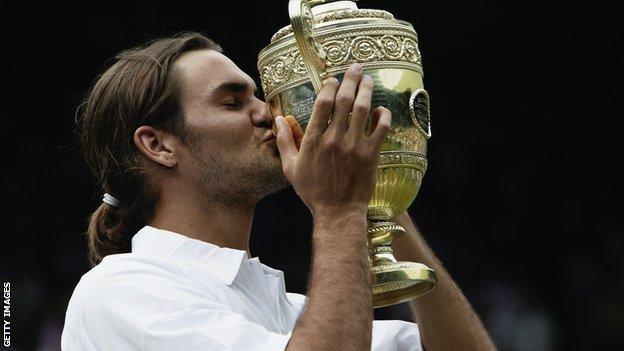 Ten years on from his maiden Wimbledon title, defending champion Roger Federer has spoken of the "relief" of conquering Centre Court for the first time.
The Wimbledon crown of 2003 was the first of a record 17 Grand Slam singles title for the Swiss, seven of them at the All England Club.
In a special programme to be broadcast on BBC Radio 5 live on Wednesday, the 31-year-old talks about the pressure he felt at the time dealing with the huge expectation of the tennis world.
"The win in 2001 over Pete Sampras at Wimbledon gave many people the belief that I should or I could win a Grand Slam and, if one, probably Wimbledon," says Federer, in an exclusive interview.
"I came in [to Wimbledon 2003] with a lot of pressure, having lost the first round the year before to Mario Ancic so I knew that I better make at least the quarter-finals or maybe the semi-finals.
"People were starting to debate if I was ever going to win one. Now, looking back, you think 'how could they say that?' but in the moment itself it's very difficult to deal with.
"People were comparing me to Pete Sampras when he had 60 titles and I had barely five. That was hard to accept. Even though it was actually a compliment in one way, it was a hard pressure on the other side."
Sampras had retired after the US Open of 2002 which meant Federer was one of the favourites at Wimbledon the following summer, especially once defending champion Lleyton Hewitt lost in the first round.
He duly delivered, beating Andy Roddick in the semi-final and Mark Philippoussis in the final, both in straight sets.
"That moment when I won was an incredible relief," he recalls.
"I don't believe I ever had a bigger relief - maybe I can compare it slightly to the French Open in 2009 because I was chasing that for so long - and I think you can see in the reaction the disbelief, the happiness the pride all together in one."