Wimbledon 2013: The man behind Serena Williams's success
Last updated on .From the section Tennis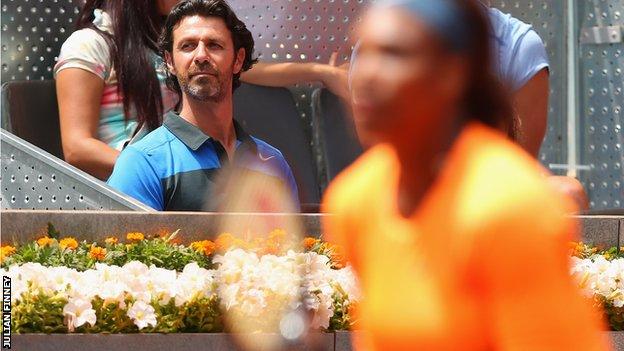 When Patrick Mouratoglou's dream of becoming a top tennis player was blocked by his businessman father, he vowed to scale the heights as a coach instead.
The last 12 months have seen him realise that ambition spectacularly.
Mouratoglou, 43, started working with Serena Williams last June, just days after she had suffered a humiliating defeat to Virginie Razzano, ranked 111, in the first round of the French Open.
Since then, the American has embarked on one of the most remarkable runs in the entire history of women's tennis, which Mouratoglou himself encapsulated on Facebook on 10 June.
"Anniversary of one year of collaboration with Serena," he wrote. "Three Grand Slam titles, two Olympic Gold medals (single and doubles), winner of the Masters Cup, 11 titles, back to number one in the world, oldest number one in the history of the game, 74 matches won out of 77, 31-match winning streak and still counting. Serena is just unique."
The collaboration has seen Mouratoglou, little-known outside tennis circles a year ago, become the subject of front-page stories because of speculation about a romantic relationship with Williams.
World number two Maria Sharapova stoked the rumours with some incendiary comments at her pre-Wimbledon news conference on Saturday.
Responding to a perceived slight from Williams about her own boyfriend, Grigor Dimitrov, Sharapova said: "If she [Williams] wants to talk about something personal, maybe she should talk about her relationship and her boyfriend that was married and is getting a divorce and has kids."
It wasn't difficult to work out who she was talking about. Mouratoglou and Williams have been photographed arm in arm, on holiday together, and visiting Madame Tussauds last weekend on Williams' own Twitter feed.
So far they have refused to talk about their personal relationship, a stance which Mouratoglou maintained when I spoke to him on Saturday. He did talk at length about their professional partnership though, and explained how they began to work together.
"Serena contacted me about practice at the French Open last year and came to my academy in Paris and we started to work on court a little bit," the Frenchman said in perfect English.
"It went well and she asked if I could continue working with her at Wimbledon. She won the tournament. Then she asked if I could continue working with her for the Olympics, which she won, and it went on and on like that."
He says the 31-year-old has improved several facets of her game in the last 12 months. "Firstly, I think she moves better on the court, which is so important.
"And she is more consistent, meaning her low level is now much higher than it used to be. She doesn't have to rely only on her champion's mentality to come through a match on a bad day."
Williams is also competing in more tournaments and many observers have spoken about a happier, friendlier and more motivated athlete.
One of them is former world number one Tracy Austin, who told BBC Sport: "In the past, it seemed like Serena could get bored, as it all came so easily to her. It seems Patrick has made it interesting.
"To wake up every day and feel challenged, and like you have something to improve on and get better on, is phenomenal for an athlete .
"When you have someone in your corner who is not only a great coach but also a great motivator, it's special. Serena has also spoken about the fact she'll look up now and see Patrick in her box and he'll never change his expression, which is so different from her father, who always seemed to be in a different seat and would leave in the middle of matches. Patrick seems to me to be a real stabilising force for her.
"Serena seems in a really good place right now. She's settled, hungry, fit, healthy and confident, which is not a bad combination."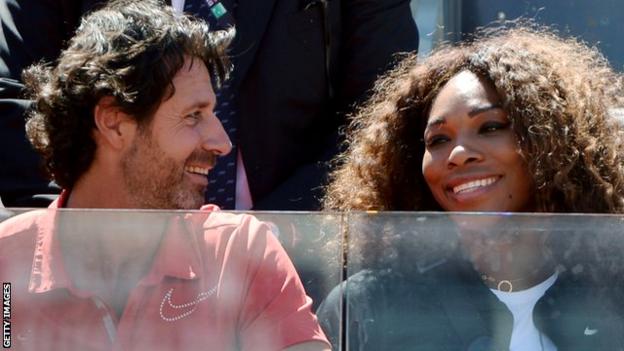 Mouratoglou agrees Williams has fewer "ups and downs" nowadays than she used to.
"You have to remember that tennis players are human beings," he said. "They cannot keep motivated at their best throughout the whole of their careers. But you have to say this - even when Serena was having those downs, she was still winning Grand Slam titles, which is incredible. She really is amazing.
"Serena had already won 13 Grand Slams when we started working together, but had the will to go on, to keep practicing hard, to keep looking for ways to improve. That requires a special frame of mind, the mindset of a very special champion."
People who know Mouratoglou well describe a charismatic and inspirational coach who is incredibly passionate about tennis. This probably has something to do with his own background.
He was a promising junior player who dreamt of becoming a pro, but his father Paris, founder of the renewable energy company EDF Energies Nouvelles and one of the richest men in France, demanded his son follow an academic path.
"This created a great frustration for me and became a motivation to become a professional tennis coach," he admits. "I wanted to help players achieve what I hadn't been able to myself. And I also wanted to reach the highest possible level as a coach, the level I'd aspired to when I dreamt of being a top player."
So he studied for a degree in business, working as a tennis coach in his spare time. At the age of 26, he set up a tennis academy in Paris with financial help from his father. It was initially known as the Bob Brett Academy, after the legendary Australian coach was enrolled to give the academy kudos and pulling power.
In 2004, the Frenchman went it alone and the centre became known as the Mouratoglou Tennis Academy. He describes his philosophy as "to bring every player to his or her maximum".
"Every player is different - technically, physically and mentally," he explains. "You need to be able to analyse this and treat them accordingly. The final goal is always the same, to help them become the best they can be, but the means of getting there is different for every player.
"It's the opposite of the Nick Bollettieri model, which is to take a lot of players and make them train in the same tough, regimented way; play the same type of game; and treat them the same. A few make it through to the very top and the rest fall by the wayside.
"For me, it should be completely different, with every player treated as an individual and able to reach their maximum."
Mouratoglou quickly managed to persuade some talented youngsters to join the academy - the likes of Paul-Henri Mathieu, Ivo Karlovic and Sergiy Stakhovsky - but it was Marcos Baghdatis who really put him on the map.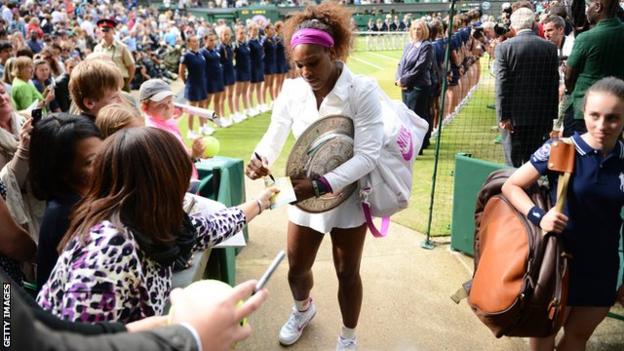 The Cypriot joined the academy at the age of 13 and went on to become world junior champion, a top-10 player in the seniors and an Australian Open finalist.
The next wave of recruits included Dimitrov, Aravane Rezai, Anastasia Pavlyuchenkova and Britain's Laura Robson.
Mouratoglou speaks highly of Robson's talent and attitude, although he believes she has a lot of room for improvement. "Mostly she needs to improve her fitness and has to be able to move faster on the court," he said.
"She hits the ball great, has a huge serve and can hit winners on both sides but moving better to be in a better position most of the time would help a lot. Hard work is the key here, of course, and I'm sure Laura will do it."
His focus for the next fortnight will be Williams though. She comes in as champion, having just won her second French Open in imperious form. She even managed to charm the famously fickle Roland Garros crowd.
Where once they had reduced her to tears during a semi-final against Justine Henine-Hardenne in 2003, they now applauded as she answered questions in French after beating Sharapova in the final.
Williams, who begins her defence against Luxembourg's Mandy Minella on Tuesday, will be bidding to win a sixth Wimbledon title. And Mouratoglou has an ominous message for her rivals.
"Serena is fit and confident going into Wimbledon," he said. "I always think that preparing for a tennis tournament is like preparing for an exam, you have to feel ready. And Serena is ready."