Andy Murray column: Missing the French tough - but right decision

By Andy Murray
World number two
Last updated on .From the section Tennis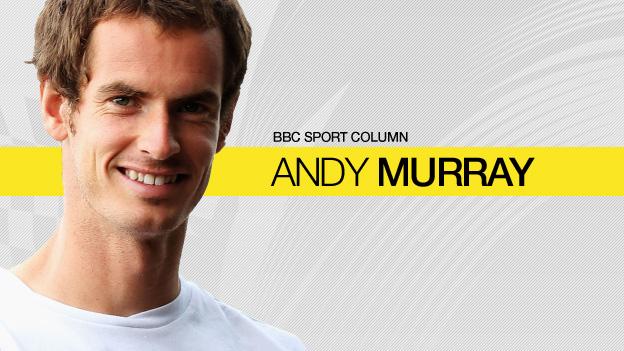 When you're competing week after week, you can forget how lucky you are to be playing tennis for a living.
Once you have an injury and have to spend three or four hours a day with the physios, doing rehab and basically watching tennis on the TV, you realise it's a huge part of your life. That's why it feels great to get back on court again at Queen's.
It was so tough for me to miss the French Open but I know I made the right decision.
I knew in the back of my mind after playing in Madrid - and the couple of days before Rome - that something wasn't quite right with my back. Then for a few days after Rome I was struggling to get up and down stairs and to walk around. That's when I realised I probably wasn't going to be able to do a whole lot for a week or 10 days.
Once the decision was made to pull out of the French I moved on from it fairly quickly, but it didn't make missing one of the biggest tournaments of the year any easier. It just made me more determined to get myself fit and back on the match court as soon as possible.
I've got a lot of good people around me helping me out and within a few days I was feeling a lot better. I was able to start training after nine or 10 days and built it up slowly to a level where I was able to compete.
My coach, Ivan Lendl, knows how much the French means as he won it three times, but he chose to skip Paris for a couple of years later in his career to try to win Wimbledon.
I was missing it because I was not physically capable of doing anything, so I wasn't gaining a huge amount on the other guys by sitting on the couch, but I did get to spend extra time preparing on the grass and hopefully that will be an advantage.
I've certainly spent a lot more time over the last month watching TV than I usually do, although I'm really waiting for the new season of Sherlock to come out - it's up there with my favourite series along with The Office. Benedict Cumberbatch is great and I'm a big fan of Martin Freeman; he's so understated, I love watching him.
In the absence of Sherlock, most of my viewing time was spent keeping up with what was happening at Roland Garros.
I can watch matches just to enjoy them, but sometimes I'll take notes on players and things I might see in their games that I could do against them, or how guys are hurting them.
As for the commentary, I'll obviously see things differently sometimes and agree with some more than others. Everyone has their opinions when it comes to sport and there's nothing wrong with that. I have mine as well, but I will stick it on mute if I want to really study a match!
There is no substitute for being around the tournaments and other players, though. That's what you miss. The top guys get on well and we can share a joke, but we can sit in a room and discuss things like adults when we need to.
One example was the whole issue of increasing Grand Slam prize money. That would not have happened if we hadn't spent the time sitting with the Grand Slams as the top players to try to improve things. Those meetings were not always great fun, but we were doing it for the good of the game.
I couldn't wait to get back into the action at Queen's and it was great to get a couple of wins in front of a packed crowd who had braved the dodgy weather.
I've made a solid start, I'm feeling good and I hope it's just the start of things to come this summer. Hopefully we'll get a bit of sunshine too.