Tennis: Kyle Edmund boosted by Queen's Club experience
Last updated on .From the section Tennis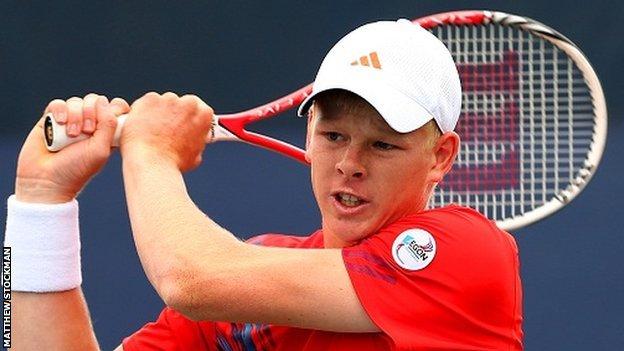 Rising tennis prospect Kyle Edmund says his confidence has been boosted by his debut performance in the Aegon Championships at London's Queen's Club.
But the 18-year-old from Beverley impressed in defeat, showing few signs of nerves on his senior tour debut.
And on Wednesday it was confirmed he will receive a wildcard to make his senior debut at Wimbledon.
"It gives me confidence knowing I can come close to those guys, now I want to get my ranking higher," said Edmund.
"Making my tour debut in England, where I have great support, is something I'll never forget.
"I had a lot of fun out there, it was an 'all to gain nothing to lose' situation, so I'm just happy that I went out there and gave myself a chance to win.
"I didn't quite take some of the opportunities I created, but that's men's tennis; you get half-chances here and there and it's all about taking them.
"I served very well, and when I got into the points I felt comfortable, I just wanted to return a bit better and create a bit more pressure in his service games.
"But I can only learn from that, and it's very early in the grass court season, so I can keep building."
Edmund, who recently became the first British winner at the French Open since 1982 when he claimed the boys' doubles title with Portuguese partner Frederico Ferreira Silva, said he had not been nervous.
"I was just concentrating on getting some grass court practice, so I wasn't really thinking about the match too much," he explained.
"It's obviously been a busy few days, moving from one country to another and changing surfaces.
"Coming off a good stretch in the French Open and then straight on to the grass is challenging, but that's what you have to do as a pro."
His performance made it more likely Edmund would receive a wildcard entry for Wimbledon.
"Playing at Wimbledon has been a dream for me since I started to play tennis," he admitted.
"Playing [Wimbledon] is one thing, but you want to go and win it - but that's way off at the minute.
"I'm aiming to improve my ranking. I'm 450 in the world, and you don't particularly want to be relying on wildcards to get into tournaments."