Andy Murray: Rafael Nadal's Wimbledon seeding is tough
Last updated on .From the section Tennis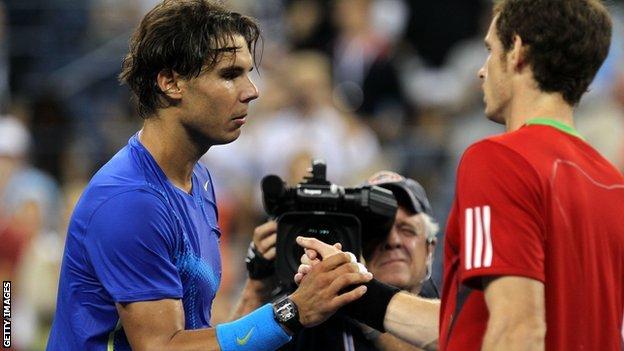 Andy Murray believes Rafael Nadal's expected seeding at Wimbledon is "tough" on the French Open champion.
Nadal, 27, is set to be seeded fifth after being injured for most of the last year, and because he was knocked out in the second round in 2012.
"Rafa will be seeded five, which is tough because he is better than that," Murray told BBC Sport. "It is the way our ranking system works."
Men's seedings at Wimbledon are based on ranking and performance on grass.
Nadal will learn his fate for the upcoming Grand Slam when the seedings are announced next Wednesday.
Former world number one Nadal has won 43 out of 45 matches after returning to action following a seven-month lay-off, in which he missed the US Open and the Australian Open because of a serious knee injury.
The Spaniard will, however, fall foul of the seeding system at Wimbledon which uses the current Association of Tennis Professionals ranking and a formula with weighting given to grass performance in the previous two years.
As Nadal - currently fifth in the ATP list - suffered a shock defeat to Czech Republic's Lukas Rosol in the early stages last June, he will probably not be placed in the top-four.
If so, that means he could face Novak Djokovic, Murray or Roger Federer as early as the quarter-finals.
The world number two cited the approach used in golf when analysing the situation.
Murray said: "That is unfortunately the way the ranking system works in tennis. It is a one-year ranking, whereas in something like golf it is a two-year ranking.
"Even if one of the best players gets injured, they can still maintain their ranking. In tennis, if you miss four or five months, it is almost impossible to maintain your ranking."
As for the Briton, he has recovered from a back injury that forced him to withdraw from the French Open and will return to action at Queen's Club on Wednesday.
There, he will face Frenchman Nicolas Mahut in the second round at the Aegon Championships.
Play starts at 11:00 BST and Murray and Mahut will be the third match on Centre Court.
"The last three or four days, it [back] has felt really, really good," Murray said. "When you start back up again, things can feel stiff or sore on some days, but the last few days since I started training at Queens it has felt a lot better.
"I have been practicing with a lot of the top players. Touch wood, it is good."